The top-selling artists
Driven by solid international demand, American artists dominate the high-end market, followed by Chinese artists supported by their effervescent domestic market.
64% of Contemporary Art auction turnover from 50 artists
More than 71,000 works by nearly 22,000 artists were sold in the 12-month period… but while the Contemporary Art market may be extraordinarily diverse, relatively few artists fetch seriously high prices. The market's economic power is largely dependent on 500 high-performance artists, whose works generated $1.68 billion, or 89% of global turnover.
More than half of the global turnover (64%) comes from only 50 artists, who, in financial terms, represent the most competitive investments.
Contribution of the top-selling artists to global auction turnover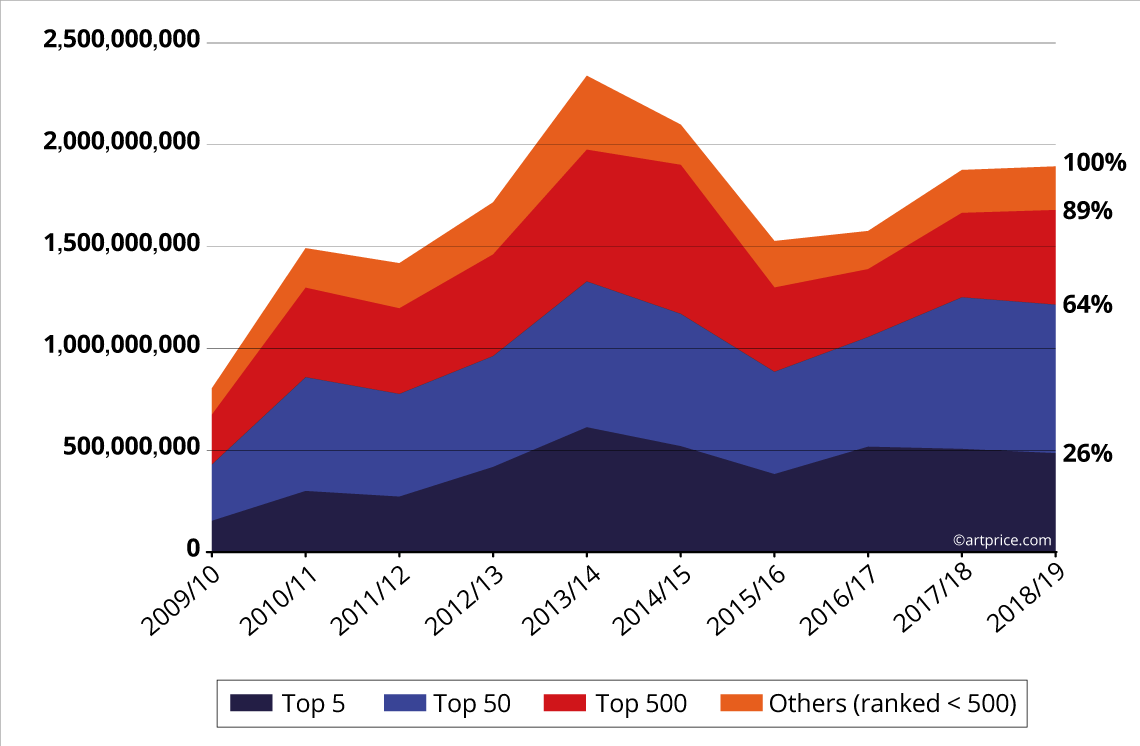 Dominant nationalities
Since the main players in the Contemporary Art market are the United States, the United Kingdom and China, the artists from these countries are naturally the most sought-after on the global auction market: 71 of the top 100 performing artists in terms of annual turnover are American, British or Chinese. Of these 71, there are more Chinese artists (33) than American artists (28), but Americans dominate the Top 10 annual turnovers where we find six Americans… and those six elicit the highest bids.
One of the specificities of the Chinese market is the confidence it invests in young artists. HAO Liang (1983), MI Qiaoming (1986) and JIA Aili (1979) are the top-selling under 40 artists in the world. This rising generation is already fetching million-dollar results on the auction market in China and Hong Kong. The success of these three artists – who also revised their personal records in 2019 – owes much to the dynamism of the Chinese and Hong Kong markets.
Regarding European artists, the most successful are the Italians Rudolf STINGEL and Maurizio CATTELAN, the Belgians Harold ANCART and Luc TUYMANS as well as eight German artists, including Albert OEHLEN who is among the global Top 10. His compatriot Anselm KIEFER revised his auction record at close to $4 million with The fertile crescent (新月沃土), a major work measuring nearly 10 metres, selling not in London or New York (his two primary markets), but in Beijing, at China Guardian (3 June 2019).
Top 10 German Artists and their relative positions in the Top 500
Albert Oehlen 8th
Martin Kippenberger 30th
Anselm Kiefer 31st
Günther Förg 33rd
Thomas Schütte 42nd
Andreas Gursky 65th
Daniel Richter 72nd
Wolfgang Tillmans 78th
Katharina Grosse 112th
Neo Rauch 113th
Compared with the market performances of the Germans, ten French artists are among the top 500 with Robert Combas in the lead. In 50th place last year, Combas set a new record in April with Hécatombe (1992) fetching $303,700 at Cornette de Saint Cyr against a low estimate of $101,000. Although some American and Asian collectors are interested in his work, he has not yet penetrated international auctions and nearly 90% of his auction turnover is hammered in France. Nevertheless, despite this disadvantage, his price index is posting an impressive increase of +513% since the year 2000.
French Contemporary artists are still absent from major US sales, except, this year, Daniel BUREN who is beginning to find a place on the New York market. By including his Peinture aux formes indéfinies (1966) in their 15 May sale, Christie's hammered a new record for Buren at close to $2.2 million. A number of other French Contemporaries are getting international exposure in less prestigious sales, including Bernard FRIZE who crossed the $100,000 threshold in London at a Phillips day sale ($103,000, Verte, 2003, on 28 June 2019).
Two artists from South Africa are among the top-selling 100 artists by turnover: Marlene Dumas ($7.7 million) and William Kentridge ($3.9 million). Latin American artists are conspicuously absent from the top 100, but there are lots in the top 500, including Gabriel Orozco, Bosco Sodi, Os Gemeos, Beatriz Milhazes, Adriana Varejao, Vik Muniz and Cildo Meireles.
A 100% US podium
The three economic pillars of the global Contemporary Art market are Basquiat, Koons and Kaws. They alone account for 19% of the segment's global auction turnover, with sales of their works (more than 900) generating $362.7 million in the 12-month period (2018/19).
Top 10 Contemporary Artworks sold at auction (July 2018 – June 2019)
Artist
Artwork
Result
Vente
1
Jeff KOONS (b. 1955)
Rabbit《兔子》 (1986)
$91,075,000
15 May. 2019, Christie's New York
2
Jean-Michel BASQUIAT (1960-1988)
Untitled (Pollo Frito)《无题(炸鸡)》 (1982)
$25,701,500
14 Nov. 2018, Sotheby's New York
3
Jean-Michel BASQUIAT (1960-1988)
Discography Two (1983)
$20,900,000
15 Nov. 2018, Christie's New York
4
Christopher WOOL (b. 1955)
Untitled (1990)
$15,218,750
15 Nov. 2018, Christie's New York
5
KAWS (b. 1974)
The Kaws Album (2005)
$14,772,700
1 Apr. 2019, Sotheby's Hong Kong
6
Christopher WOOL (b. 1955)
Untitled (无题)
$14,000,000
16 May. 2019, Sotheby's New York
7
Jenny SAVILLE (b. 1970)
Propped (支撑) (1992)
$12,490,600
5 Oct. 2018, Sotheby's London
8
Jean-Michel BASQUIAT (1960-1988)
Apex (山之巅) (1986)
$10,815,000
5 Mar. 2019, Sotheby's London
9
Jean-Michel BASQUIAT (1960-1988)
Sabado por la Noche (Saturday Night) (周六晚上) (1984)
$10,635,000
25 Jun. 2019, Christie's London
10
Peter DOIG (b. 1959)
Buffalo Station I (1997/98)
$9,903,000
5 Oct. 2018, Sotheby's London
© Artprice.com
Basquiat: the Contemporary market's equivalent to Picasso on the Modern market
A pionnier of Street Art… emblematic of the creative vitality of an era… a Contemporary myth and 'idol' of the market, Jean-Michel Basquiat, whose works generated a turnover total of $157.1 million over the past year, has remained the market's undeniable leader for 10 years (he lost his first place in 2008/09 after the notorious Damien Hirst sale at Sotheby's in London on September 15 and 16 just as Lehmann Brothers was collapsing).
Basquiat is the first and, to date, the only Contemporary artist to have created a work that has fetched a 9-digit result on the auction market. The record was hammered in May 2017 for a 1982 canvas that was acquired by Japanese business tycoon Yusaku Maezawa for $110.5 million (Untitled《无题》, Sotheby's New York). Despite generating a lower annual turnover than in previous years ($256 million in 2017/2018), Basquiat maintained his dominant position, fetching four of the top 10 results.
The Basquiat phenomena probably contributed to the promotion and valorisation of the work of a number of other African-American artists, and we are still seeing the impact of this wave. Kerry James MARSHALL was the most expensive African-American artist behind Basquiat (26th in the world by annual turnover) last year. In March 2019, a work by Marshall (Untitled (Painter)) fetched $7.3 million, triple Sotheby's high estimate. That was the artist's second-best result after he reached $21.1 million in May 2018 for his painting Past Times (Sotheby's).
Jeff Koons crowned "most valued living artist"
Second behind Basquiat in annual turnover, Jeff KOONS generated the segment's best result of the year with his sculpture Rabbit (1986). Undeniably famous, this sculpture (from an edition of 3 plus an artist's proof) has been exhibited in major museums including the Tate Modern, the Whitney and the Pompidou Center. It is considered an emblem of post-Warhol American creation and, according to the New York Times, an "icon" of Contemporary Art. Mandated to sell the only copy still in circulation, Christie's expected it to fetch around $70 million on 15 May, but substantially underestimated its power of attraction. Fetching $91 million, Rabbit《兔子》 become the most world's most expensive artwork by a living artist. The work alone generated 81% of Jeff Koons' annual auction turnover and the result is the 20th best-ever auction result in art auction history.
Kaws, the new idol of the global market
KAWS (aka Brian Donnelly) has enjoyed the most breathtaking progress of the year, taking third place (in turnover terms) behind Jeff Koons, with a total of $936 million, that's $78.3 million more than in 2017/2018. The forty-year-old American artist represents – along with Koons – one of the most remarkable examples of the continued success of Pop culture on the art market. Kaws has managed to pursue the Pop ethos through his Companion, an emblematic character with crosses for eyes and crossbone ears. He has invaded the world with a large-scale production of affordable works and giant (high-priced) sculptures, such as the 36-metre float that was anchored in the Hong Kong harbour in March on the sidelines of Art Basel HK. The artist has a perfect understanding of the modern era "internet buzz", particularly via Instagram (2.3 million followers) and fashionable art lovers like Justin Bieber and Pharrell Williams. Many Asian collectors are also among the fervent admirers of his regressive universe: 58% of his works are sold in Asia versus 13% in the United States (since 2018), which makes Kaws the Western Contemporary artist who receives the greatest support from Hong Kong and Japanese buyers.
His breathtaking auction record of $14.8 million was set in Hong Kong on 1 April at Sotheby's. Entitled "The Kaws Album" (2005), the Beatles/Simpsons inspired canvas multiplied its low estimate by 15 just a few days after the appearance of the floating Companion giant in the port of Hong Kong. Back in New York two weeks later, his acrylic "The Walk Home" confirmed the feverish demand focused on the new idol of the Contemporary Art market by fetching $5.955 million at Phillips against a high estimate of $800,000.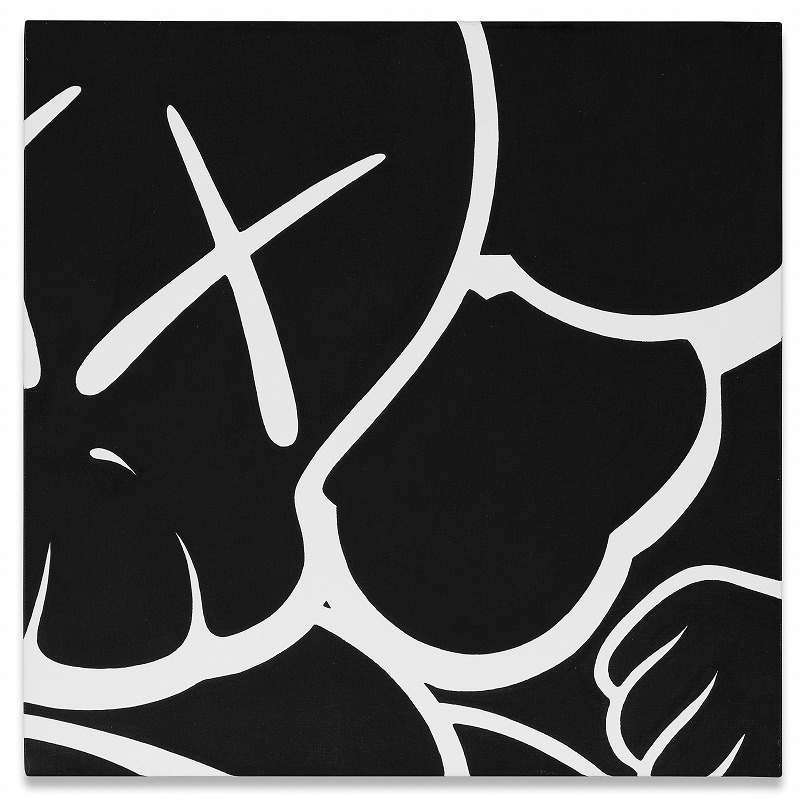 Kaws – Untitled (SM1) (2000)
Acrylic on canvas, 41 x 41 cm
© Kaws
$176,500, SBI Art Auction Co, Ltd, Tokyo, 3 November 2018
Shifts in the Top 10 ranking (vs. 2017/18 )
1 ↘ Basquiat: – $99 million
1st for the 10th consecutive year
2 ↗ Jeff Koons: + $71 million
Moved from 8th to 2nd place (from $40.8 million to $111.8 million)
3 ↗ Kaws: + $78.3 million
Moved from 22nd to 3rd place ($15.3 million to $93.6 million)
4 ↗ Wool: + $31.5 million
Moved from 6th to 4th place (from $45.5 million to $77 million)
5 ↘ George Condo: – $3.5 million
Moved from 4th to 5th place (from $49.2 million to $45.7 million)
6 ↗ Yoshitomo Nara: + $7.5 million
Moved from 11th to 6th place ($35 million to $42.5 million)
7 ↗ Keith Haring: + $16.9 million
Moved from 15th to 7th place (from $24.3 million to $41.2 million)
8 ↗ Albert Oehlen: + $21.3 million
Moved from 26th to 8th place (from $13.6 million to $34.9 million)
9 ↘ Zhou Chunya: – $9.5 million
Moved from 7th to 9th place (from $43.6 million to $34.1 million)
10 ↘ Peter Doig: – $70 million
Moved from 2nd to 10th place (from $100.9 million to $30.9 million)
Another essential signature in Contemporary painting, the American artist Christopher WOOL took 4th place in the global Top-10 Contemporary artists by auction turnover for the 2018/19 period, behind Kaws. Beyond his affiliation with Pop Art and Abstract Expressionism, Wool has managed to create a unique œuvre that is quintessentially "American". His price index is showing a phenomenal increase of +1,440% since 2000.
Like Kaws and Murakami, Yoshitomo NARA is one of the 10 best-selling artists on the planet, with 339 results in 12 months. His popularity is also illustrated by the strong growth of his price index (+773% since 2003) and a new record of $4.4 million for his Sleepless Night (Cat) (1999) hammered in May at Christie's Hong Kong. The sale of his works generated $42.5 million (an annual record for the artist) versus $35 million in the year-earlier period.
Albert OEHLEN has had a memorable year: his auction turnover ($34.9 million from just 27 lots) exploded thanks to three new records set in 12 months. Supported by the world's most powerful gallery-owner, Larry Gagosian, and exhibited at François Pinault's Palazzo Grassi in 2018, the artist is so well supported at auction that his record has doubled in two years. It now stands at $7.5 million for a self-portrait, "Selbstportrait mit Leeren Händen (Self-Portrait with Empty Hands)" (两手空空的自画像) (1998) sold in June at Sotheby's in London. The former student of Sigmar Polke is at the peak of his influence. The extraordinary progression of his price index (+3,862% since 2000) proves he is one of the major favourites of market-makers.
The Scottish artist Peter DOIG closes out this ranking after holding second place last year. While he used to regularly generate bids above $10 million, his best result in 2018/2019 was $9.9 million. It should be said that among the 11 paintings sold during the period, there were no paintings as exciting as Rosedale or "The Architect's Home In the Ravine"(山涧间的建筑师小屋). The underperformance (-$70 million) is due to the lack of of masterworks in circulation and in no way reflects buyer disaffection.
Female artists in the Contemporary Art market …
Male artists dominate the Contemporary Art market in both number and value. Indeed this domination dates back to the beginning of auction history. Ten years ago, only six women were among the Top 100 annual turnover figures (Cecily Brown, Cindy Sherman, Jenny Saville, Rachel Whiteread, Marlene Dumas, Sherrie Levine). Substantial price differences between the sexes are still reflected today in the annual turnover figures of women compared to men. Ten years later, women are still a small minority: the top 100 artists by annual auction turnover contains 88 men and just 12 women.
Men vs Women (July 2018 – June 2019)
Men
Auction turnover
Women
Auction turnover
1
Jean-Michel BASQUIAT (1960-1988)
$157,184,500
Jenny SAVILLE (b. 1970)
$28,809,000
2
Jeff KOONS (b. 1955)
$111,860,500
Cecily BROWN (b. 1969)
$28,448,000
3
KAWS (b. 1974)
$93,651,000
Julie MEHRETU (b. 1970)
$8,993,000
4
Christopher WOOL (b. 1955)
$77,056,400
Dana SCHUTZ (b. 1976)
$8,059,000
5
George CONDO (b. 1957)
$45,758,000
Marlene DUMAS (b. 1953)
$7,779,600
© Artprice.com
Nevertheless… with the subject of the place of female artists having become a much more openly-discussed subject in the Art world and the Art Market, the situation is changing. More attention is being paid to women by museums, curators, critics and, now, by auction companies.
The latter have adopted a couple of somewhat timid stances: Christies created a micro-event to mark International Women's Day, inviting experts to present their favorite museum works by women; Sotheby's, for its part, tested a small, exclusively female, online sale (By Women, For Tomorrow's Women, 1 March 2019).
There can be no doubt that some form of strong commitment by the sales companies is essential to hope for a rebalancing in the coming years. For the time being, women are in a minority in Post-War & Contemporary Art sessions in New York. At Sotheby's latest prestige sale women represented 23% of the artists, and at Christie's equivalent sale, just 10% (15 and 16 May 2019).
This under-representation is of course highly visible in the relative numbers of million-plus results: only four Contemporary female artists rank among the top 100 results in 2018/2019. Jenny Saville is the best performer (7th/19th/36th), followed by Julie Mehretu (31st/92nd), Cecily Brown (32nd/58th/72nd) and Marlene Dumas (93rd).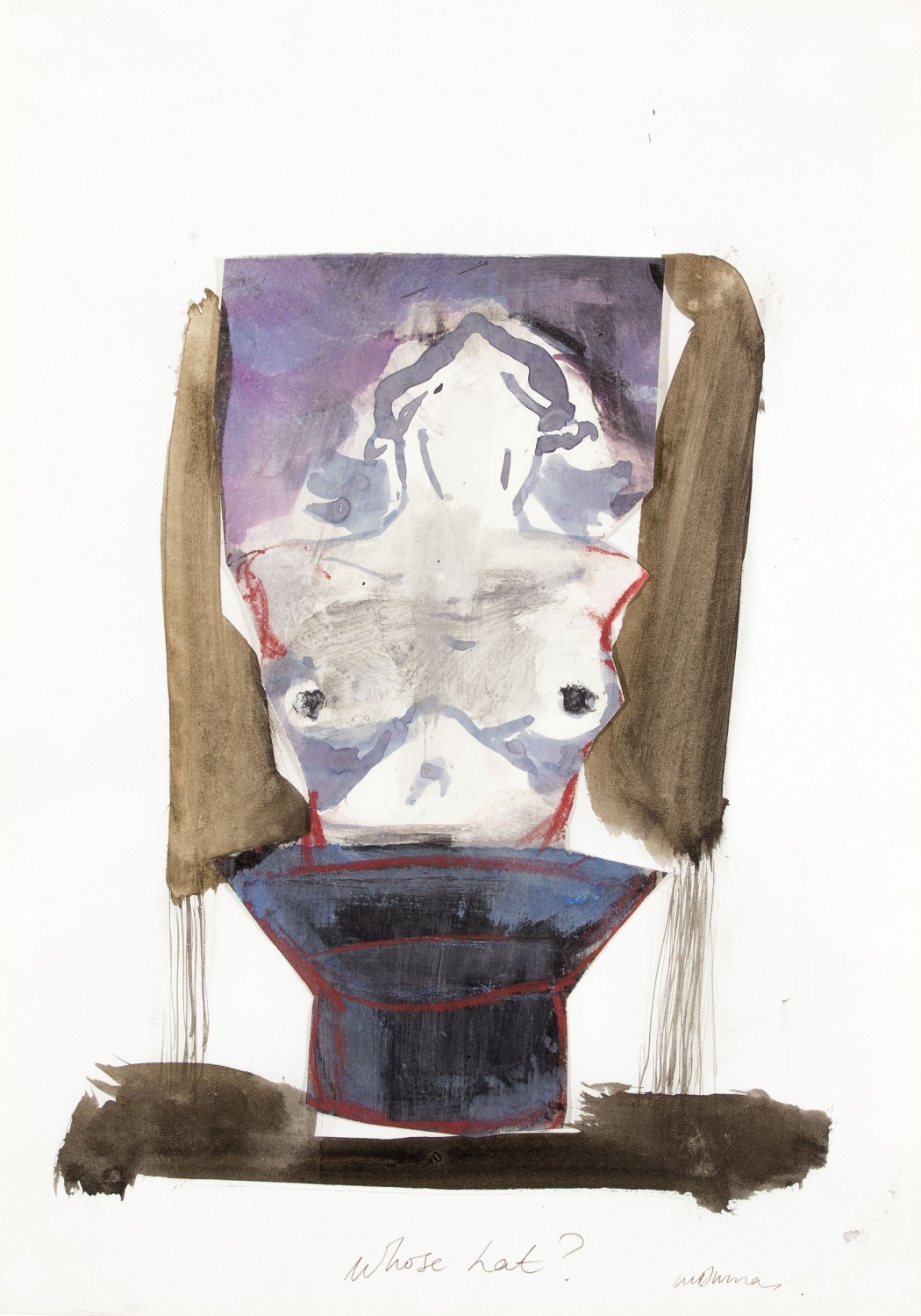 Marlene Dumas – Whose Hat? (1985)
Watercolor, chalk and collage on paper, 44 x 31 cm
© Marlene Dumas
$15,000, De Vuyst, Lokeren, Belgium, 20 October 2018
Jenny Saville: the most valued female Contemporary artist
Originally associated with the YBAs, Jenny SAVILLE paints bodies with abundant flesh, well-detached from the phallocentric model of what women should look like. In October 2018, the power of her painting "Propped" (支撑) (1992) allowed her to cross the $10 million threshold at Sotheby's in London for the first time. The monumental female nude largely doubled its high estimate to set a new record of $12.4 million, giving her the status of most-valued living female artist, ahead of Yayoi Kusama. Despite the rarity of her works (only four canvases offered in 2018/19), the Briton has become the fourth most expensive female artist in the world (all periods), after Georgia O'Keeffe, Louise Bourgeois and Joan Mitchell. She is also the top female artist in the top 500, ahead of her compatriot Cecily Brown.
Cecily Brown, British… and American
Based in New York since 1994, supported by heavyweights like Larry Gagosian, the British artist whose ambition was to "make the painting that New York deserves now" has achieved her goals (Hilarie M. Sheets, New York Times, 20 September 2018). Cecily BROWN has had another record year after her breakthrough in the 2017/2018 ranking. Her best result of the past year, close to $5 million, was hammered for her The Pyjama Game, a work previously sold for $1.6 million in 2007. The value of this painting rose 210% between its first auction in New York (at Christie's) and its resale 11 years later in Hong Kong (Seoul Auction).
Julie Mehretu… a new peak in Hong Kong
On 1 April last, Sotheby's Hong Kong hammered a new record of $5.6 million for the great American artist (born in 1970 in Ethiopia). Her painting Black Ground (Deep Light) (墨景(深邃的光)) was offered in what turned out to be a highly successful sale. This record illustrates the melting of the boundaries between Hong Kong and New York for the titans of Western Contemporary Art. Defended by White Cube and Marian Goodman Gallery, the Mehretu is preparing for a major retrospective, scheduled for the summer of 2020 at the Whitney Museum in New York. With an annual auction total of nearly $9 million, Julie MEHRETU scored the year's 36th best annual performance behind Anish Kapoor and Mark Tansey.
A number of other women have also elicited enthusiastic bidding. The American artist Dana SCHUTZ (4th best performing female artist by auction turnover) twice renewed her personal auction best on the same day: first, her Signing sold for $980,000 against a high estimate of $350,000 at Phillips, and then later that day her Civil Planning sold for six times its high estimate at Sotheby's, at no less than $2.42 million. In the space of 24 hours, the artist's record rose from $795,000 to $980,000, then to $2.42 million.
In June, Phillips sold a work by the Anglo-Ghanaian Lynette YIADOM-BOAKYE above the million-dollar line (her second 7-digit result). Leave A Brick Under The Maple was carrying an estimate of around $500,000. Similarly, a work by Marlene DUMAS, Losing (Her Meaning), sold at double its estimate to reach $1.5 million.
The value of work by female artists will increase as collectors understand the advantages of acquisition opportunities at relatively low prices (vs. their male peers). We have seen this phenomenon with the recent records for Joan Mitchell and Helen Frankenthaler in the field of American Abstract Expressionism. According to Alexander Rotter, head of Christie's Post-War & Contemporary Art Department in New York, "it's a market adjustment that should have occurred a long time ago".
We are now seeing certain collectors making a conscious decision to buy works by female artists. Department heads at Christie's, Sotheby's and Phillips have all noted a real increase in demand for works created specifically by women. The work of reassessment and revalorisation currently in progress may eventually lead to the obsolescence of a gender distinction, and therefore, to a profound evolution of the Art Market, particularly its Contemporary segment.
The 12 women artists in the top 100 (turnover totals vs. 2017/2018)
1 ↗ Jenny Saville: + $27.7 million
Moved from 158th to 11th place (from $1.1 million to $28.8 million)
2 ↗ Cecily Brown: + $1.2 million
Moved from 14th to 12th place (from $27.2 million to $28.4 million)
3 ↗ Julie Mehretu: + $5.5 million
Moved from 66th to 36th place (from $3.4 million to $8.9 million)
4 ↗ Dana Schutz: + $7.3 million
Moved from 231st to 37th place (from $674,000 to $8 million)
5 ↘ Marlene Dumas: – $4.6 million
Moved from 29th to 38th place (from $12.3 million to $7.7 million)
6 ↗ Elizabeth Peyton : + $3.8 million
Moved from 92nd to 46th place (from $2.3 million to $6.1 million)
7 ↗ Tracey Emin: + $3 million
Moved from 126th to 58th place (from $1.4 million to $4 million)
8 ↘ Cindy Sherman: – $3 million
Moved from 42nd to 67th place (from $6.8 million to $3.8 million )
9 ↗ Barbara Kruger: + $2.6 million
Moved from 157th to 70th place (from $1.1 million to $3.7 million )
10 ↗ Amy Sillman: + $1.26 million
Moved of the 115th to the 89th place (from $1.7 million to $2.96 million)
11 ↗ Ayako Rokkaku: + $2.1 million
Moved from 215th to 91st place (from $754,000 to $2.9 million)
12 ↗ Xu Lele: + $500,000
Moved from 98th to 95th place (from $2.2 million to $2.7 million)