China, with Hong Kong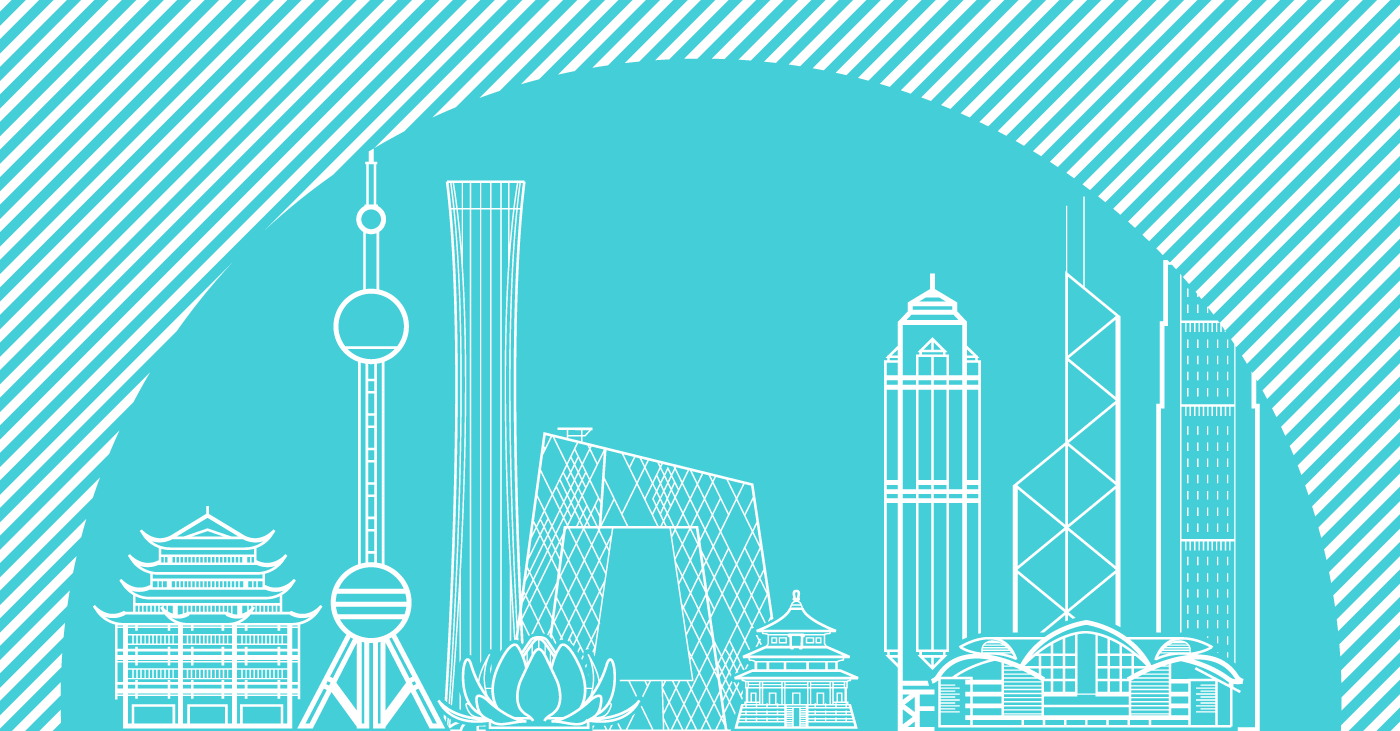 Already last year we saw an extraordinary rise of Hong Kong in the Contemporary art segment (see our 2021 Contemporary Art Market Report) thanks to bold choices, particularly in the Ultra-Contemporary sub-segment.
The city-state became the world's second market place for Contemporary art behind New York (artists born after 1945) thanks to eye-watering sales at Christie's, Sotheby's, Phillips, Poly International and China Guardian.
Many records have been hammered there for non-Asian artists, such as the Swiss, Nicolas Party, the Pakistani, Salman Toor, the Ghanaian, Amoako Boafo, the Nigerian, Toyin Ojih Odutola and the Americans Avery Singer, Loie Hollowell and Emily Mae Smith. These records are all the more remarkable because previously the 'new generation' established its prices first in New York or London, but never in Hong Kong. This year, the island is continuing its role as an accelerator in the progression of Ultra-Contemporary art and, as such, rivals the best Western marketplaces in that segment.
The most valued works in Hong Kong sales are generally creations by non-Asian artists. The Americans Loie Hollowell, Lucy Bull and the English Mr Doodle, for example, owe more than half of their auction totals to Hong Kong sales:
Loie HOLLOWELL (1983): supported by the Pace Gallery the artist's work generated 55% of her H1 result in Hong Kong, versus 26% in her native country.
Lucy BULL (1990): she also owes more than half of her H1 turnover to the vitality of the Hong Kong market: 53% versus 33% hammered in New York.
MR DOODLE (1994): the English artist is mainly represented by Pearl Lam Galleries (Hong Kong, Shanghai, Hangzhou) and enjoys immense popularity in Asia: 58% of his H1 turnover was hammered in Hong Kong and 13% in Tokyo. In volume terms, he was the world's best-selling under-40 artist with 125 lots sold in the first half of 2022.
In H1 2022, China generated a quarter of the world's auction turnover from Ultra-Contemporary art ($50.6 million) via the Hong Kong branches of Sotheby's, Christie's and Phillips, which all hammered new records for young stars on the international art market.
The Hong Kong branches of the three auction houses are all growing rapidly: Christie's posted 30% of its U-C art turnover there ($16.3 million in H1 2022); Sotheby's posted 18% ($11.1 million) and Phillips posted 48% there, nearly half of its global performance in the segment! It should also be noted that sales of Ultra-Contemporary art sometimes generate better results in Hong Kong than in London or New York, a reversal that was hard to imagine just three or four years ago. This is indeed the case for Christie's and Phillips, whose latest results are as follows:
Auction turnover from Ultra-Contemporary art (H1 2022)
Christie's Hong Kong ($16.3 million) vs. Christie's London ($12.7 million)
Phillips Hong Kong ($15.3 million) vs. Phillips New York ($13.3 million)
It should also be noted that Phillips Hong Kong has posted extraordinary growth: its $15.3 million from the U-C segment in H1 2022 was quite simply fifteen times higher than its H1 2019 turnover on the same segment.
In June 2021, Phillips decided to introduce young artists to the Asian auction market with the support of Poly International. On that occasion, it set new auction records for Salman Toor, Jadé Fadojutimi, Loie Hollowell and Ayako Rokkaku. This year, Phillips further extended its list of new records to Lucy Bull, Trey Abdella and Ben Sledsens.
Artists under 40: auction houses' relative shares of U-C turnover (Fine Art and art NFTs) in H1 2022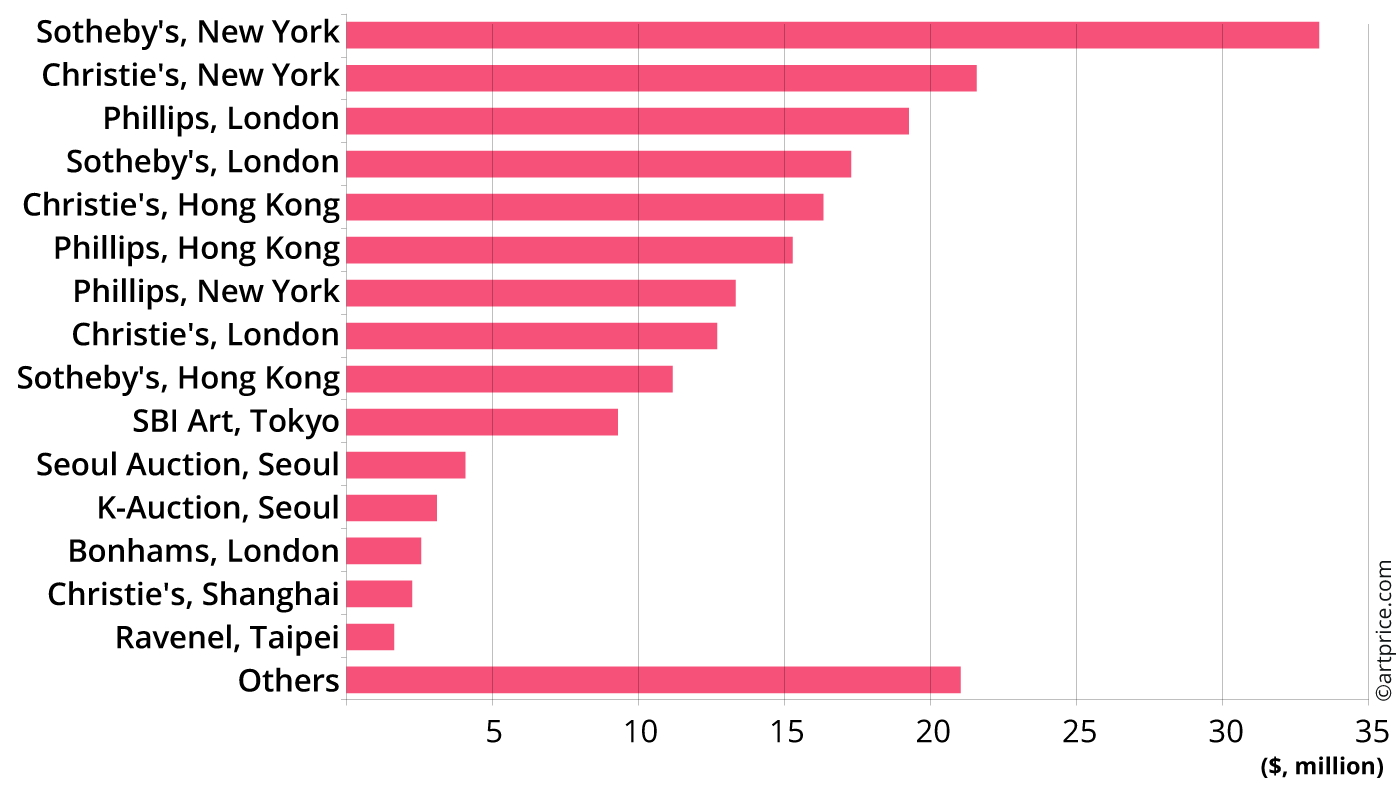 Phillips' Hong Kong turnover on Ultra-Contemporary art was higher than that achieved by its New York branch in the first half of 2022!
Conclusion
The growing appeal of Ultra-Contemporary art is evident in the world's three principal marketplaces – the USA, the UK and China (including Hong Kong) – where prices are exploding rapidly for new young artists who are already very well supported by institutions and major galleries. But this trend is more global and is spreading to other countries. While the amounts obtained are less exceptional elsewhere than in the high-end market's three centers of gravity, other marketplaces are also posting extremely encouraging results, reflecting more enthusiastic demand than in the past.
Tokyo for example, without competing directly with Hong Kong, is nevertheless positioned on the Asian continent as a hub for established Contemporary artists (Andy Warhol, Yoshitomo Nara, Yayoi Kusama), but also for young artists such as Mr Doodle and Ayako Rokkaku. In Japan, Ultra-Contemporary auction turnover increased by 55% between H1 2021 and H2 2022, on a similar number of lots sold. In the absence of a multiplication of transactions, it is of course the price level that changed, reflecting a more competitive spirit among bidders.
We should also mention South Korea, which was surprisingly dynamic with an H1 2022 U-C turnover up +617% (to $7.1 million). The country has become the fifth most important market place in the world for Ultra-Contemporary creations.
Then comes France with a turnover of $3.2 million on the U-C segment in H1 2022, a result up 94% from the previous year. This dynamic is not based, as is the case for the American and British markets, on a new 'domestic' generation, but on foreign artists who are particularly coveted at the moment. In this case, the artists Aboudia Abdoulaye DIARRASSOUBA, Eddy Ilunga KAMUANGA and Ayako ROKKAKU, who gave the French Ultra-Contemporary art market its best results in the first half of 2022.