Key figures for the Contemporary Art Market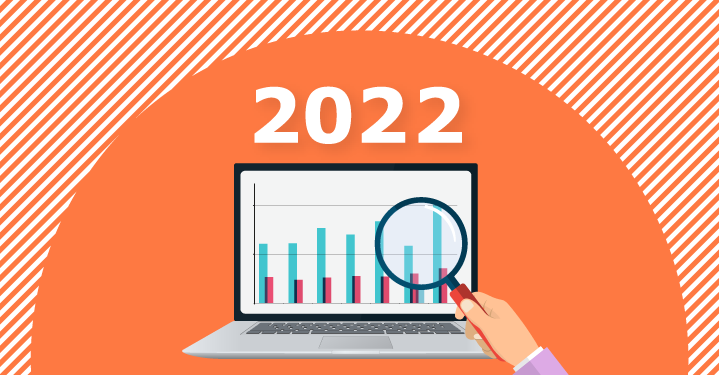 Every autumn, Artprice publishes the conclusions of its constant monitoring of the global Contemporary Art market.
This year, our annual report – published simultaneously with Frieze London and Paris+ by Art Basel – focuses specifically on Ultra-Contemporary art (works by artists under 40). In addition to this brand new report, Artprice continues to analyze all the auction data for the Contemporary art market as a whole (artists born after 1945).
Annual evolution of global Contemporary art auction turnover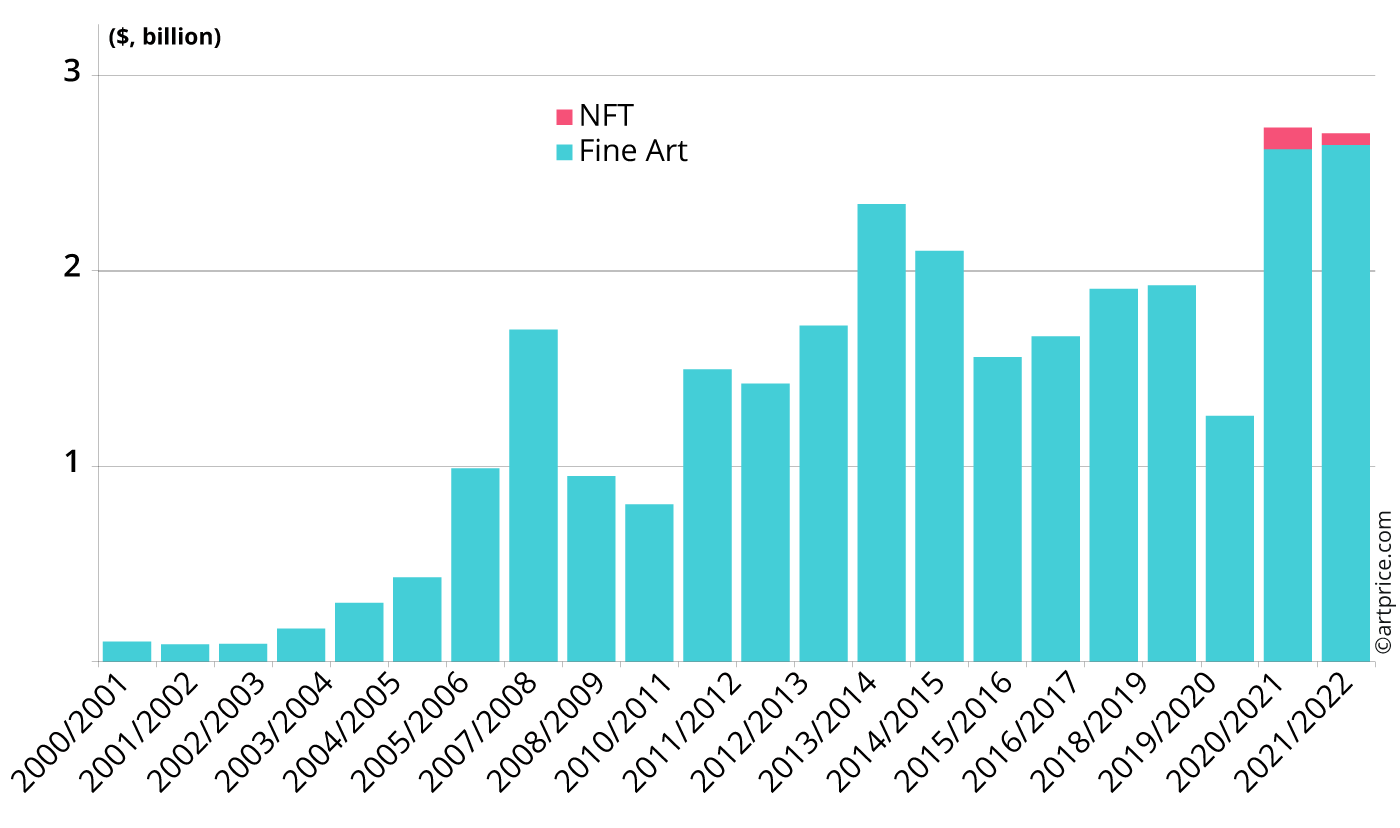 Stabilization at the highest level
In the 2021/22 period, global Contemporary art auction turnover posted a very slight contraction of -1.1%. This decrease was mainly due to the zero-covid policy in China, where sales in this segment dropped by an exceptional -33%. For the record, China was the world leader in this segment in the year-earlier period. This past year, the USA took first place with a 20% increase… with China in second place.
Between July 1, 2021, and June 30, 2022, turnover from global Contemporary Art sales totaled $2.7 billion, compared with $2.73 billion the previous year.
Without China's zero-covid policy and based on data for the last five years of China's Contemporary art market, the global Contemporary art market would have grown by +9%.
In 2021/22, Artprice by Artmarket counted 39,880 Contemporary signatures at auction (vs. 34,602 the previous year), including 5,300 new entrants (much more than last year's 1,284) due to the arrival of new auction houses, and 5,100 new auction records in the segment.
The turnover in the Contemporary art segment was exceptional. The $2.7 billion in global auction turnover (of which 38% from New York) reflects a market that is stronger, more diversified, and denser than ever. A total of 119,400 Contemporary works changed hands in the 12-month period (102 000 in 2020/21), up +12 % vs last year, and ten times more than 21 years ago. Meanwhile, the unsold rate remained perfectly stable at 33% (one in three lots remained unsold) despite the acceleration of transactions.
This remarkable result reflects the dynamism of an art market that is constantly expanding its buyer base.
The segment's sales turnover has doubled in 10 years and been multiplied by 31 in 20 years.
The Contemporary art market, which generated only $90 million in 2000, is now worth $2.7 billion, and it was – once again – the global art market's principal driver.
In greater detail, we see that turnover from the Fine Art mediums (paintings, sculptures, drawings, photographs, prints, videos, installations, tapestries) increased by +0.8% accounting for a record $2.64 billion, i.e. 98% of the value of the Contemporary art market. Conversely, for their second year on the mainstream secondary art market, NFT's posted a sharp contraction of nearly -46% (from $110.5 million to $60 million).
For the 2021/2022 period, Contemporary art weighed 17.6% of the total art market, whereas the Ultra-Contemporary art market (artists born under 40) represented just 2.7% of the total art market. However, the growth of this sub-segment alone explains a good part of the transformation of the art market as a whole: Ultra-Contemporary art concentrates all the major market trends (Women artists, NFTs, Street art, African artists, etc.) and reveals the ultra-competitive dynamic between New York, London, and Hong Kong, as well as the emergence of new capitals in the international market such as Tokyo and Seoul.
Strong growth in the West
As a result of its zero-covid policy, which paralyzed the country's major cities, China experienced a considerable contraction of its art market during H2 2021 and H1 2022. Contemporary art turnover alone posted a -33% contraction in China, Hong Kong, Macao, and Taiwan to $740 million. Fortunately, the situation was quite different in the West, where very good performances offset the shortfall in China.
New York alone hammered 38% of the global auction turnover on Contemporary art. That's a staggering $1.05 billion, an increase of +20% vs the year-earlier period. Thanks to this historic performance, the United States recovered the 'leading marketplace' status for
Geographical breakdown of turnover from Contemporary Art auctions (July 1, 2021 – June 30, 2022)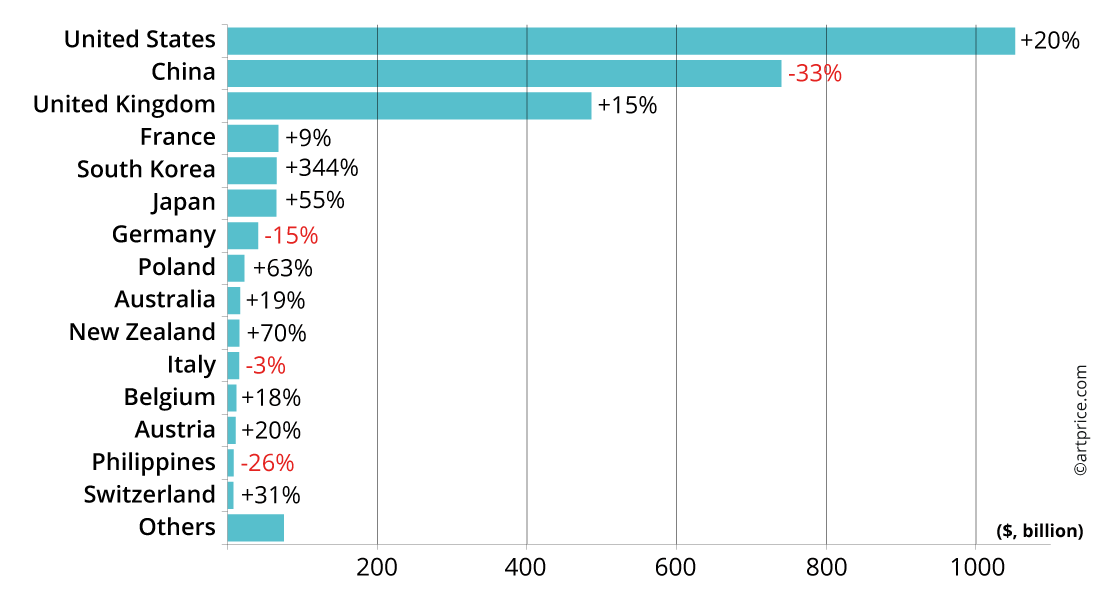 Top 15 countries by Contemporary Art auction turnover and market share (July 1, 2021 – June 30, 2022)
Country
Turnover
Market Share
1
United States
$1,052,513,660
39,00 %
2
China
$740,362,262
27,00 %
3
United Kingdom
$486,325,385
18,00 %
4
France
$68,041,318
3,00 %
5
South Korea
$65,543,724
2,4%
6
Japan
$65,249,188
2,4%
7
Germany
$40,797,616
1,5%
8
Poland
$22,596,629
0,8%
9
Australia
$16,993,961
0,6%
10
New Zealand
$16,080,107
0,6%
11
Italy
$15,584,219
0,6%
12
Belgium
$11,685,608
0,4%
13
Austria
$10,704,348
0,4%
14
Philippines
$8,034,058
0,3%
15
Switzerland
$7,915,016
0,3%
© artprice.com
In Europe, the UK accounted for 18% of global Contemporary art auction turnover with $486 million thereby consolidating its lead over France ($68 million), which still accounts for only 3% of global turnover in this segment. While Germany faced a fairly significant contraction (-15%), Italy managed to limit the impact of a still difficult recovery from the health crisis (-3%). Switzerland, on the other hand, continued to grow rapidly in this sector (+31%) and is developing as an important marketplace for Contemporary art in the heart of the Old Continent.
New bastions are springing up even faster in Asia, particularly in South Korea, where Contemporary Art auction sales reached $66 million, practically equaling those of France over twelve months. Seoul experienced remarkable growth of +344% in its Contemporary art turnover. Not only has the city completely recovered from the health crisis, but it is now establishing itself as one of the new capitals of Contemporary art on a global scale. Seoul has now overtaken Tokyo, despite the latter's growth of +55% in the segment.
In terms of Contemporary art, the domination of the Anglo-Saxon auction houses is absolute: Christie's (31% of global turnover), Sotheby's (26%), and Phillips (14%) account for more than 70% of the value of this segment. Faced with these results, the major Asian auction houses, China Guardian (3%), Poly Auction (3%), Seoul Auction (1.3%), and SBI Art Auction (1.2%) are playing David against Goliath.
Contemporary Art Price Index vs. Artprice Global Index
Index (Base 100 in January 1998)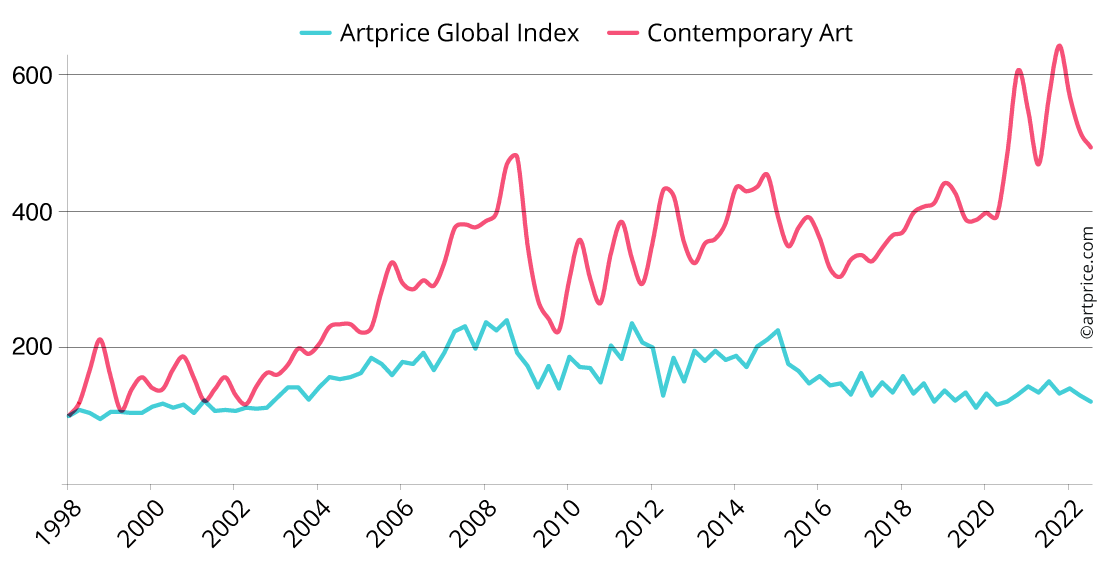 Table of contents
Key figures for the Contemporary Art Market