The new and preponderant place of women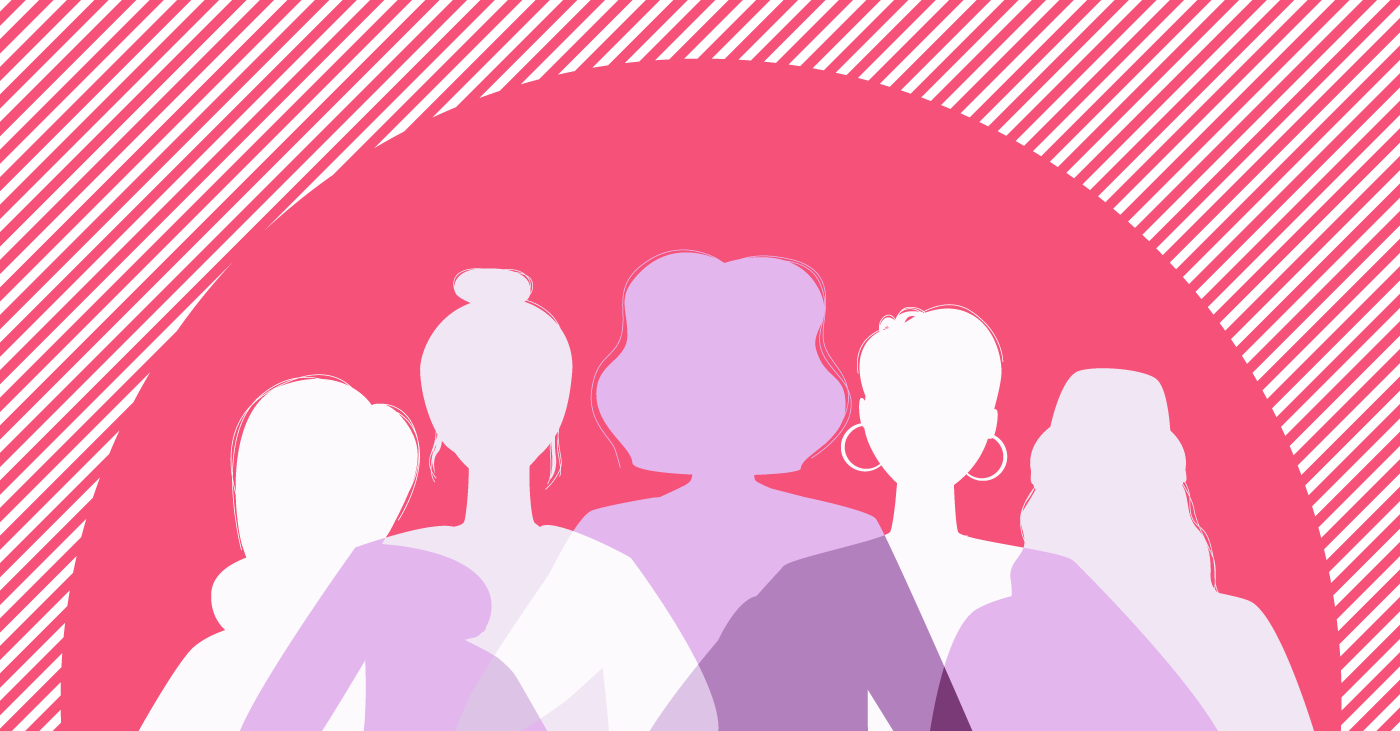 With a change of era, a change of paradigm: after decades warning about the under-representation of women in the art world and their lack of valorization on the market, more women are now pursuing a career in art and their success is coming much faster.
Their presence in sales is now a deliberate strategy claimed by the major auction houses, which highlight the new talents and exploits of female artists. When Phillips completed its Hong Kong Contemporary Art sale on June 22, 2022, for example, it immediately communicated that "90% of the works by female artists exceeded their high estimates".
The priorities of auction houses (but also of collectors and institutions) therefore seem to have changed profoundly towards a deliberate focus on promoting art created by women. The results are so strong that we are actually witnessing a 'situation reversal' this year: for the first time in the history of art auctions, women artists generated more auction turnover than men and their prices are actually higher (adjudication levels) than those hammered for their male counterparts!
Indeed, in our Top 10 ranking of young artists under 40 based on their H1 2022 auction turnover, there are no less than seven young women: Ayako Rokkako, Flora Yukhnovich, Avery Singer, María Berrío, Anna Weyant, Christina Quarles, and Loie Hollowell, all born after 1980. Aged in their thirties, they are among the new hopes of contemporary painting and their prices are more explosive than those of most men of their generation.
More than 2,600 artists under 40 now occupy the ultra-contemporary art market and their work generated $200.9 million in H1 2022. Half of that total came from just 10 of them, and seven of those ten are women!
Top 10 artists under 40 ranked by auction turnover in H1 2022. A female majority!
Artist
Turnover
Lots Sold
Unsold
1
Matthew WONG (1984-2019)
$21,326,103
12
2
2
Ayako ROKKAKU (b. 1982)
$18,619,531
119
13
3
Flora YUKHNOVICH (b. 1990)
$12,531,091
12
0
4
Aboudia Abdoulaye DIARRASSOUBA (b. 1983)
$9,177,854
56
0
5
Avery SINGER (b. 1987)
$9,170,591
7
1
6
Amoako BOAFO (b. 1984)
$8,263,929
12
0
7
María BERRÍO (b. 1982)
$7,556,876
7
0
8
Anna WEYANT (b. 1995)
$6,455,421
11
0
9
Christina QUARLES (b. 1985)
$5,598,272
3
0
10
Loie HOLLOWELL (b. 1983)
$5,519,154
13
2
© artprice.com
Women (highlighted in blue in this table) are the majority in the Top 10 under-40 artists ranked by H1 2022 auction turnover! If we look at the Top 50, twenty-one are women.
(Living) artists under 40: female majority in the Top 10 new auction records (H1 2022)
Artist
Record
1
Avery SINGER (b. 1987)
$5,253,000
2
Christina QUARLES (b. 1985)
$4,527,000
3
Jennifer PACKER (b. 1984)
$2,349,000
4
María BERRÍO (b. 1982)
$1,562,500
5
Robbie BARRAT (b. 1999)
$841,317
6
Robert NAVA (b. 1985)
$639,401
7
Issy WOOD (b. 1993)
$588,042
8
Lauren QUIN (b. 1992)
$588,042
9
Louis FRATINO (b. 1993)
$365,400
10
Jordy KERWICK (b. 1982)
$277,200
© artprice.com
→ This ranking reveals the ten young (living) artists whose work elicited new auction records during the first half of 2022. Women artists clearly dominate with six results (highlighted) , including the four best results! Never have women been so present and successful on the auction market.
Avery Singer (born in 1987)… the highest new record
Avery Singer's artistic language borrows from digital collage and often uses black, white, and shades of gray to create a unique pictorial world that has already conquered European museums (Stedelijk Museum in Amsterdam in 2016 and Ludwig Museum in Cologne in 2019) and American museums (MoMA, Whitney Museum). Supported by mega-galleries, she is turning the heads of major collectors, even in Asia.
Avery SINGER made her auction debut in 2017 when she was just 30 with a first canvas that sold for $36,000. The following year, her Fellow Travelers, Flaming Creatures (2013) fetched an astonishing $735,000 in a Sotheby's New York sale just a few months before the official announcement of her representation by the powerful Hauser & Wirth gallery (in December 2019). The best-informed bidders knew what they were doing…
In the spring of 2021, while Hauser & Wirth was working on Avery Singer's first New York solo show, planned for after the summer, her work moved another rung up the price ladder with a canvas that fetched over $3 million at Christie's Hong Kong. The work was titled Dancers Around An Effigy To Modernism (2013) and was painted when she was 26. On 23 June 2021, another work (Untitled, 2018) reached $4.1 million at Phillips New York, and this year (the artist is now 35) her prices have jumped again, up to $5.2 million for her large painting Happening (2014) sold at Sotheby's New York.
Key auction market data for Avery Singer in H1 2022
Turnover
$9,170,591
General classification
99
Geographical distribution
62% in the US
Breakdown by price range
50% between $100k & $500k
© artprice.com
Christina Quarles (born in 1985)
Through her painting, Christina QUARLES embodies and questions social issues such as the place of minorities, that of the body and sexuality, identity issues and the notion of gender. The Hauser & Wirth gallery, which she joined in 2021 (two years after Avery Singer), presents her as a "queer and cis" born to a black father and a white mother" whose engagement with the world is "an experience of incarnation that is deeply reflected in her sui generis art". Her identity exploration places her in the line of artists like Louise Bourgeois and Paul McCarthy, essentials of the powerful structure Hauser & Wirth whose galleries and branches have spread from Zurich to Hong Kong, via Los Angeles, New York, Monaco, and soon Paris (opening in spring 2023).
With a first solo exhibition of Quarles's work expected this fall in the Hauser & Wirth branch of West Chelsea in New York, her market is clearly tense, and her prices, already very high (between $200,000 and $600,000) since her auction debut in 2018, are now rocketing, with a result of $4.5 million hammered on 19 May 2022 at Sotheby's New York for « Night Fell Upon Us Up On Us » (2019).
Key auction market data for Christina Quarles in H1 2022
Turnover
$5,598,272
General classification
 161
Geographical distribution
 81% in the US
Breakdown by price range
33% between $1m & $5m
© artprice.com
Flora Yukhnovich (born in 1990): $1 million plus at 30!
Officially represented by the Victoria Miro gallery since January 2021 and introduced at auction three months later, there's a long waiting list of collectors who urgently want to acquire a work by Flora YUKHNOVICH (1990). In London, her small drawings immediately skyrocketed to ten times their estimates and, in June 2021, an important canvas – Pretty Little Thing – attracted bidding in New York to over a million dollars.
On 14 October 2021, her I'll Have What She's Having, freshly painted in 2020, fetched over $3 million at Sotheby's London versus an estimate of $80,000 – $110,000, i.e. thirty times higher than the mid-range estimate! In the first six months of 2022, fierce competition between bidders pushed four canvases above the million dollar threshold.
Key auction market data for Flora Yukhnovich in H1 2022
Turnover
$12,531,092
General classification
 79
Geographical distribution
 95% in the UK
Breakdown by price range
36% between $50k & $100k
© artprice.com
Anna Weyant (born in 1995)
Originally from Canada, Anna WEYANT went to the Rhode Island School of Design in 2017 before studying traditional painting at the China Academy of Art in Hangzhou and then settling permanently in New York where she has been represented since spring 2022 by the most powerful art dealer on the planet, Larry Gagosian. A New York exhibition is planned for the fall of 2022, but already this painter, influenced by John Currin, Lisa Yuskavage and even Balthus, is one of the most coveted. Just a year after her auction debut, the young woman posted two 7-digit results and all her works have sold without exception. Her market is expected to tighten even further in H2 2022 after all of the Gagosian spotlights are focused on her.
Key auction market data for Anna Weyant in H1 2022
Turnover
$6,455,422
General classification
 138
Geographical distribution
61% in the US
Breakdown by price range
 55% between $100k & $500k
© artprice.com
Loie Hollowell (born in 1983)
Considered a natural descendant of artists like Georgia O'Keeffe and Judy Chicago, Loie HOLLOWELL abstract paintings have already been integrated by approximately fifteen museums around the world, in particular thanks to the support of the Pace Gallery, which has represented her since 2017. Since then, her auction prices have continued to climb at an astonishing pace. Starting with an auction debut at $68,750 in May 2018 (Sotheby's New York), Hollowell sailed past $400,000 in 2019, and then the $1 million threshold in 2021. Such rapid growth obviously fuels the temptation to resell quickly and pocket the gains. Her canvas Lick Lick in Orange and Blue (舔舔橙色和藍色) (2015) was acquired for $137,500 in September 2019 at Christie's New York and subsequently resold for $963,000 (i.e. $825,500 more!) in April 2022 at Sotheby's Hong Kong.
Key auction market data for Loie Hollowell in H1 2022
Turnover
$5,519,154
General classification
 163
Geographical distribution
 55% in Hong Kong
Breakdown by price range
36% between $19k & $50k
© artprice.com
María Berrío (born in 1982), an immediate plebiscite
Colombian artist María BERRÍO studied art in New York at the Parsons School of Design and obtained a master's degree from the School for Visual Art. She currently lives in New York and produces delicate paintings made of layers of Japanese paper, an oeuvre with dreamlike accents that questions current events while giving a major place to the representation of women.
Shortly after a group exhibition at Victoria Miro (organized in association with The Great Women Artists), María Berrío officially joined the list of artists supported by this great gallery, which has since defended her work in London, New York, Los Angeles and elsewhere, via fairs and exhibitions.
When María Berrío made her auction debut in November 2021, her work was therefore already known to major collectors. On that occasion, Sotheby's offered her "Flor", a 2013 canvas already optimistically estimated at $120,000, but the bidding didn't stop until it reached $927,500! Her market has further accelerated this year with around ten transactions in the first semester, including two results above the $1 million threshold.
Key auction market data for María Berrío in H1 2022
Turnover
$7,556,876
General classification
116
Geographical distribution
71% in the US
Breakdown by price range
44% between $1m & $5m
© artprice.com
Ayako Rokkaku (born in 1982), the oldest of the under-40s
Unlike the other young women presented above, Ayako ROKKAKU already has a certain auction market history as her works have been selling publicly for fifteen years (since 2007). It is therefore not surprising that this major artist of the Japanese scene – always supported by the great Takashi Murakami and by major galleries as well – has established herself as the second most successful artist of her generation with an H1 2022 total of $18.6 million. Ayako Rokkaku also seems to be benefitting from the current enthusiasm for female artists, since demand for her work has never been stronger than this year.
Ayako Rokkaku's auction turnover (2000 – H1 2022)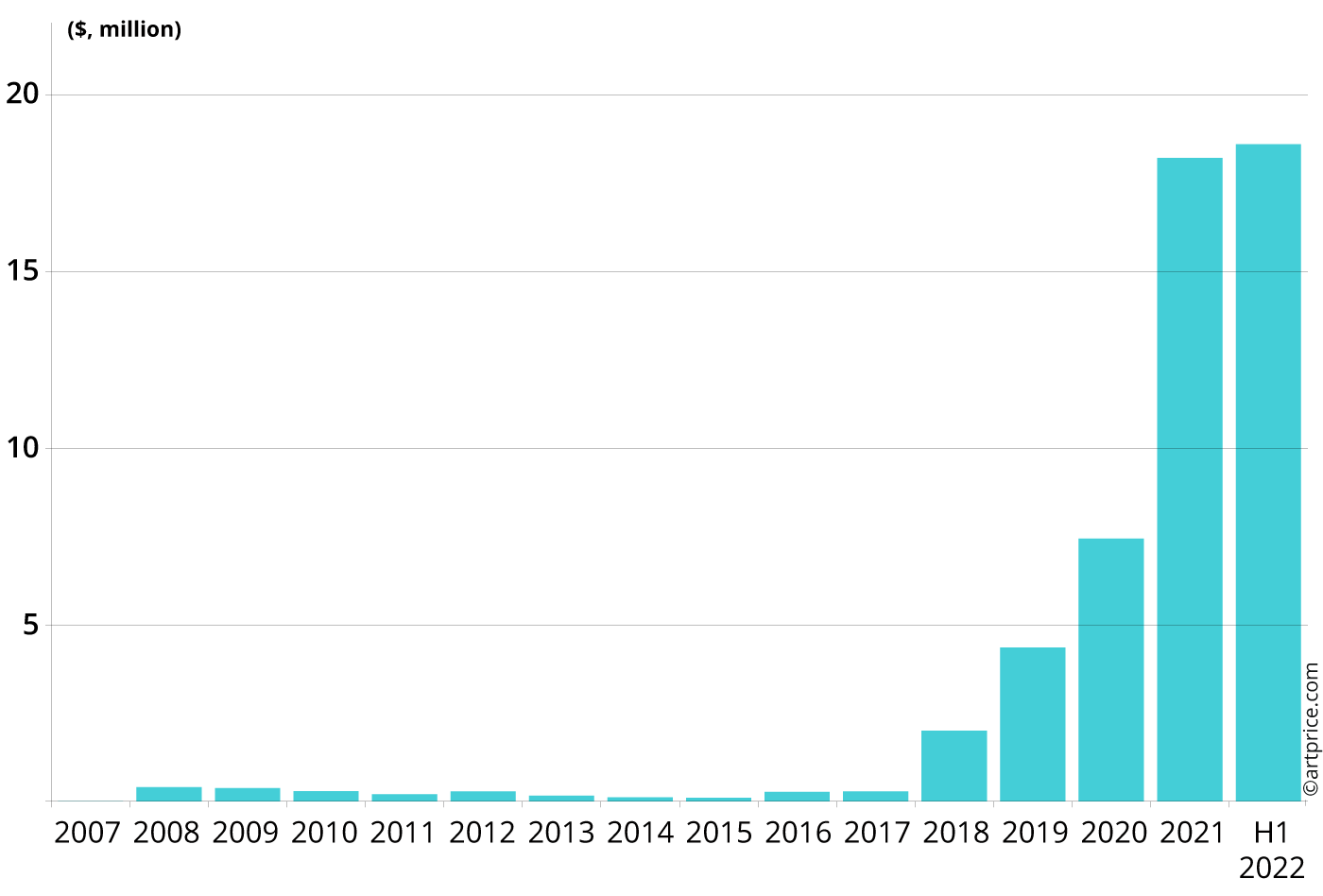 Key auction market data for Ayako Rokkaku in H1 2022
Turnover
$18,619,531
General classification
 62
Geographical distribution
 43% in Japan
Breakdown by price range
 31% between $100k & $500k
© artprice.com
Shara Hughes, desire and capital gains…
The new generation of female artists enjoys the support of the biggest galleries on the planet. Their works elicit a desire for "ownership" but the phenomenal rise in their prices has also intensified the temptation to flip as the gains can be both big and quick. Take for example Shara HUGHES (born 1981), whose painting Here and there (2007) has been sold three times in the last five years at various auction houses, from New York to Hong Kong, and its value has multiplied by thirty-three.
Auction prices for Here and there by Shara Hughes:
2017: $6,250 at Phillips New York
2020: $72,573 at Sotheby's Hong Kong
2022: $208,711 at Christie's Hong Kong (online)
Shara Hughes: turnover geography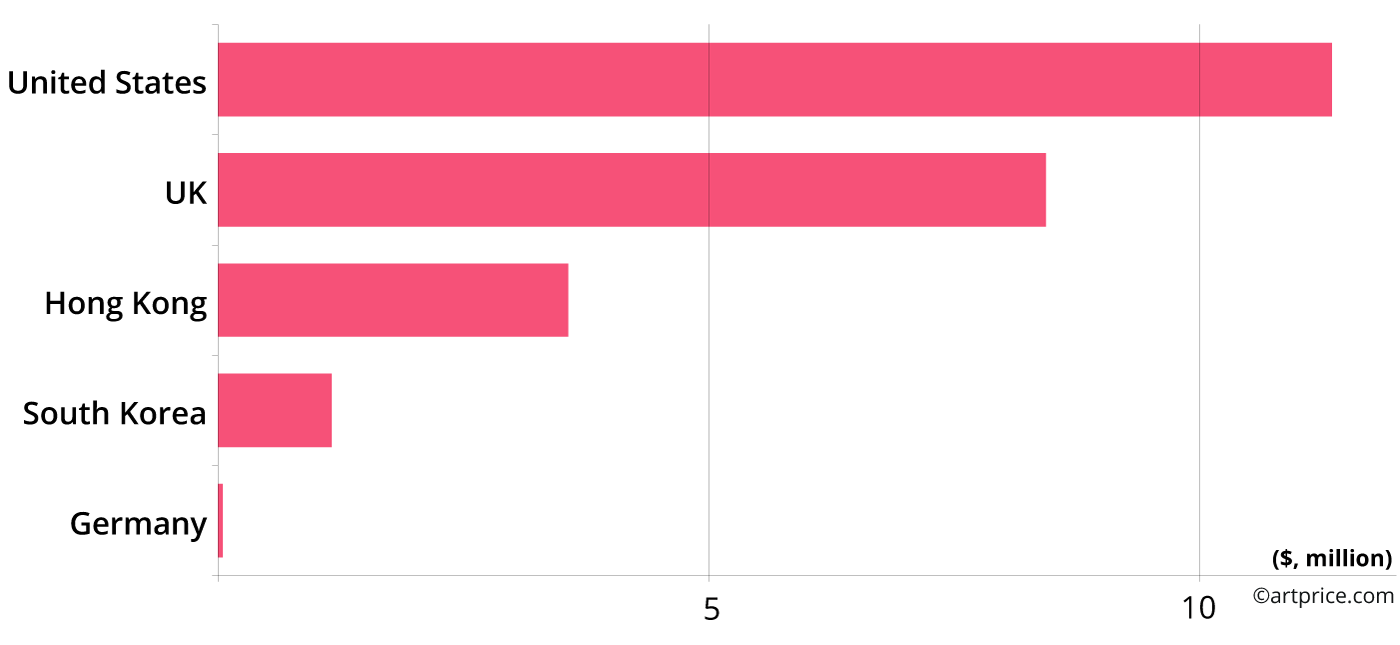 Table of contents
The new and preponderant place of women