Abstraction… more than just American
With the most famous signatures of American Expressionism becoming rare on the secondary market, buyers are turning towards the second generation of abstract artists. The latest results also show a growing interest in the works of Zao Wou-Ki and Pierre Soulages, as well as a return to the pioneers of abstraction.
Kasimir Malevich generates record of the year at $85.8 million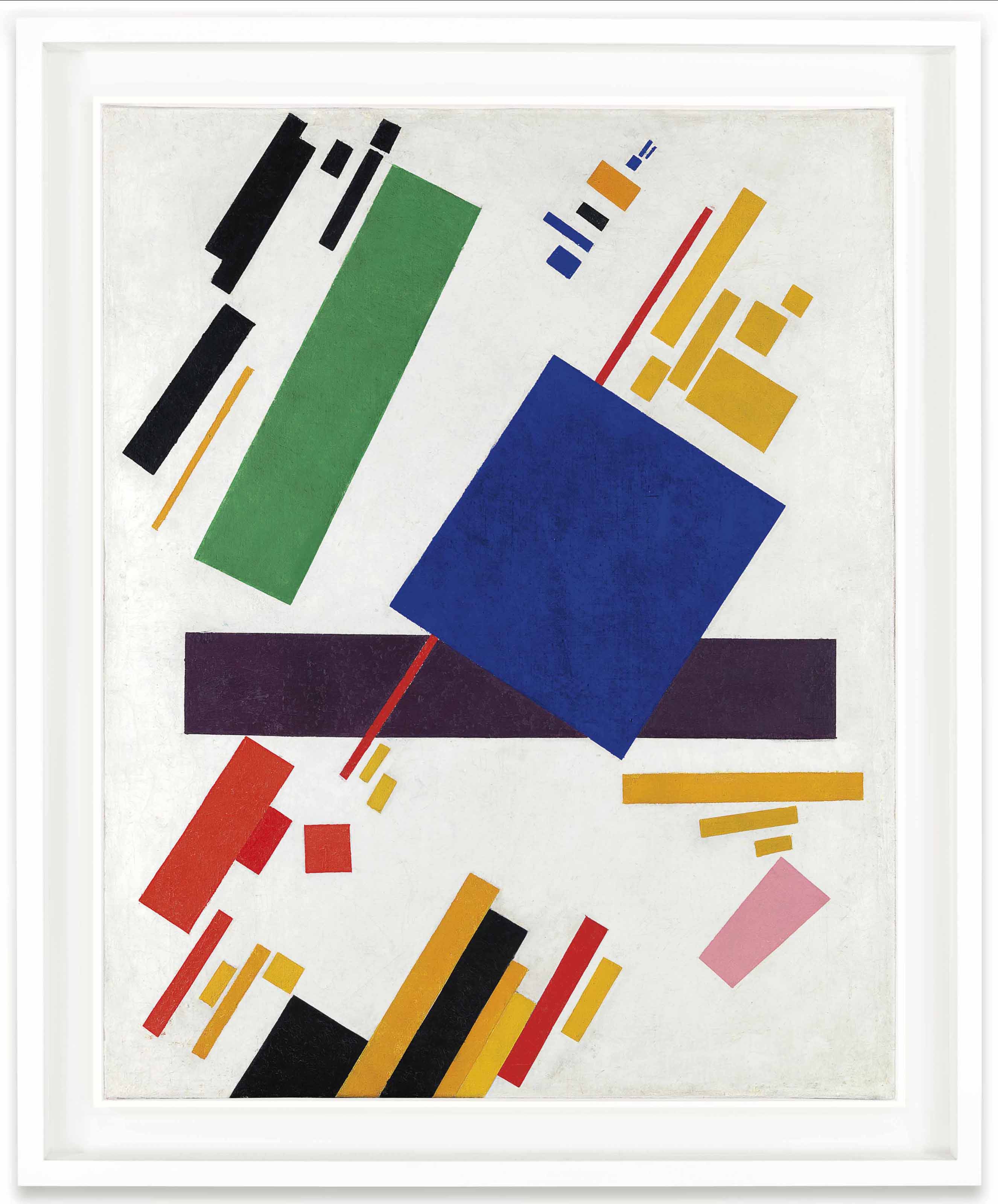 Kasimir Malevich (1878-1935)
Suprematist Composition (1916)
In 2018, the top-selling work in the abstract art field was a composition by Kasimir MALEVICH (1878-1935), initiator of one of the most radical currents of 20th century abstraction: Suprematism. Extremely rare, his suprematist paintings are sought after by the world's biggest collectors and most prestigious museums. One such painting was auctioned on 15 May 2018 at Christie's in New York, taking Malevich's record (and Russian abstraction) to a new high at $85.8 million. The same work – Suprematist Composition 《至上主义构图》 (1916) – was already responsible for the artist's previous auction record, having fetched $60 million in November 2008 at Sotheby's. In 10 years the work's value grew by +43%, yielding an annual return on investment of +3.6%. Considered one of the best of the artist's early revolutionary images, the painting was hidden with other important works in the 1930s. It was returned to the heirs of the Malevich family in 2008, shortly before its first sale.
Top 5 Abstraction all-time records
Artist
Artwork
Price
Date
Auction house
1
Mark ROTHKO (1903-1970)
Orange, Red, Yellow (1961)
$86,882,500
8 May 2012
Christie's New York
2
Kasimir Sevrinovitch MALEVICH (1878-1935)
Suprematist Composition 《至上主义构图》 (1916)
$85,812,500
15 May 2018
Christie's New York
3
Mark ROTHKO (1903-1970)
No. 10 (1958)
$81,925,000
13 May 2015
Christie's New York
4
Mark ROTHKO (1903-1970)
No. 1 (Royal Red And Blue)
$75,122,500
13 Nov 2012
Sotheby's New York
5
Mark ROTHKO
White Center (1950)
$72,840,000
15 May 2007
Sotheby's New York
© Artprice.com
Rothko neck and neck with Kandinsky
With five results above $65 million since 2007, Mark ROTHKO has long been at the top of the market for Abstract art. His record at $87 million, obtained in 2012 for Orange, Red, Yellow (1961), is twice as high as KANDINSKY's record ($42 million in 2017, for Painting with White Lines, 1913), despite the latter's supposed role in the initiation of abstract art around 1910. Indeed, at this price level, the sale of a single major work can have a major impact on an artist's turnover total for the year as a whole.
Evolution of Rothko's and Kandinsky's auction turnover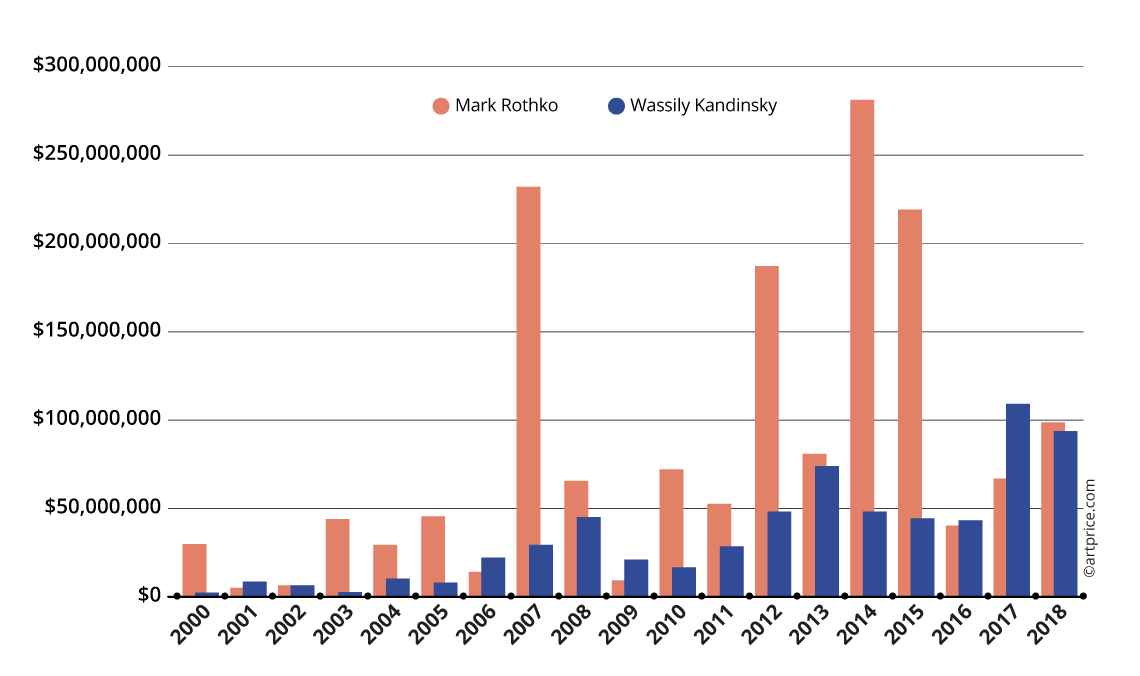 Whether the works are considered 'abstract paintings' or 'colorfield's (the two main branches of the abstract art), their value has steadily increased in recent years. During 2018, Robert Motherwell and Willem de Kooning both renewed their records, at $12.7 million and $68.9 million respectively.
The 'second generation' joins the momentum
Second generation Abstract Expressionists are also being revalued, including two female artists who renewed their records on the same day: Joan MITCHELL and Helen FRANKENTHALER. On 17 May 2018, Sotheby's sold Frankenthaler's Blue Reach for $3 million, double the high estimate, while Christie's secured $16.6 million for Joan Mitchell's Blueberry against a high estimate of $7 million. For the year as a whole, Joan Mitchell generated her best-ever turnover with $71.4 million (+184% versus 2017). David Zwirner is no stranger to this new momentum. The 'most influential personality in Contemporary Art', according to Artreview's "Power 100", he announced his exclusive representation of the Joan Mitchell Foundation two weeks before the sale of Blueberry.
Another strong result in 2018 rewarded Richard Diebenkorn a#-7696, whose abstract canvas Ocean Park (1984) #126 climbed to $24 million at Christie's in May, almost doubling the artist's previous record. The result contributed to Richard Diebenkorn being among the  top 30 artists in the world in terms of annual auction turnover.
Strong demand for the pioneers of abstraction
The market's vitality is not just measured by the pace of new records. In 2018 Kandinsky consolidated his prices with excellent overall results, generating over $81 million and giving the artist 27th place in the global ranking. Another pioneer of abstraction, Frantisek KUPKA, elicited strong demand alongside his retrospective at the Grand Palais in Paris (March-July 2018). At auction, more of Kupka's works were sold in 2018 than ever before (76) with a historically low unsold rate (less than 12%).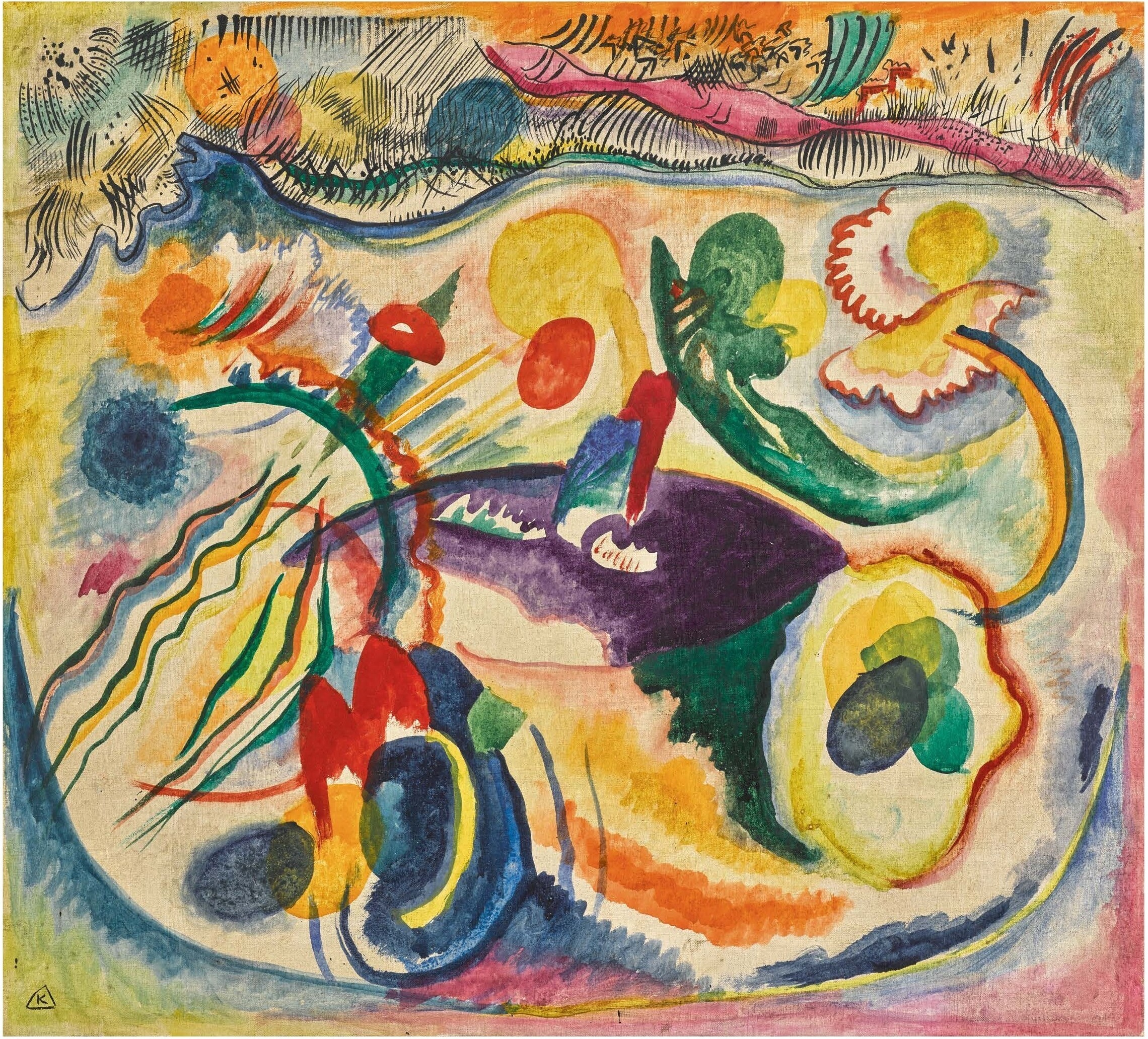 Wassily Kandinsky (1866-1944)
Zum thema jüngstes gericht (1913)
Strong results for France
The prices of works by Pierre SOULAGES are rising quickly: +1.000% since 2000. The French painter is increasingly sought-after in New York, which now beats Paris on the highest results. On 15 November 2018, Christie's New York sold a never-before auctioned canvas for $10.6 million (Peinture 186 x 143 cm, 23 décembre 1959). This first result above the $10 million is unlikely to be his last. Approaching the age of 100, Soulages remains at the heart of 2019's cultural news with a retrospective at the Fondation Pierre Gianadda and – holy grail for any artist – the project for a room in his name at the Louvre Museum.
Among the foreign artists who settled in Paris during the 20th century, Serge Poliakoff, Hans Hartung, Simon Hantai, Vieira Da Silva and Zao Wou-Ki masterfully developed the abstract art scene. Essentially sold in France, these artists are generally less valued than American abstract artists. A work by Maria Elena VIEIRA DA SILVA, L'Incendie I (1944) nevertheless set a new record for the artist at $2.8 million in London (Christie's, 6 March 2018). Only one of these artists is approaching Rothko's prices and that is ZAO Wou-Ki thanks to the support of the Asian market, with three works exceeding the $20 million threshold in Hong Kong. The French market is benefiting from this surge in prices as its annual sales turnover has doubled in ten years.
Zao Wou-Ki's vs. Pierre Soulages' Price Index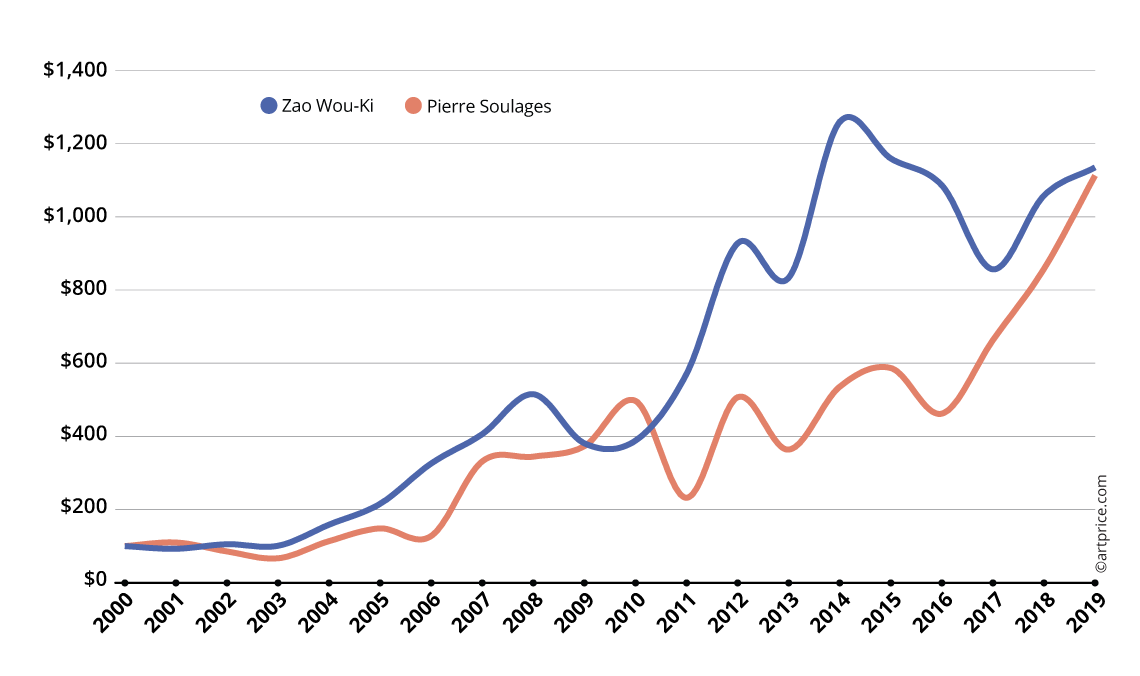 Quid abstract sculpture?
The results in the abstract sphere are just as strong for three-dimensional works, especially for sculptors like Joel Shapiro (American), Tony Cragg (British) and Bernar Venet (French) whose annual turnovers have never been so high. But the figure to remember is $71 million, the new record for Constantin BRANCUSI and the most expensive sculpture of the year. Although the title of the work, La jeune fille sophistiquée (Portrait de Nancy Cunard) 《少女的风姿(南希·库纳德)》, evokes a portrait, Brancusi's interpretation is totally free of figuration, producing a dynamic and contrasting form. This exceptional price celebrates one of the most fascinating sculptures of the 20th century.
Table of contents
Abstraction… more than just American