Contemporary Art's virtuous circle…
After 18 months of slowdown, the Art Market as a whole (all periods) is looking in better shape. And as we saw in our H1 2017 Art Market Report, the recovery is largely due to the performances of Contemporary Art.
It is true that masterpieces by Old Masters are becoming increasingly rare on the Market as they are absorbed into museum collections. However, this does not explain why collectors are increasingly turning towards Contemporary Art, and, by all accounts, with considerable passion. Contemporary Art is the most exhilarating segment of today's Art Market primarily because it receives almost all the attention, is an extraordinary vector for social recognition and each work harbours an enormous financial potential.
A virtuous circle
Michael Govan, director of the Los Angeles County Museum of Art (LACMA), explains the domination of Contemporary Art in museum programmes as a consequence of museums trying to avoid being dominated by white male artists: "If your mission is to reflect the world, and that women are half of this world… it's a lot easier if you are working in the present" (Julia Halperin, "Art of today dominates US museums", The Art Newspaper, March 2017). Indeed, Contemporary creation reflects a much higher level of diversity than previous artistic periods, both in terms of origin and gender.
This greater diversity in the Contemporary Art sphere not only chimes with the interests of major public institutions, but also with those of corporate foundations, sponsors, curators and  journalists, i.e… everyone who purchases, exhibits, writes about and rewards art. The Art Newspaper refers to this concordance of interests as a virtuous circle: "As more collectors focus on Contemporary Art, the composition of museums' boards of trustees has shifted in this direction as well. […] Although many believe that trustees should not influence programming decisions, their enthusiasm can be contagious—particularly when they are willing to fund the projects they are most excited about." (Julia Halperin, "Art of today dominates US museums", The Art Newspaper, March 2017).
This virtuous circle obviously has repercussions on the Market: prices changes in the Contemporary Art sphere can be faster and bigger than in any other segment. One particularly striking example was that of Wolfgang Tillmans' single edition photograph Gillian & Christopher (1993) that was acquired for $50,000 in October 2015 at Christie's in London and subsequently sold for $150,000 on 19 May 2017 at Sotheby's in New York. It is interesting to note that over the last two years Tillmans has joined the David Zwirner Gallery and enjoyed a major retrospective at the Tate Modern followed by the Beyeler Foundation.
Of course, Contemporary Art is not always profitable; an un-researched acquisition may end up losing value. That is why it is important for buyers to follow the evolution of each Contemporary artist closely. The financial potential in this sector is huge, but the risk factor is also high; like the financial markets… the stronger the growth, the higher the risk, particularly when growth gets into 3-digit percentages.
In any case, aside from the investment aspect, the Contemporary Art collector has the feeling of contributing to the History of Art; by endorsing a particular work or artist… by recognising its value, the collector takes a position and commits himself.
A bigger splash…
The $110.5 million spent on 18 May 2017 in New York for a canvas by Jean-Michel Basquiat epitomises the new dynamic driving the Contemporary Art market. Acquired by a Japanese collector aged 41, Yusaku Maezawa, Basquiat's Untitled (1982) is now by far the most expensive work of Contemporary Art in the world! Its hammer price exceeded all the forecasts – those of Sotheby's first of all – which guaranteed the sale to the tune of $60 million, and those of the buyer himself. In an interview conducted the day after the sale, Maezawa admitted: "I didn't expect the price to go that high" (Motoko Rich and Robin Pogrebin, "Why Spend $110 Million on a Basquiat?", The New York Times, 26 May 2017).
Last year Mr Maezawa had already set a major new auction record for Jean-Michel Basquiat by acquiring a similar work, also untitled and dated 1982, for $57.3 million. The difference between the two prices (almost double) is even more surprising considering that the first painting he acquired was substantially larger than the second. In the same NYT interview, Mr Maezawa explains: "I just follow my instinct. When I think it's good, I buy it." (Motoko Rich and Robin Pogrebin, "Why Spend $110 Million on a Basquiat?", The New York Times, 26 May 2017).
Jean-Michel Basquiat's success is not just exponential… it's global, as the market trajectory of his Water-Worshipper (1984) amply illustrates. Over the last 30 years, the work has been successively sold in New York, Paris, London and lastly Hong Kong in an increasingly rapid series of sales.
Price evolution of Jean-Michel Basquiat's Water-Worshipper (1984)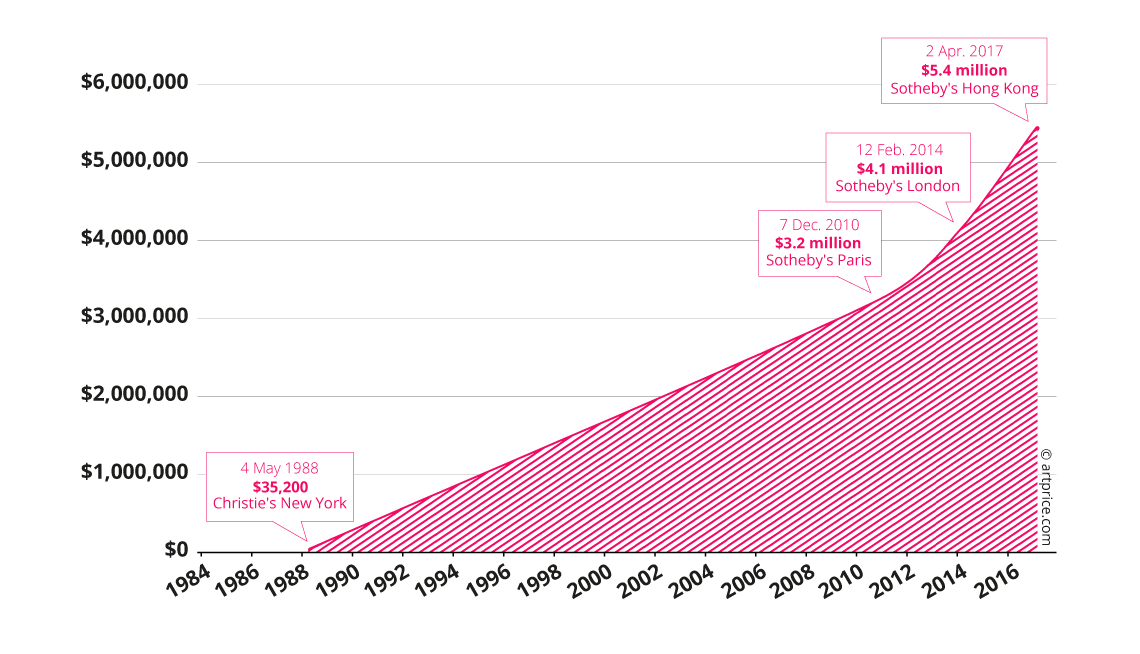 The results from public auctions clearly show that transactions are accelerating and becoming increasingly international. The supply of Contemporary Art is constantly renewing and the population of collectors is constantly growing. Contemporary Art is gradually breaking out of the traditional rules governing the Art Market. In short, the Art Market is opening up to women, Street Art, collectives and artists from different origins, and it is becoming more transparent, more liquid and more efficient.
Table of contents
Contemporary Art's virtuous circle…