2017 Summary – The art market enters a new phase
2017 marks a return to worldwide growth for the art market. After two consecutive years of contraction (-10% in 2015 and -23% in 2016), global art auction turnover increased by +20%, equivalent to a spectacular turnaround of +40% (absorption of the contraction plus additional growth). This performance is all the more significant as it was generated by a combined recovery of both the Western and the Chinese markets, with each market generating a new historical auction result as well.
These record results (one in November in New York and the other in December in Beijing) may be seen as the crowning events of a year in which the Art Market gradually regained all of its confidence. This was not only clear in the high-end segment; it was visible across all the price segments… and in the overall stability of the Art Market as a whole.
The year 2017 will remain a decisive year for two reasons. On the one hand, because a new price range (unthinkable just a few months ago) has been reached, with the huge gap between the previous all-time art auction record and the new one (between $180 million and $450 million) bound to be filled incrementally by upcoming sales of museum quality works. On the other hand, because for the first time since the coming-of-age of the Chinese market (2008), the major powers of the Art Market have simultaneously demonstrated all the signs of firm and durable growth. In addition, 2017 has proved beyond any doubt the validity of the model developed (and IPR protected) by Artprice which details and forecasts all of the economic, financial and sociological phenomena inherent to "the Museum Industry" ®.
Widespread growth
The +9% increase in global art auction turnover for the first half of 2017 ended a series of four negative semesters for the global Art Market. The recovery was largely driven by the US (+27%) and the UK (+13%). China, for its part, still posted a -8% contraction in H1 2017, but this was largely absorbed by excellent results in the second half of the year.
In H2, all five of the world's largest marketplaces posted substantial turnover growth:
China: +20%
United States: +53%
United Kingdom: +26%
France: +48%
Germany: +18%
In view of the Art Market's performances over the past 10 years, the 2017 result is perfectly in line with its medium-term cyclical evolution, which, incidentally, is what makes the Art Market a particularly exciting market. However, for the first time in history, this latest growth recovery is supported by a combination of the US market, the Chinese market, but also the other major European marketplaces, and even by a whole series of "local" markets that are developing around the world.
Global Fine Art auction turnover, by semester (2008-2017)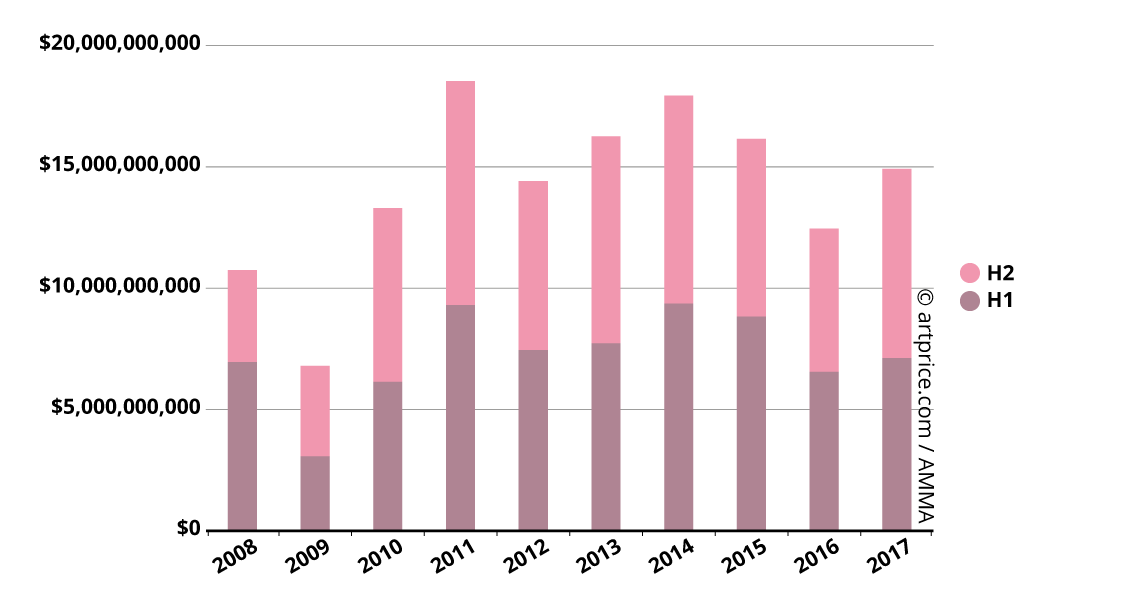 Soft Power: China first, the USA just behind
China ($5.1 billion) is still ahead of the United States this year ($5 billion), but narrowly: the competition between the top two powers of the Art Market has never been so intense.
Nevertheless, the two markets operate in very different ways. The Chinese market saw a very large number of lots offered for sale (280,800), of which only 32% found buyers. The US market, on the other hand, posted one of the highest sales rates in the market (75%), well above the average in the West (66%).
At the end of the day, the results of the two countries are very similar: 89,400 lots sold in China versus 82,000 in the US, generating closer-than-ever turnover totals. In comparative performance terms, the recovery of the Chinese market looks particularly impressive (bearing in mind that the US total was substantially boosted (+9%) by the sale of Leonardo da Vinci's Salvator Mundi at Christie's in New York). In short, it looks like the two global superpowers will continue to dominate the global art market for a substantial part of the 21st century.
Evolution of Fine Art auction turnover in China and the USA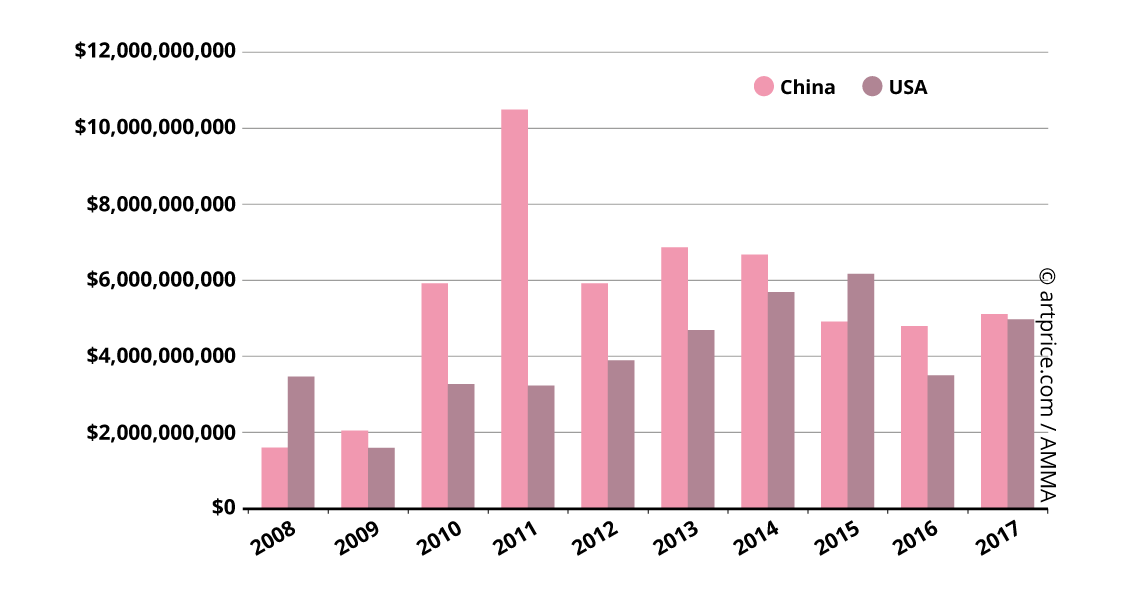 The global Art Market's top two markets both posted historic auction records this year. On 17 December 2017, at Poly International in Beijing, a series of twelve landscapes (Screens of landscapes (山水十二条屏)) by the great master Qi Baishi generated $140 million, a new record for an artwork in Asia (the previous was $66 million for Eagle Standing on Pine Tree; Four-Character Couplet in Seal Script in 2011, also by Qi Baishi). With this new high at $140 million (including buyer's fees), China finally has a Fine Art auction result among the top 10 results ever recorded worldwide.
The $450 million from the sale of Da Vinci's Salvator Mundi at Christie's in New York alone accounted for 9% of the US market in 2017 (and 3% of global turnover). Although this record obviously boosted US turnover (as did the $110 million paid in May 2017 for a Jean-Michel BASQUIAT painting), the development of the American market is primarily based on a growing number of transactions. In 2017, the number of artworks sold in the US was up +13% to 82,000, doubling the total of 10 years ago.
A long way behind the USA, the performance of the French market ($783.7 million) was nevertheless remarkable. Up 35% on the previous year, the strong growth of the French market was not generated by higher volumes (transactions remained approximately stable at 69,300) but rather by higher quality. In fact, the major Parisian auction houses managed to sell more museum-quality lots than ever before: the million-dollar threshold was crossed 79 times, with three results exceeding $10 million, and a peak of $29.5 million, the best Fine Art auction result in France since 2010.
Top 10 artworks sold in France in 2017
Artist
Artwork
Price
Date
Auction house
Alberto GIACOMETTI (1901-1966)
Grande femme II (1960)
$29,497,454
19 Oct. 2017
Christie's Paris
Jean-Michel BASQUIAT (1960-1988)
Jim Crow (1986)
$17,680,936
20 Oct. 2017
Christie's Paris
SAN Yu (1901-1966)
Pot de fleurs ou Pivoines (c.1930)
$10,385,360
18 Dec. 2017
Aguttes Neuilly-sur-Seine
Paul CÉZANNE (1839-1906)
Intérieur de forêt (1904/06)
$8,167,019
20 Dec. 2017
Beaussant-Lefevre Paris
Francesco GUARDI (1712-1793)
La place Saint-Marc avec la basilique et le campanile
$7,127,985
7 Mar. 2017
Christie's Paris
Pierre SOULAGES (b. 1919)
Peinture 162 x 130 cm, 14 avril 1962 (1962)
$6,885,000
6 Jun. 2017
Sotheby's Paris
Jean DUBUFFET (1901-1985)
Les Versatiles (1964)
$6,547,513
20 Oct. 2017
Christie's Paris
Jean-Paul RIOPELLE (1923-2002)
Sans titre (1953)
$5,772,677
5 Dec. 2017
Christie's Paris
Wifredo LAM (1902-1982)
Trois centimètres de la Terre (1962)
$5,239,106
6 Dec. 2017
Sotheby's Paris
Antonio CANOVA (1757-1822)
Joachim Murat (1813)
$5,134,320
28 Nov. 2017
Christie's Paris
© Artprice.com
In 2017, the United Kingdom did not generate any major new record. Christie's failed to sell  Francis BACON's much anticipated Study of Red Pope 1962. 2nd Version 1971 (1962). The painting, estimated between $80 and 105 million, would have set a new price record in Europe. Despite this disappointment, the UK posted a very good performance in 2017 with turnover of $2.5 billion (up 18%) from 55,000 lots sold (up 10%).
Top 20 countries by turnover in 2017
Turnover
Lots sold
Record price
1
China
$5,103,331,224
89,412
$140,954,580
2
USA
$4,969,782,753
81,938
$450,312,500
3
UK
$2,459,918,443
54,941
$59,004,638
4
France
$783,673,615
69,322
$29,497,454
5
Germany
$255,946,783
41,880
$3,664,674
6
Italy
$172,566,663
24,614
$1,715,067
7
Switzerland
$117,086,440
11,084
$8,506,872
8
Austria
$105,473,624
6,582
$2,752,678
9
Australia
$105,313,576
11,682
$2,441,107
10
Japan
$93,539,616
13,118
$967,376
11
South Korea
$80,767,140
1,199
$6,156,120
12
Czech Republic
$56,220,381
6,523
$2,208,192
13
India
$55,821,586
1,261
$3,082,458
14
Canada
$54,172,789
11,243
$5,506,163
15
Sweden
$51,043,272
4,927
$2,124,980
16
Poland
$50,150,898
6,576
$1,218,027
17
Belgium
$45,234,907
14,905
$845,972
18
Netherlands
$36,834,403
5,797
$632,869
19
South Africa
$32,852,697
5,273
$1,612,507
20
Philippines
$28,880,690
1,223
$1,321,242
© Artprice.com © AMMA
An increasingly diversified global market
In 2017, Artprice's ranking of the world's Top 500 artists by auction turnover contains 45 nationalities, five more than in 2016.
Europe still dominates the Top 500 ranking with almost half the number of artists. France alone has 59, including several very high ranking artists: Claude MONET (7th), Fernand LÉGER (16th) and Jean DUBUFFET (27th). Germany, has 34 artists and remains one of the major pillars of the Western market, along with the UK and Italy, which are tied with 27 each. Belgium and the Netherlands (with their superb history of Flemish masters) have 21 artists in the Top 500. And, this year, two Czech artists have returned to the ranking: Emil FILLA (301st) and TOYEN (431st).
Distribution of the top 500 Artists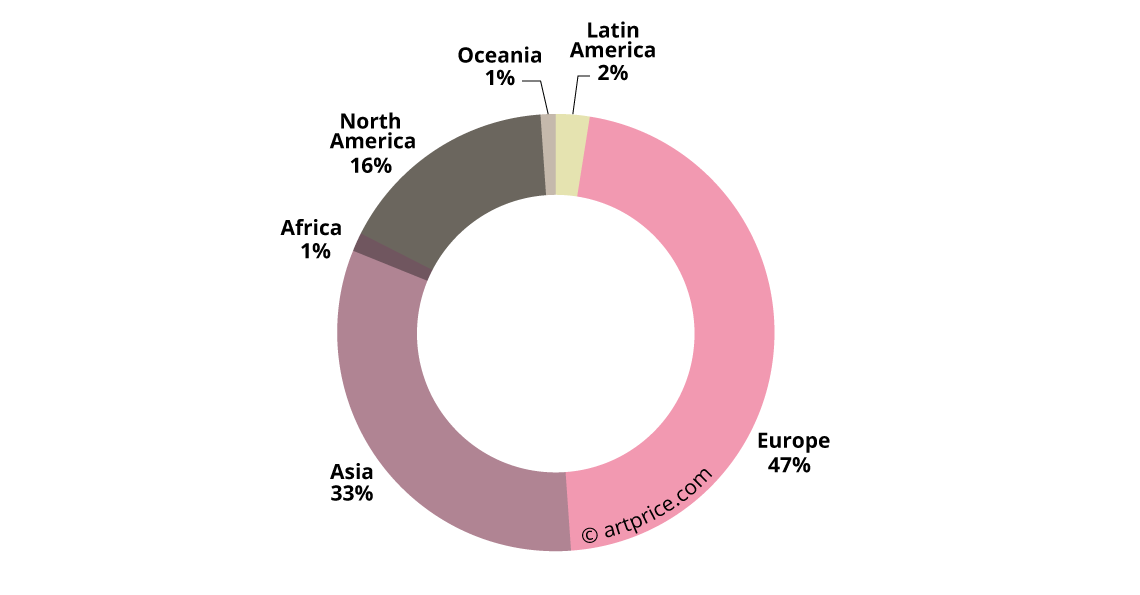 With as many artists in our Top 500 ranking as Africa, Oceania is emerging on the global Art Market.  Like last year, six Australian artists are in the Top 500 this year: Brett WHITELEY (232nd), Sidney Robert NOLAN (254th), Arthur BOYD (360th), Frank Jeffrey Edson SMART (383rd), Arthur Ernest STREETON (393rd) and Charles BLACKMAN (426th) thanks to a new record at $1.4 million. His Mad Hatter's Tea Party (1956), purchased for $530,000 at Sotheby's in Sydney in May 2009, fetched almost three times that sum eight years later at the same auction house. Sotheby's presence in Sydney highlights the strong potential of the Australian market. But the sales of their top six national artists are still too confined to their domestic market: more than 94% of their auction turnover is still generated in Australia.
Although it does not yet organize sales in the southern hemisphere, Christie's has an even broader international presence than its rival. New York, London, Hong Kong and Paris account for most of its turnover, but the auction house owned by François Pinault (via the Artémis holding company) remains well established in several other cities. We note that Christie's did not organize any sales in India during 2017.
Distribution of Christie's Fine Art Auction turnover by city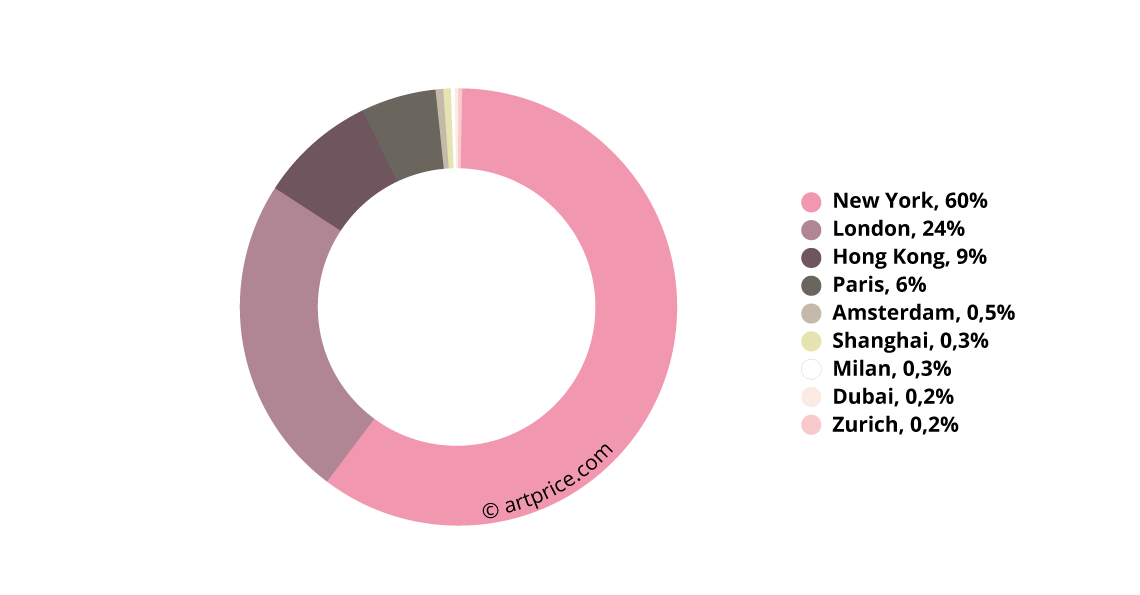 Christie's domination of the global art auction market clearly relies on its extensive international network of branches. International development is also at the heart of the strategies pursued by Sotheby's and Bonhams, but also by Phillips, which is expanding into Hong Kong.
In their own way, the major Chinese auction houses are showing the same interest in geographical diversification and seeking to extend their presence throughout the territory. Today, Poly Auction dominates all of its competitors with subsidiaries in Beijing, Hong Kong, Shanghai, Xiamen and Shandong (although these subsidiaries are largely autonomous).
Top 20 Auction houses by Fine Art auction turnover in 2017
Turnover
Lots sold
1
Christie's
$4,446,258,656
16,056
2
Sotheby's
$3,379,835,398
13,989
3
Poly Auction
$1,025,050,170
5,618
4
China Guardian
$815,161,400
6,907
5
Phillips
$470,859,957
3,938
6
Council International Auctions
$415,319,727
3,841
7
RomBon Auction
$242,822,804
2,753
8
Xiling Yinshe Auction
$182,077,596
4,568
9
Bonhams
$159,435,786
7,700
10
Holly International
$127,596,733
1,334
11
Canton Treasure Auction
$103,924,917
2,349
12
Shanghai Jiahe Auction
$86,805,355
1,961
13
Dorotheum
$77,538,794
4,993
14
Artcurial
$76,032,071
3,261
15
Rongbaozhai
$75,64,2974
2,659
16
Beijing Hanhai Art Auction
$75,403,752
4,924
17
Seoul Auction
$69,422,031
598
18
Zhong Hong Xin
$62,505,302
968
19
DuoYunXuan
$60,133,526
2,951
20
K-Auction
$54,730,942
770
21
Ketterer Kunst GmbH
$49,224,842
1,224
22
Chengxuan
$49,128,904
1,043
23
Sungari
$48,270,967
1,110
24
Grisebach
$47,274,616
2,251
25
Mainichi Auction Inc.
$47,085,059
9,758
© Artprice.com © AMMA
In general, the economic performances of auction houses depend on the number of transactions they mediate. Large auction houses have no desire to limit themselves to the high-end market. On the contrary, they all want full-as-possible sales calendars and are willing to operate in all price ranges. The development of online sales obviously represents a huge potential in this area.
The structure of the Art Market in 2017
Over the long term, the growth of the Art Market is more driven by volume growth than by price inflation. In fact, the price structure of the Art Market is evolving relatively slowly and, contrary to expectations, the evolution is generally benefiting the lower price ranges. The three results above $100 million recorded this year remain quite exceptional.
The most important evolution in price terms – the one that has had the most profound impact on the Art Market over the past 20 years – has been the willingness of collectors to pay a lot more for Contemporary art. Several artists (mostly Anglo-Saxon, like Peter DOIG, Jeff KOONS, Christopher WOOL and Richard PRINCE) have reached, in mid-career, price levels that were previously unthinkable during the lifetime of an artist. Today, we need to see if the fervor and enthusiasm enjoyed by Contemporary art will be confirmed in the long term. It most likely will, but the financial crisis of 2008 proved to be a particularly difficult test of the price solidity of certain artists classified as Contemporary. In the end, the test gave reassuring results since most of the major figures in Contemporary art came out unscathed.
However, behind these price considerations, the real motor of the Art Market's growth is unquestionably the Museum Industry. For the first time in history, the higher end of the market is being driven not by the whims of billionaires but rather by acquisition strategies designed to generate future cash from museum visitor flows. In other words, the Art Market is now being partly driven by a balance-sheet logic that justifies acquisitions amounting to hundreds of millions of dollars. And considering the sociological evolution of the museum industry, we believe the Art Market will soon reach the one billion dollar threshold for a single work of art.
Evolution of the Price Structure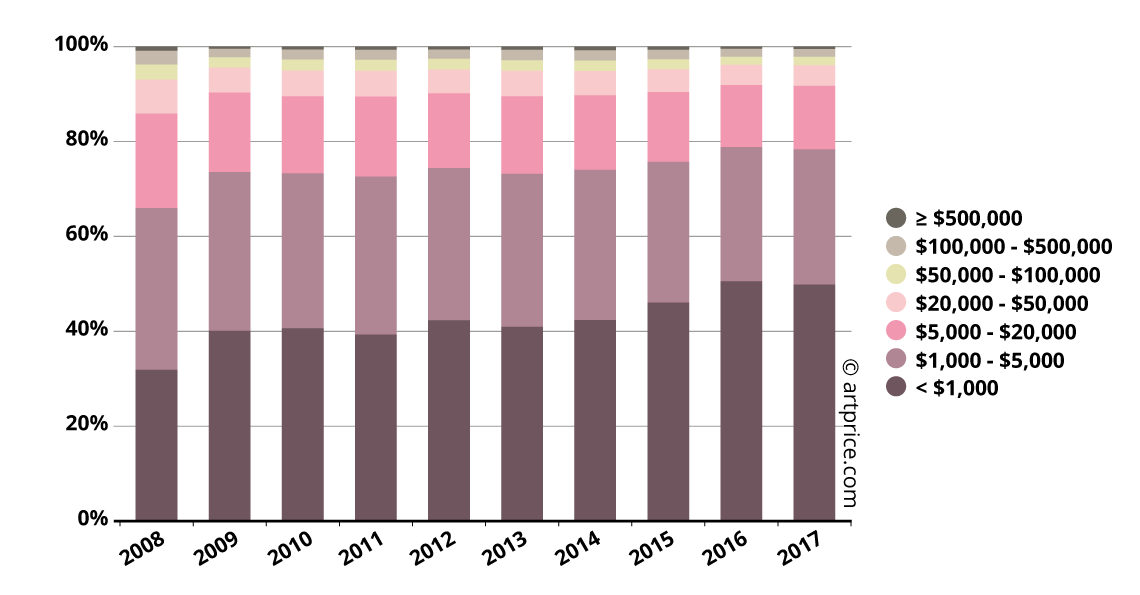 2017 once again generated a very high proportion of affordable works: half of the total global lots sold were acquired for less than $1,200 (including buyer's fees). The high-end market – works fetching over $100,000 –  represents just 3% of the total number of works in circulation on the global Art Market.
Price structure of the lots auctioned in 2017
Percentage of lots
auctioned less than
100%
$450,312,500
99%
$354,835
98%
$158,361
97%
$97,621
96%
$68,750
95%
$51,883
90%
$20,691
80%
$7,053
70%
$3,529
60%
$1,975
50%
$1,165
40%
$720
30%
$457
20%
$277
10%
$142
© Artprice.com
Prints and works on paper represent the majority of the works sold under $1,000 (66% and 55% respectively). But this price range also represents the base of the market for paintings (42%). In 2017, the market again offered three small oil paintings by the prominent signature Maximilien LUCE which sold for prices under the $1,000 threshold.
The proportion of sculptures and photographs sold between $1,000 and $5,000 is higher than that of any other medium. This price range represents more than a third of the lots sold in these two types of works. Note that sculpture and photography – which account for 11% and 2% respectively of sales turnover in the West – are still virtually non-existent in the Chinese market.
Distribution of turnover in Western countries by category (2017 )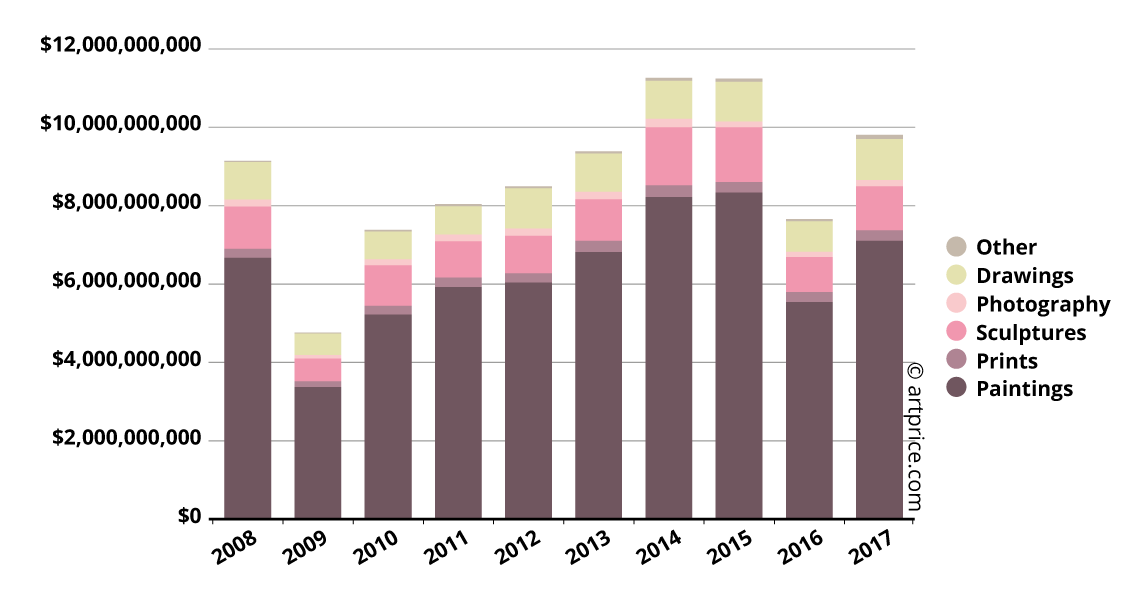 From a macro-economic point of view, the proliferation of affordable works and the growth of very high-end prices have the effect of maintaining price levels as a whole.
Artprice's global Art Market price index – calculated on the basis of all auction results worldwide –  has been volatile since the last quarter of 2015. Indicator of the overall profitability of the Art Market, the Global Artprice Index seems to have passed an inflection point and is today showing signs of imminent and positive change.
In an era when Western savers are suffering the impact of the ECB's negative interest rates and the FED's almost-zero rates, the Art Market has become a genuinely alternative investment market that is both reliable and sustainable.
Artprice Global Price Index – Base 100 in January 1998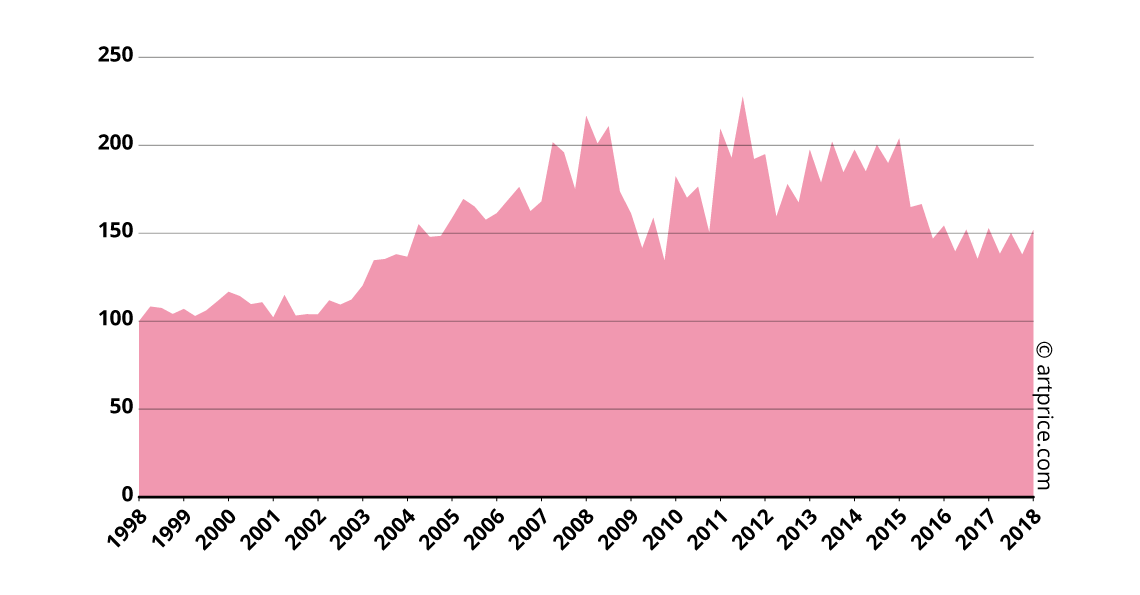 Table of contents
2017 Summary – The art market enters a new phase