The Western Market
The Western Art Market has never been denser: more than 413,000 artworks were sold through auctions during 2017… a new record. In addition, the relatively low unsold rate of 34% (in the West), shows that 'supply' is perfectly in line with a dynamic, demanding, and increasingly well-informed 'demand'. It also tells us that the market is currently free from speculative pressure. Indeed, from looking back over the stats for the last two centuries, we know that an unsold rate of 34% suggests the Market is in 'buy mode', but remains ruthlessly selective. It wants the artist's 'good' work, at the right time, and at the fairest price.
The Western Art Market has nevertheless just finished an exceptional year, marked by more than 37,000 new artist records, including two above $100 million. Of course, these stats refer to the high end, but in reality, the auction market is by no means exclusively reserved for a financial elite.
Vitality and diversity
Behind the ever-higher records set for art history's most prestigious works or for the market's best-supported Contemporary artists, the core of the Art Market is absolutely affordable. Out of the total of 413,000 lots sold in Europe and the United States in 2017 only a thousand works (1,093 exactly) crossed the million-dollar threshold.
Distribution of sold lots in Western countries by price range (2017)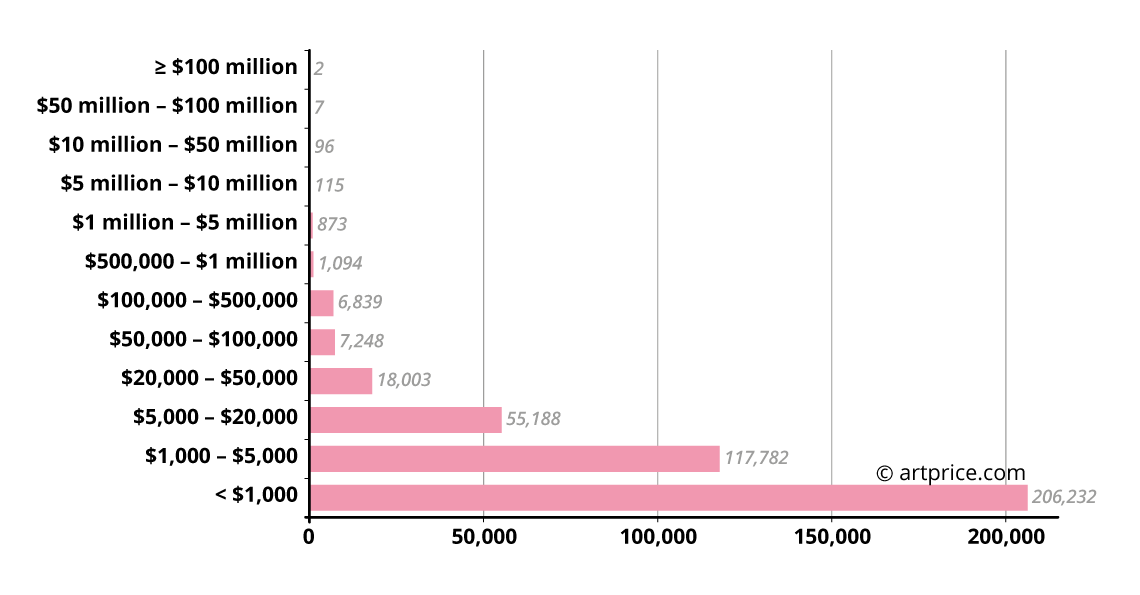 Half of the works sold fetched less than $1,000 and these include works from all eras and almost all mediums known to Art History. This effectively gives neophyte collectors and bargain hunters an immense choice.
The next-up price bracket – between $1,000 and $50,000 – accounted for 45% of the works sold at auction. So in fact, only 5% of artworks crossed the $50,000 threshold in the Western market, where the pure pleasure of collecting is still a major driver of the market.
Indeed, collecting art as an artistically-inspired hobby is one of the main reasons France posts a very good annual performance. Straddling two very different worlds – a hyper-competitive local market on the one hand and globalized demand on the other, the world's fourth largest marketplace is an incredible source of artworks of all kinds. The diversity of the art available in France, coupled with a tradition of patronage and collection, makes it a highly qualitative marketplace. Unable to compete with London, New York, Hong Kong or Beijing, France nevertheless represents the summit of a different type of art market. Last year we saw two impressive sales of collections in Paris: that of Jean-Francois & Marie-Aline Prat which generated $43 million (among the year's top 50 sales totals in the West) at Christie's (20 & 21 October) and that of the couturier Hubert de Givenchy which posted a 100% success rate on March 6 (also at Christie's). These two sales alone accounted for 10% of the France's total Fine Art auction turnover in 2017.
Sales of private collections usually offer coherent and qualitative set of works with impeccable provenance and that indefinable additional 'soul' which inspires passions and attracts art lovers.
The most lucrative collection sale in 2017 was the Emily & Jerry Spiegel sale. For thirty years, the couple carefully selected works by Andy WARHOL, Sigmar POLKE, Cindy SHERMAN, Philip GUSTON, Joseph BEUYS and Anselm KIEFER. The 25 works sold at Christie's New York on 17 May generated $116 million and several new records including for a MAN RAY photograph that fetched $2.1 million (Portrait of a Tearful Woman). That record was beaten six months later by his Noire et Blanche, an iconic photo from another major collection, that of director Thomas Koerfer, which fetched $3.1 million at Christie's in Paris.
Buoyant sales for all art periods
The Fine Art Market is divided into five major periods of creation: Old Masters, 19th Century art, Modern art, Post-War art and Contemporary art, the latter two often being grouped together at prestige sales.
In 2017, each of these segments posted higher turnover than the previous year. Although the +92.6% change in the Old Master segment was due to a single result (Salvator Mundi), the increase observed on the other periods demonstrates the vitality of the recovery across the whole market.
Old Masters: + 92.6% ($1.075 billion)
19th Century: + 27% ($1.03 billion)
Modern art: + 24% ($4.17 billion)
Post-war art: + 18.5% ($2.19 billion)
Contemporary art: + 25% ($1.331 billion)
Distribution of turnover in Western countries by artistic period (2017 )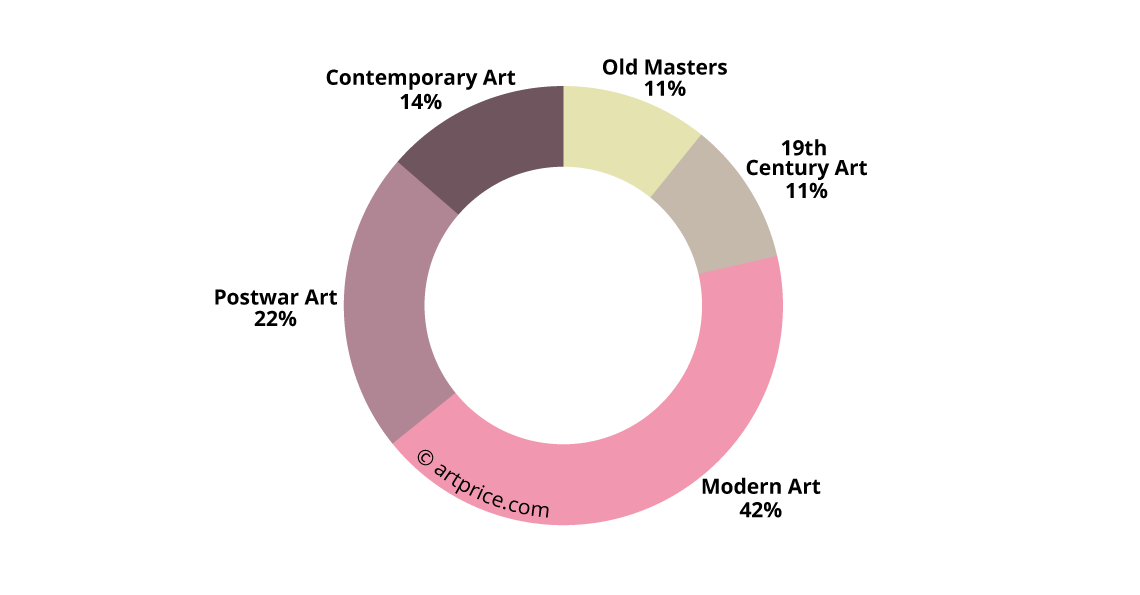 Old Masters
The number of Old Master works available on the secondary market is undoubtedly declining. Works of art dating back to the middle of the 18th century have never been so rare. They represent 5% of the 413,000 works sold in the West during 2017. However, scarcity remains one of the most powerful stimulants of the Art Market, and and it only takes a historic masterpiece to emerge out of the shadows to bury previous auction records by a significant margin.
Although it is the scarcest segment of the market, this historic 'period' produced the most spectacular result in auction history last year when LEONARDO DA VINCI's Salvator Mundi generated $450 million at Christie's in New York.
The world record hammered for this "Holy Grail of Old Master paintings" (to quote Alan Wintermute, Christie's Old Masters specialist) almost doubled the annual turnover of a segment of the market that is usually relatively lacklustre due to the dearth of masterpieces available for sale.
Aside from the Salvator Mundi, the year's best result in the Old Master segment in the West actually came from the Chinese artist CHEN Rong, whose unprecedented work reached $48.9 million at a specialised Chinese Art sale at Christie's in New York. The sale held on 15 March 2017 during New York's Asia Week marked an important breakthrough, not only because CHEN Rong's Six Dragons roll become the most expensive Chinese artwork sold outside China, but also because it opened the way for four other Chinese masters to take position in the Western Top 20 Old Masters: LI Gonglin, HAN Gan, WANG Mian and ZHAO Mengfu.
New York has become an important outlet for works by Chinese Old Masters and is therefore participating in a market once reserved for Beijing, Shanghai and Hong Kong; proof that trade is accelerating between China and the United States.
Top 20 Old Masters artworks sold in Western countries in 2017
London is the second most lucrative market for Old Master art. In 2017 it posted several excellent results for artists like Joseph WRIGHT OF DERBY, Domenikos EL GRECO, REMBRANDT VAN RIJN, Giovanni Domenico TIEPOLO and above all for Francesco GUARDI with a painting that fetched $33.8 million on 6 July 2017 (Venice, a View of the Rialto Bridge, Looking North, From the ….).
Francesco GUARDI also generated Paris's best Old Master result in 24 years with a painting called La place Saint-Marc avec la basilique et le campanile that sold for $7.1 million on 7 March 2017 at Christie's. Impeccable provenance coupled with undeniable pictorial qualities, painted at the height of the artist's maturity, inspired the bidding for this representation of La Place Saint-Marc well beyond the pre-sale estimate ($4.2 – 6.3 million). The result gave Paris the world's 10th best result for the Old Master segment in 2017.
19th Century Art
The 19th Century art period includes all of the emblematic European signatures, among the most sought-after in the world. The period's top artists (in market terms) are of course Vincent VAN GOGH, Paul GAUGUIN, William TURNER, Claude MONET, Camille PISSARRO, Paul CÉZANNE and Pierre-Auguste RENOIR… all absolutely unavoidable artists whose best works are no longer in circulation because they are all in major museums.
Rarity oblige, when works by these artists come to auction, they almost always add millions of dollars to their previous market price, especially if they are good. Alfred SISLEY Effet de neige à Argenteuil was acquired for $1.8 million at Christie's in 1995 and resold for $9 million under the title Effet de neige à Louveciennes at Sotheby's on 1 March 2017. Sisley's auction record had remained unbroken for 10 years.
Even more than SISLEY, Vincent VAN GOGH marked the year's results, generating the period's two best results. The better of the two was hammered on 13 November at Christie's in New York for Laboureur dans un champ (1889). This painting fetched $81.3 million, just $1.2 million below his absolute record in 1990 for Portrait of Dr. Gachet. The second-best result in 19th Century art was $30.8 million for his Le moissonneur (d'après Millet) which reached $30.8 million, $26.9 million more than its acquisition price in 1995 (Sotheby's London, 27 June 1995).
Top 10 19th Century artworks sold in 2017
The market's most successful Impressionist artist remains the movement's figurehead, Claude MONET with six works in the all-time top 10 results for 19th Century art. With an auction total of $180 million in 2017, MONET takes 7th place in the world's Top 10, behind ZHANG Daqian.
Modern Art: the pillar of the Western market
The Modern art period saw the emergence of particularly dynamic avant-garde artists in France, Germany, Austria and Russia, with the pioneers of Cubism, Abstraction and Expressionism.
It is still the central pillar of the Western Art Market, accounting for 42.6% of its annual turnover ($4.1 billion). This segment is still dominated by Pablo PICASSO, the most successful Western artist (just behind Leonardo Da VINCI this year) with a 2017 auction total of $446.4 million. Picasso's market power stems not just from his status as a legendary signature of Art History and the prices his works fetch on the high end market, but also the fact that the bulk of his work remains largely affordable. Out of nearly 3,000 works sold in 2017, only 40 fetched seven-digit results. 1,500 works by the artist sold for less than $5,000 last year, thanks largely to an abundant production of prints.
A number of other major Modern artists had a very successful year, with several new records:
Fernand LÉGER's Contraste de formes painting fetched $70 million on 13 November at Christie's in New York, well above the artist's previous record of $39.2 million that stood for five years.
Fernand Léger's Price Index – Base 100 in January 2000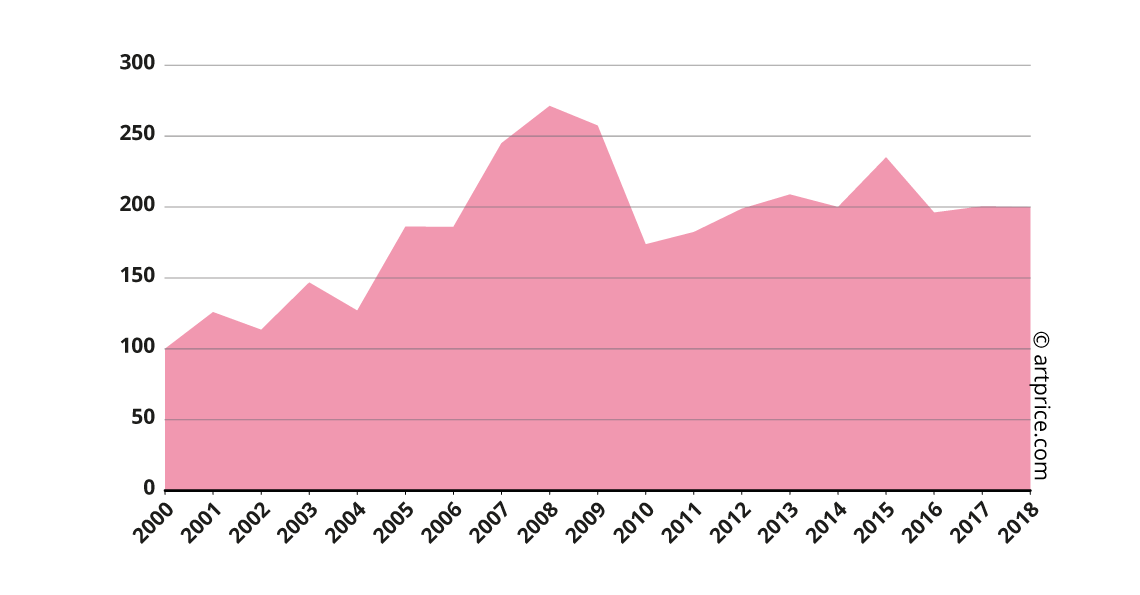 Evolution of auction turnover of Marc CHAGALL

Like PICASSO (and WARHOL, MAGRITTE and DALI), CHAGALL's market is extremely dense, a fact that favors the circulation of works in a variety of price ranges. More than 400 of his prints sold for prices under $1,000 in 2017 and four drawings under $5,000.
Post-War and Contemporary Art
After Modern art, the Post-War and Contemporary art segment is the second most lucrative period, accounting for 36% of the Western Art Market's total turnover ($3.5 billion).
But the two periods that make up this segment are the market's most dynamic: the price index for Contemporary art has posted a +40% increase since 2000 while that for Post-War art has inflated +80% over the same period.
However, unlike the Modern segment, largely dominated by European artists, the Post-War and Contemporary art periods are mainly dominated by American artists: Jean-Michel BASQUIAT and Andy WARHOL are still at the top of the segment ranking (with  3rd and 4th places in the global Top 500). Several of their compatriots also sold above the $10 million line in 2017: Cy TWOMBLY, Roy LICHTENSTEIN, Robert RAUSCHENBERG, Christopher WOOL and Mark GROTJAHN.
In 2017, the most spectacular result in the Contemporary art segment was generated by Jean-Michel BASQUIAT (1960-1988)'s Untitled (1982) when it fetched $110.5 million on 18 May 2017 at Sotheby's in New York. This new record suggests a profound evolution in the economic perception of Contemporary art. The 8th best result ever hammered for an artwork, Basquiat's Untitled (1982) has introduced the first ever Contemporary artist into the pantheon of Art Market giants, alongside Leonardo da Vinci, QI Baishi, Pablo PICASSO, Amedeo MODIGLIANI, Alberto GIACOMETTI, Francis BACON and Edvard MUNCH… the only artists to have inspired auction results above the $100 million threshold. In 1984, the same Basquiat work was worth $20,900. Thirty-three years later it fetched approximately 5,300 times that amount when the Japanese billionaire Yusaku Maezawa acquired the work for his personal museum in Chiba, Japan.
All-time Top 10 record auction prices
Close behind the Americans, several German artists have carved out strong positions on the global market for Post-War and Contemporary art. These include Georg BASELITZ, Frank AUERBACH and Albert OEHLEN who all set new records in 2017 ($9.1 million, $4.8 million and $3.6 million respectively). Meanwhile no less than 340 works by Gerhard RICHTER generated an annual total of $120.4 million. Richter's price index has risen +391% since 2000. Last year may well have been the last opportunity to acquire works by RICHTER for less than $50,000: only 16 of his works sold below this threshold in 2017.
Another unavoidable signature on today's Contemporary art market is the Scottish-born Briton Peter DOIG, one of the highest ranked living artists. This year, no less than four of his works reached the segment's top 10 auction results, and he signed a new personal record when his Rosedale (1991) sold for $28.8 million on 18 May at Phillips in New York.
Peter Doig's and Jeff Koons' Price Indexes – Base 100 in January 2000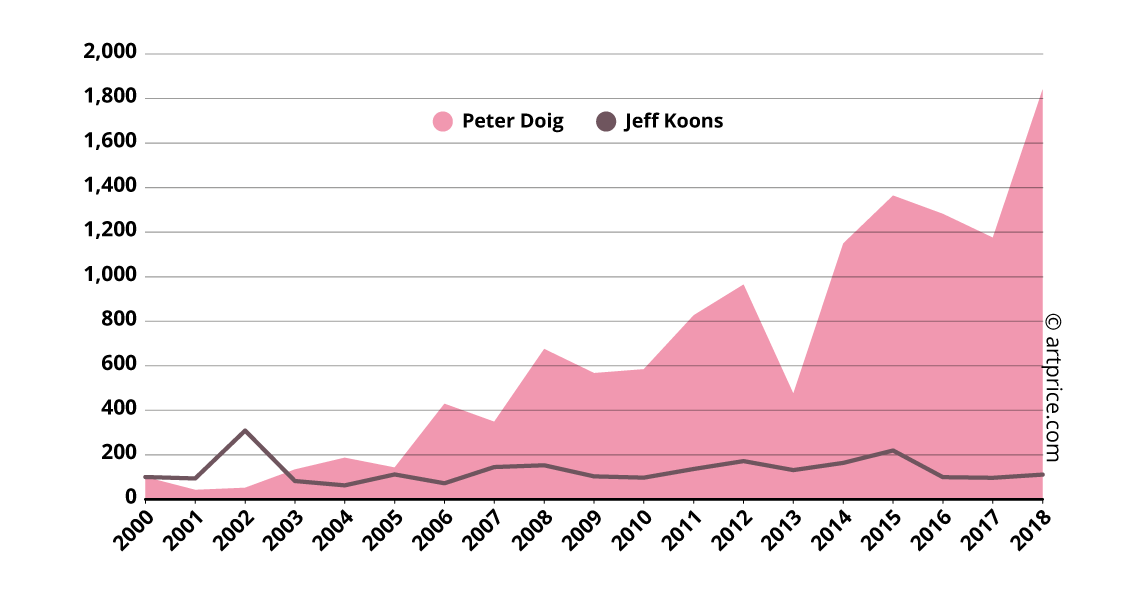 Another major trend that we saw confirmed in 2017 was the sharp rise of prices for works by the great abstract painters. This increase applies to artists from the Post-War & Contemporary art periods as well as the Modern period (new records for KANDINSKY and HARTUNG) and later periods. The power of attraction of Abstract art was also confirmed by the auction performances of Cy TWOMBLY (8th in the global ranking) and the new records set for works by Pierre SOULAGES ($6.8 million for a 1962 painting in June at Sotheby's in Paris), Jean-Paul RIOPELLE (record of $5.7 million in December at Christie's in Paris) and ZAO Wou-Ki, who arrived 10th in our global Top 500 position with an annual turnover of $155.7 million.
ZAO Wou-Ki's auction record was broken twice during the year with two oils-on-canvas from 1964, sold through Christie's in Hong Kong. The first work, 29/09/64, reached $19.6 million on 27 May, while the second, 29/01/64, climbed to $25.9 million six months later. Created in Europe, ZAO Wou-Ki's best abstract works are being acquired by Asian collections at a fast pace. In 2017, 84% of his annual auction turnover was hammered in Asia, compared with just under 14% in France. Strong demand for his work has raised his price index by +864% since 2000. Over recent years the globalization of demand has made his market increasingly efficient.
Geographic distribution of Zao Wou-Ki's turnover in 2017