Auction houses in a state of high tension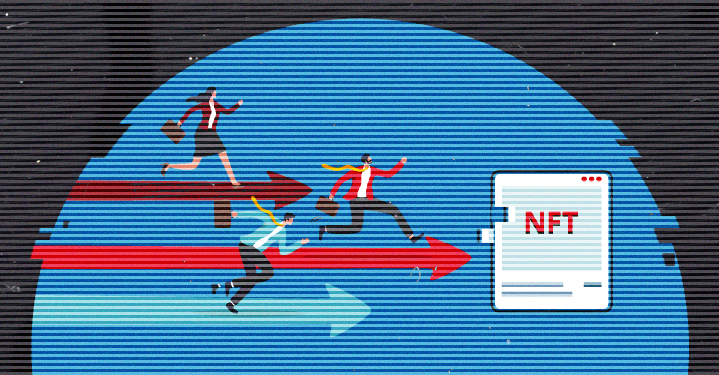 Throughout 2021, the major auction houses (Christie's, Sotheby's, and Phillips) engaged in a frantic race to exploit the new NFT vein on several levels, firstly by attracting existing crypto-collectors and then by trying to popularize NFTs in the traditional sphere of Contemporary art.
As a result of their efforts, they succeeded in attracting a new generation of buyers, more sensitive to new forms of creation and to the circulation of digital art than to the traditional market, and they did this by associating directly with crypto-artists or existing NFT marketplaces and by integrating the option of payment in cryptocurrency.
A driver of innovation for auction houses
The first auction house to engage in the race was Christie's with the extraordinary Beeple record (in March). Since then, their teams have worked hard to educate collectors with an Art + Tech seminar and the creation of a section dedicated to NFTs (Christie's Encrypted). Christie's also introduced NFTs in Hong Kong, China last September and joined forces with OpenSea at the end of the year to co-organize an NFT sale (Christie's X OpenSea).
In April, Sotheby's chose the online platform Nifty Gateway to sell a set of works by digital artist Pak ($16.8 million). In October, it concretized its initiatives by setting up Sotheby's Metaverse (a platform dedicated to NFTs and adapted to settlement in cryptocurrencies) where it hosted a sale titled Natively Digital 1.2. Among the creations by Pak, Rare Pepe, Larva Labs, etc. (a total of 53 lots), no works remained unsold in this new virtual auction world. The move was confirmation that the major auction houses were already committed to setting up new decentralized or even totally virtualized modes of operation.
They are also betting on innovative, generative, and evolving works: Phillips sold the first NFT designed to generate replicas of itself (Replicator, $4.1 million); Sotheby's sold an intelligent NFT capable of interacting with its owner (To the Young Artists of Cyberspace, by Robert Alice, $478,800) and Christie's sold a 'phygital' work by Beeple: Human One (for nearly $29 million) which the artist undertakes to modify throughout his career in response to world events.
Turnover from NFT sales by auction house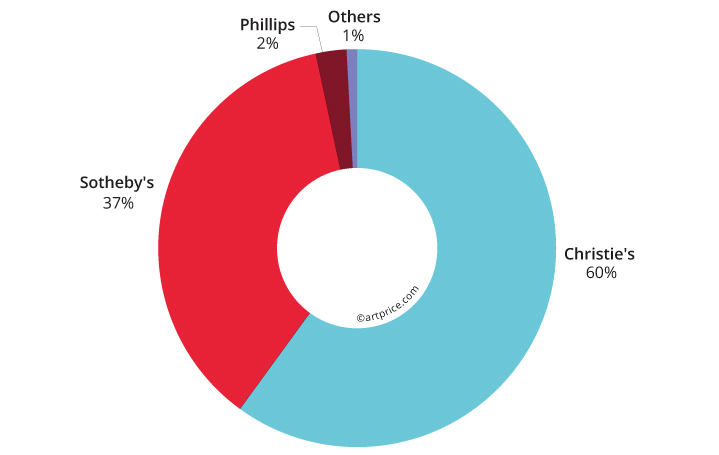 → In 2021, Beeple alone accounted for 42% of the total regulated auction turnover on NFTs, and Christie's performance on this segment ($139 million) was clearly dominant. Meanwhile, Sotheby's has been rapidly developing this segment and is constantly innovating. It sold more NFTs than its direct competitor (114 vs. 80) for a turnover of approximately $86 million. Phillips sold 19 NFTs for a total of $5.3 million.
Winning over new collectors
NFTs have enabled auction houses to attract a new population of younger cryptophile collectors. According to Christie's, 22 million people, nearly 60% of whom were under the age of 40, connected to follow the sale of Beeple's Everydays: The First 5000 Days, the first NFT work to appear on the regulated auction market. In other words… a huge wave of enthusiasm, driven mainly by new bidders, accustomed to handling crypto-currencies almost like any other fiat money.
Sotheby's, which sold more than $85 million worth of NFTs during the year, says 78% of its NFT bidders are new customers and that more than half of them are under the age of 40. The American company uses Twitter and Discord channels to interact directly with the NFT and crypto communities. Its efforts have considerably broadened the digital reach of its activities with more than 16.6 million live views in 2021, 4.2 million followers on all platforms, and more than 200,000 offers placed online, ie, 92% of total offers (source: Sotheby's).
Full of enthusiasm and rich in cryptocurrencies, new collectors have strongly supported the NFT market throughout the year, generating an exceptional sale rate of 88% (well above the global average of 68%), as well as 25 results above the million-dollar threshold for digital works which, until then, had no resonance on the regulated auction market whatsoever.
Geography… to be defined
For the time being, the NFT market is divided between the United States, with a 93% market share, and Hong Kong, China which generated 6% of global NFT auction turnover.
NFTs have yet to break into the huge auction market of mainland China, but, according to the information communicated by American and British auction houses, it is clear that Asian collectors are actively participating in NFT auctions conducted in other countries.
Not all countries are in the same boat yet. France is facing legal obstacles hampering NFT auctions; the marketing of intangible goods is not regulated there and therefore prohibited. Some auction houses have found a loophole by selling their first NFTs accompanied by physical works. The Aguttes company tested the market in June, selling seven works by the New French Touch collective associated with their NFTs for more than $550,000 in total. A success testifying to a nascent but already dynamic demand. Several players are working to ensure that the French art market can participate in this revolution, including the auction house Fauve Auctions.
Digital creations are finding value through NFTs. Faced with the immense possibilities offered by this technology, traditional artists are launching their first 'drops', major museums are creating digital counterparts to their masterpieces and the gallery world is getting organized as well. The year 2022 could see the offers multiply at the risk of diluting the market. The curatorial choices of auction houses and the educational work they conduct can guarantee the construction of a healthy and exciting market.
Table of contents
Auction houses in a state of high tension