New York, London and Hong Kong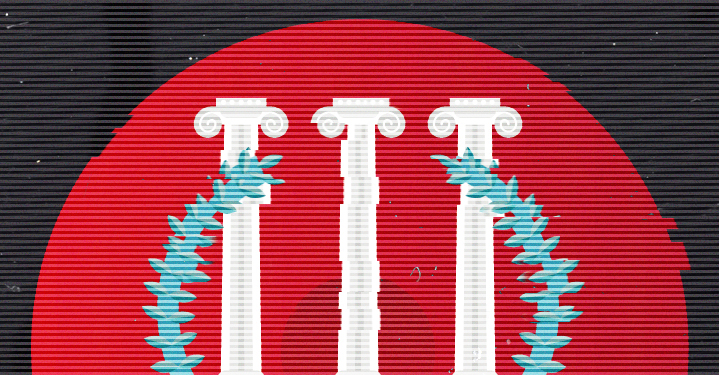 The leading destination for the art market and epicenter of the most prestigious Western sales, New York generated $5.27 billion from sales of artworks in 2021. The New York total doubled compared with the previous year, but above all it exceeded the performance of 2019 by $1 billion (ie before the health crisis). This extraordinary performance was due to a strong upturn in the high-end market. It was in New York that Christie's and Sotheby's sold nine of the 10 most expensive works of the year, each valued at more than $60 million.
New York doubles its performance
New York's results have risen sharply for each of the Big Three auction houses since 2019, but Sotheby's progress is by far the most impressive: its Fine Art sales turnover has risen from $1.79 billion to $2.46 billion, a 37% increase over two years. Although the number of lots sold remained stable (just over 6,000), Sotheby's activity intensified with the arrival of new, highly active bidders. The exceptional quality of a few works also played a role in its annual performance with eight results crossing the $50 million threshold during the year, Sotheby's New York is ahead of all its competitors in the most high-end segment of the market.
Marketplace podium

→ Despite a transaction volume four times lower in Hong Kong, only $200 million separated its turnover from that of London. The exceptional performance of Hong Kong is therefore based less on supply density than on the strong activity of its high-end segment, where new auction records are constantly being broken.
London versus Hong Kong
Hammering a total of $1.9 billion, London remains the second stronghold of the Western market and an essential platform for Christie's and Sotheby's, which generated 21% and 18% of their respective art auction turnover totals there. However, Hong Kong is increasingly asserting itself on the global chessboard and competing directly with the English capital.
In terms of art auction turnover, Christie's and Sotheby's Hong Kong activities now weigh almost as much as their London activities. For Phillips, Hong Kong represented a quarter of its global turnover in 2021, having tripled in volume in two years with the support of the Chinese company Poly International, and its Hong Kong sales earned more than its London sales!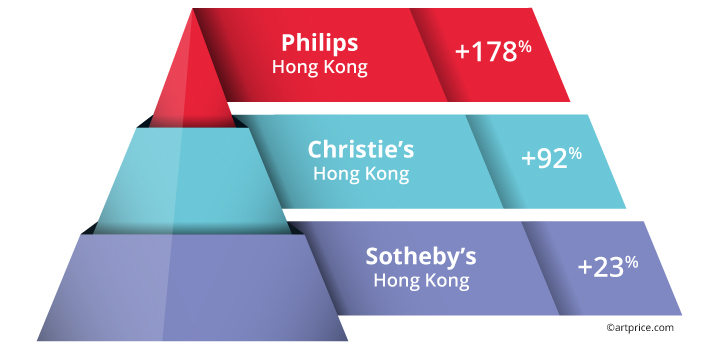 Hong Kong, therefore, looks set to become – in the medium term – the world's second market overtaking London. In 2021, London's art auction turnover ($1.9 billion) was only 10.5% higher than Hong Kong's whereas ten years ago, London's turnover was almost five times higher than Hong Kong's. Since 2015, Hong Kong's art auction turnover has rocketed +61%, reaching $1.7 billion, while London's art market has contracted 35% over the same period, shrinking by a billion dollars.
Having experienced a sudden interruption of its growth in 2020, Hong Kong's art market has since posted an exceptional recovery. At the end of the first half of 2021, the city's average auction price for an artwork was the highest on the planet – around $300,000 – compared with an average price of just $32,000 in London and $41,000 in New York. Hong Kong's market is booming, driven by intense competition between bidders, resulting in much lower unsold rates than anywhere else on the planet…when they are not zero! Moreover, Hong Kong's offer is becoming increasingly diversified: our ranking of the top 30 artists by auction turnover in Hong Kong now shows an almost perfect parity between Western and Asian artists.
Evolution of London and Hong Kong marketplaces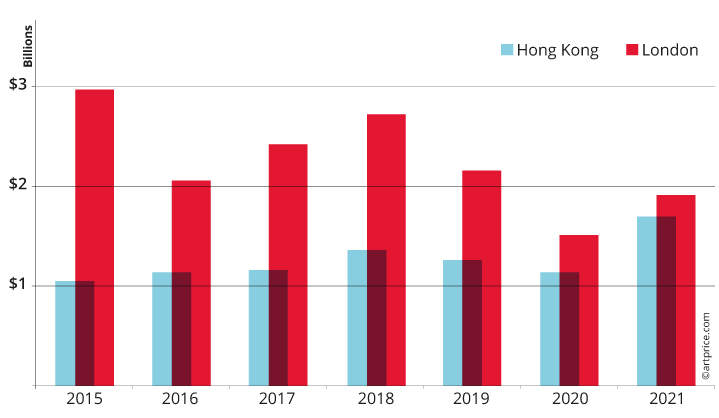 → Ten years ago, London's art auction turnover was almost five times greater than Hong Kong's, but the Hong Kong marketplace is growing so rapidly that it could overtake the London market in the medium term to become the second largest art marketplace in the world.
In 2021, Hong Kong managed to attract several remarkable paintings by Jean-Michel BASQUIAT, three of which exceeded $35 million. On 23 March 2021, an Asian buyer raised the price of his Warrior (1982) to $41.6 million at Christie's Hong Kong, setting a record for a Contemporary work sold in Asia. By the end of the year, the most successful artist on the planet after Picasso owed a third of his auction turnover to the Hong Kong marketplace, and that third – $153 million – made Basquiat the leading artist on the Hong Kong market, ahead of Zao Wou-Ki.
Meanwhile, a whole series of new auction records were hammered for Western artists including the American Richard PRINCE and the French artist Georges MATHIEU, and the island is now competing with the best Western marketplaces for the sale of works by young international prodigies. Nicolas Party (Swiss), Salman Toor (Pakistani), Amoako Boafo (Ghanaian), Toyin Ojih Odutola (Nigerian), and three American artists, Avery Singer, Loie Hollowell, and Emily Mae Smith were just some of the artists who recorded new auction records there in 2021. Christie's, Sotheby's, and Phillips now seem convinced that masterpieces of Post-War and Contemporary art must now transit through Asia rather than London, as the bidding is quite simply stronger in Hong Kong than elsewhere.
Another factor contributing to stronger bidding in Hong Kong is the introduction of new sales formats in several countries as well. Indeed, by connecting several live marketplaces, the organizers of prestige sales are effectively managing to abolish borders and bring collectors from all over the world into competition. The efforts made by auction operators to organize remote prestige sales have made it possible to decompartmentalize the art market's traditional geography a little more and enhance its overall dynamic.
Top 30 artists by auction turnover in Hong Kong (2021)
Artist
Country
Sales Turnover
Lots Sold
Record
1
Jean-Michel BASQUIAT (1960-1988)
US
$153,197,244
10
$41,658,322
2
ZAO Wou-Ki (1921-2013)
CN
$112,342,560
98
$20,967,762
3
Yoshitomo NARA (b. 1959)
JP
$96,050,831
111
$18,245,017
4
Pablo PICASSO (1881-1973)
ES
$77,247,631
10
$24,620,829
5
ZHANG Daqian (1899-1983)
CN
$71,549,168
155
$26,928,944
6
SAN Yu (1901-1966)
CN
$66,136,042
33
$15,279,696
7
Yayoi KUSAMA (b. 1929)
JP
$65,667,381
87
$8,026,634
8
Gerhard RICHTER (b. 1932)
DE
$61,901,812
17
$18,019,498
9
CHU Teh-Chun (1920-2014)
CN
$53,439,129
54
$29,544,254
10
WU Guanzhong (1919-2010)
CN
$35,626,482
47
$4,344,444
11
Adrian GHENIE (b. 1977)
RO
$35,197,590
7
$8,496,590
12
George CONDO (b. 1957)
US
$29,809,784
24
$2,892,009
13
Matthew WONG (1984-2019)
CA
$21,342,373
10
$4,710,199
14
Roy LICHTENSTEIN (1923-1997)
US
$20,882,160
4
$14,173,861
15
LIN Fengmian (1900-1991)
CN
$18,250,788
52
$1,522,844
16
BANKSY (b. 1974)
GB
$16,531,296
26
$6,059,334
17
Clyfford STILL (1904-1980)
US
$16,245,240
1
$16,245,240
18
ZENG Fanzhi (b. 1964)
CN
$15,780,477
16
$5,114,508
19
ZHANG Xiaogang (b. 1958)
CN
$14,717,408
18
$4,307,322
20
Trung Thu MAI (1906-1980)
VN
$14,235,866
34
$3,136,941
21
LIU Ye (b. 1964)
CN
$13,893,824
33
$2,118,513
22
HUANG Yuxing (b. 1975)
CN
$13,513,683
21
$8,320,542
23
KAWS (b. 1974)
US
$12,957,583
86
$1,505,814
24
Richard PRINCE (b. 1949)
PA
$12,107,183
1
$12,107,183
25
LE PHO (1907-2001)
VN
$11,850,086
54
$1,113,990
26
Nicolas PARTY (b. 1980)
CH
$11,654,995
7
$2,958,329
27
Javier CALLEJA (b. 1971)
ES
$11,271,295
53
$1,552,912
28
Georges MATHIEU (1921-2012)
FR
$11,167,317
26
$2,354,158
29
Avery SINGER (b. 1987)
US
$10,627,049
7
$4,498,457
30
DONG Qichang (1555-1636)
CN
$10,434,298
11
$7,423,299
© Artprice
→ Many nationalities are now present on the Hong Kong art market, which seems to have found a perfect balance between the best Asian art on the one hand and Western artists on the other. It is interesting to note the perfect parity between artists from the East and from the West in our ranking of the 30 most successful artists in Hong Kong by auction turnover.
Table of contents
New York, London and Hong Kong