Western "classics", from Modern to Contemporary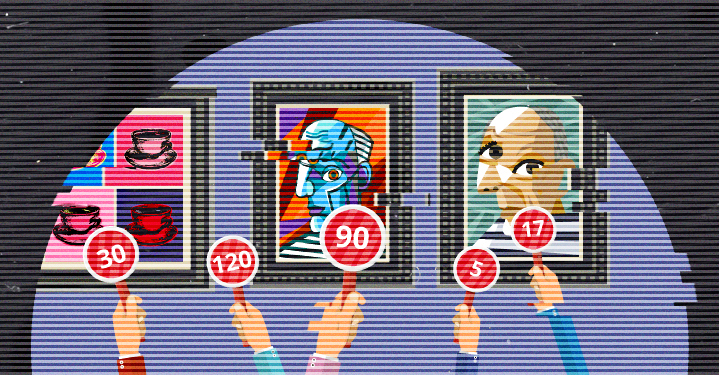 In the spring of 2021, Pablo Picasso's Femme assise près d'une fenêtre (Marie-Thérèse) (1932) generated the first result above the $100 million threshold in 24 months, confirming the return of buyer and seller confidence on the market's most prestigious segment. Neither the financial crises during the first and second decades of this century nor the recent health crises have prevented Picasso's works from posting extraordinary value accretions over the last quarter of a century. Femme assise près de la fenêtre (1932) rose from $7.5 million in 1997 to $45 million in 2013, and finally reaching $103.4 million in 2021. Dominant, both in terms of sales revenue ($671m) and the number of transactions made during the year (3,452), Pablo Picasso's market alone represented 4% of 2021's global fine art auction turnover.
Top 10 Modern artists (2021)
The Macklowe collection
Several Modern and Post-War artists owe their 2021 ranking among the top ten annual turnover performances to Sotheby's sale of the Macklowe Collection on 15 November 2021. Boasting the most emblematic signatures of European and American art of the last 80 years, the Macklowe Collection totaled $676 million from 35 lots, a level not seen for a private collection since the sale of the Rockefeller Collection ($835 million) in 2018 at Christie's.
In that sale, a canvas by Willem De Kooning (Untitled XXXIII) and an important sculpture by Picasso (Figure [Project for a monument to Guillaume Apollinaire]) both fetched above $20 million, while four other works fetched over $50 million. The two most expensive works in the sale – painting N°7 by Expressionist Mark ROTHKO ($82.4 million) and Alberto GIACOMETTI's enigmatic sculpture Le Nez ($78.4 million) – accounted for nearly 60% of the annual sales turnovers of both artists.
Also at over $50 million, a superb canvas by Cy TWOMBLY became the third most expensive work by the abstract painter, at $58.8 million, while Jackson POLLOCK's record was revised to over $61 million (Number 17, 1951).
Top 10 Post-War Artists (2021)
Yayoi Kusama
At 92, Yayoi Kusama is currently ranked in the world's Top 10 artists by annual auction turnover, with a historic total of $178 million in 2021. The list was exclusively male until 2021, she is the first ever woman in this top 10!
Yayoi KUSAMA's market has changed radically over the past 20 years: in 2000-2001, her major works were reserved for American and British auction houses, which hammered 78% of her annual turnover. The rest came from European sales. In 2021, however, 74% of her annual turnover came from various Asian countries where the artist's popularity has never been stronger.
The geographical breakdown of Kusama's global auction turnover for 2021 shows Hong Kong, China as her primary marketplace with $54 million hammered in the city, corresponding to 35% of her annual turnover. Next comes Japan (her country of origin) and South Korea, with nearly 20% each, and then the United States, accounting for 12% of her annual turnover (vs. 46% twenty years ago).
Yayoi Kusama's price index: +963% in 20 years!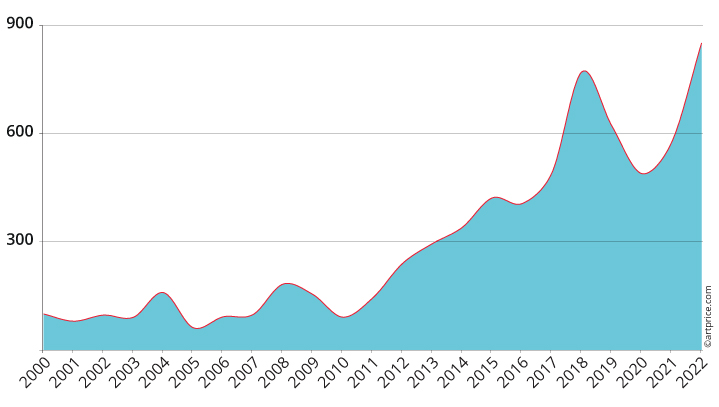 Chu Teh Chun
The value of work by the Sino-French artist CHU Teh-Chun passed a major milestone in 2021 with a new record at $29.5 million in April for an abstract masterpiece from 1986 entitled Winter Harmony (Sotheby's Hong Kong). This new record adds $15 million to his previous auction record (obtained in 2020) and propels Chu Teh Chun into the top-30 most successful artists on the planet. For several years, Chu Teh Chun's market has been migrating to Hong Kong, China to meet strong demand from Asian collectors. Today nearly half of his works are dispersed there, generating 73% of his annual auction turnover.
Chu Teh Chun's auction records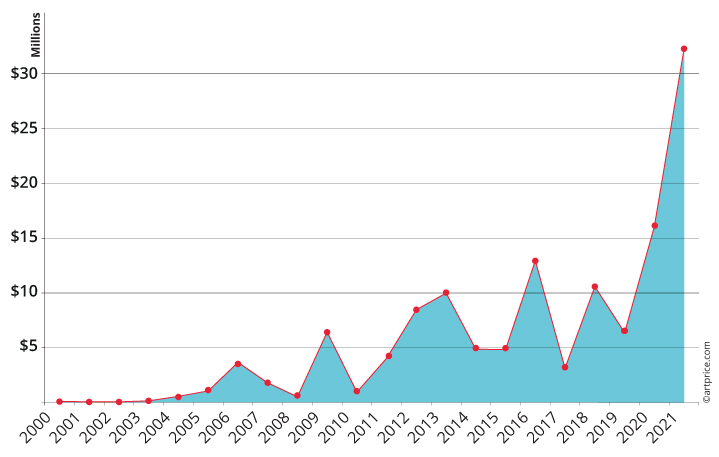 Banksy
With over 11 million followers on Instagram, Banksy is not only the most popular living artist of our time, he is also the most successful on the planet. His turnover has grown exponentially for five years: $3 million in 2016, $7 million in 2017, $16 million in 2018, $29 million in 2019, $67 million in 2020… and more than $205 million in 2021.
During the course of 2021, BANKSY's auction record was revised several times. First of all, with the $23.2 million hammered for his Game Changer (2020), a level partly explained by the charitable cause of its sale at Christie's (with $22 million of the proceeds from its sale being donated to UK's National Health Service during the health emergency). A few months later, his highly anticipated painting, Love is in the Bin, reached $25.4 million at Sotheby's. Partially self-destructed just after being hammered down in the fall of 2018 for $1.3 million, the work was expected to attract some seriously motivated bidding. The 'self-destruction' had been orchestrated remotely by Banksy after he integrated a shredding device into its frame. Considering this cleverly orchestrated stunt a pivotal moment in auction history, the BBC's Will Gompertz opined that the work has become de facto "one of the most important works of the early 21st century!" The market confirmed this point of view, multiplying the value of Love is in the Bin (previously titled Girl with a balloon) by almost 20 times the price paid before its partial self-destruction.
Top 10 Contemporary Artists (2021)
Peter Doig
A British painter of Scottish origin, Peter Doig had an exceptional year thanks to the appearance of a major painting: "Swamped". Painted in 1990, Swamped marks a pivotal moment in Doig's career, just before graduating from Chelsea College of Art and Design and winning the prestigious Whitechapel Artist Prize. Above all, it is the largest painting in his canoes series, considered both as the thematic matrix and the pinnacle of his œuvre. The canvas has set a new record for the artist every time it has appeared at auction. In 2002 it sold for $455,000 at Sotheby's, then in 2015 for $25.9 million at Christie's, and most recently (2021), for $39.8 million at Christie's. This new record confirms Peter Doig among the "icons" of Contemporary painting and it propelled Doig into 40th place in the global ranking of artists by annual auction turnover, with an annual total of $54.6 million.
Table of contents
Western "classics", from Modern to Contemporary