Developments in the European market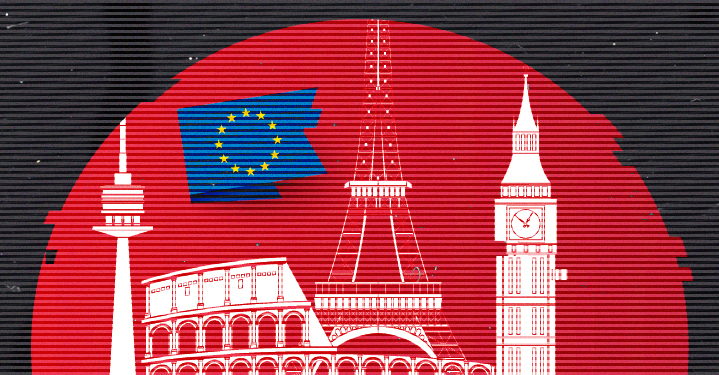 France, Germany, and Italy have the most active art marketplaces in Europe and are among the ten largest in the world. Their combined turnover is still significantly lower than the UK's total ($1.5 billion compared to $1.9 billion), but the three countries are formidable purveyors of Old, Modern, and Contemporary works. Together, France, Germany, and Italy account for a quarter of the works sold worldwide.
Evolution of European market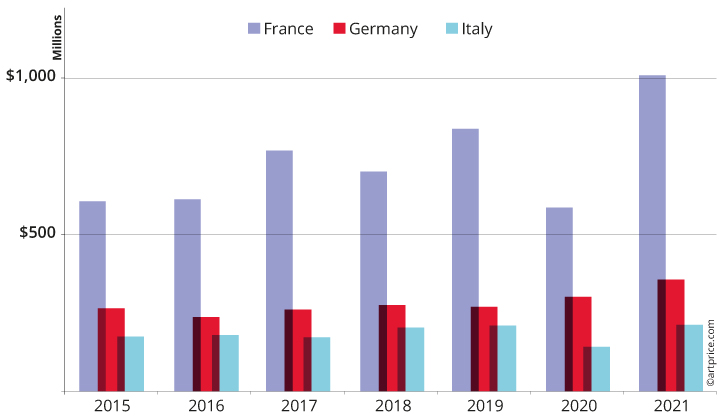 Germany
Still in fifth place in the global ranking, Germany is one of the rare countries to have shown very little impact from the Covid crisis. Contrary to the trend in other Western marketplaces, its result was even up in 2020. It rose again last year to reach $357 million, its best-ever total. In fact, Germany's 2021 performance was up a third compared to 2019, although the number of transactions remained more or less stable, contracting slightly in favor of a more profitable high-end market, with a record 30 results above the million-dollar line. The key to this success lies with German artists themselves, whose prices are constantly rising, driven by strong international demand.
Price index evolution for the main artists on the German market since 2000
While the largest and most expensive works by these artists generally sell in London and New York, transactions remain dynamic in Germany. For an artist as internationally acclaimed as Gerhard RICHTER, the works sold in Germany still represent several million dollars for the domestic market.
Italy
The sixth-largest market in the world ahead of Switzerland, Italy posted a turnover total of $212 million from 40,000 transactions. Since the first waves of the Covid pandemic, Italy's art market has completely recovered and the works of its major artists – Lucio Fontana, Giorgio Morandi, Mario Schifano, Alighiero Boetti, Gino Severini, Alberto Burri – have regained their places in Italian auctions.
Price indices of the main artists on the Italian market since 2000
Top 15 auction houses in continental Europe (2021)
Auction Houses
2021
Δ 2020 – 2021
Sotheby's
$353,059,068
132 %
Christie's
$254,447,124
43 %
Ketterer Kunst GmbH
$97,229,665
44 %
Dorotheum
$84,122,262
32 %
Artcurial (S.V.V.)
$83,511,709
23 %
Galerie Kornfeld Auktionen AG
$74,956,555
116 %
Desa Unicum
$68,989,713
51 %
Grisebach
$60,172,333
45 %
Koller
$55,970,743
46 %
Bukowskis
$53,409,425
47 %
Millon & Associés SAS
$37,166,512
93 %
Van Ham Kunstauktionen
$36,747,597
15 %
Lempertz
$34,185,907
-20 %
Hampel
$34,020,752
10 %
Polswiss Art
$30,841,404
78 %
 © Artprice
→ The activities of Christie's and Sotheby's play a vital role in driving the Western art market. The American company Sotheby's, which had an exceptional year in Paris ($311 million), has just opened new premises in Cologne. Sotheby's is now fully participating in the strong activity of the German market. In addition, the German auction houses (Ketterer, Dorotheum, Kornfeld, Grisebach, etc.) are among the largest in Europe.
Table of contents
Developments in the European market