Bonus: NFT lingo glossary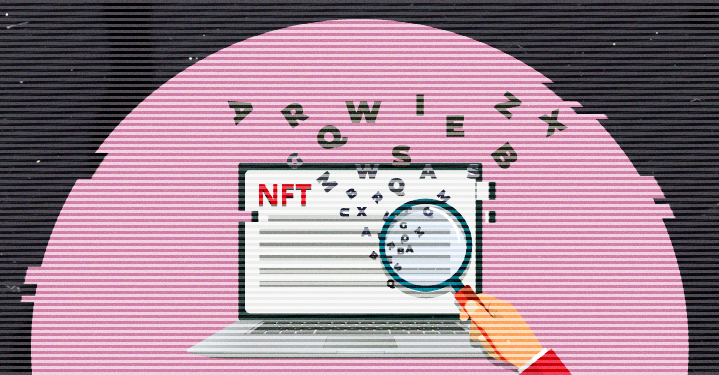 The crypto and NFT ecosystem has its own language. You can easily get lost if you are not initiated… Below we provide some definitions of the more essential terms in "NFT lingo" so you can find your way in the digital meanders of the blockchain and cryptocurrencies.
Token

Digital asset personalized by its author, issued and exchangeable on a blockchain. A token has the characteristics of a crypto-currency (tamper-proof, uniqueness, security, exchange history in an immutable register, etc.). It is transferable (and not duplicable) between two parties on the Internet, without requiring the agreement of a third party.

NFT

An NFT (non-fungible token) is a "token" attached to a digital object stored on a blockchain. Unique, it makes it possible to create value in the digital work. Reputed to be inviolable, it serves as a certificate of authenticity, while constituting proof of provenance and ownership. Concretely, when a collector buys an NFT work, he buys the token representing the work (an image, a gif, a video file, etc.), i.e. a title deed. The owner of the NFT is the sole owner of the content, even if the image is shared millions of times online. For collectors, it is a means of acquiring works whose rarity is proven. For digital artists or authors of ephemeral art (urban artists or performers), it is a way to integrate value into their work.

Blockchain

Created in 2008 by Satoshi Nakamoto, blockchain refers to a technology for storing and transmitting transparent and secure information. The information contained in this "chain of blocks" – transactions, title deeds, signatures, contracts – is protected by cryptographic processes that make the token tamper-proof. Blockchain enables fast, direct and inexpensive transactions, while providing a reassuring chain of provenance and authenticity. It can be likened to a transparent and inviolable accounting ledger. Blockchains, technological engines of the decentralized web and decentralized finance (DeFi) have been serving the circulation of cryptocurrencies for years.

Minter

The mint (literally "mint") is the process of writing an NFT on the blockchain. By minting an NFT, it ends up forever in the blockchain. The process allows the digital work (NFT) to be purchased and traded on marketplaces.

Ethereum

First blockchain to use smart contracts. Created in 2015, Ethereum supports NFTs and works with its own cryptocurrency, the ether.

Gas fees

Gas fees (literally "gasoline fees") are transaction fees. They designate the amount to be paid to validate a transaction or upload an NFT on a blockchain. The amount of gas fees depends on the chosen blockchain and the task to be performed (calculation resources required).

Smart contract

A smart contract is an "intelligent program" based on the blockchain. It makes it possible to carry out the conditions of the transactions in an automatic way, without human intervention. The distribution of commissions programmed in the smart contract can guarantee the artist an automatic payment of royalties on each resale of his/her work.

Wallet

The essential 'digital wallet'. It allows you to store and manage your crypto-assets, i.e. your cryptocurrencies (in the same way as a bank account) and your NFTs.

Cryptoassets

Refers to all digital assets issued and exchangeable on a blockchain (cryptocurrencies and tokens).

CryptoPunks

Unique 24×24 pixel characters generated by an algorithm. The collection of 10,000 CryptoPunks stored on the Ethereum blockchain was launched in 2017 by the American company Larva Labs, which has made a major contribution to the development of NFTs.

Bored Ape

Collection of 10,000 "bored ape" avatars launched in April 2021 by Yuga Labs. The "plus" of Bored Apes compared to Cryptopunks: their owners have commercial rights to their NFTs. They can mutate their NFTs or create derivative products from their Bored Ape(s).

Hash

The Hash is an identification code for each transaction on the blockchain. It contains precise information relating to dates, transaction amounts, and wallet addresses for each transaction carried out on the blockchain.

Generative Art

Relating to works generated with AI (artificial intelligence).

PFP

Literally Profile-pic-projects, PFPs are digital characters automatically generated by algorithms. They are often used as avatars on social networks.

Collectibles

Digital collectibles. Often PFPs.

Metaverse

Virtual world in which everyone evolves and interacts via their digital avatar. With the advent of NFTs, everyone can own exclusive virtual goods (a piece of land, a gallery, etc.) in one of these parallel worlds.
Table of contents
Bonus: NFT lingo glossary