Renewed growth
Sales of Contemporary Art have returned to a growth path. For two consecutive years, the segment's total turnover contracted until the second half of 2016 when it lost -10%. After this healthy correction, the return to growth became apparent in the first half of 2017 with a +14% growth in global auction turnover signalling a new period of prosperity.
Global Contemporary Art auction revenue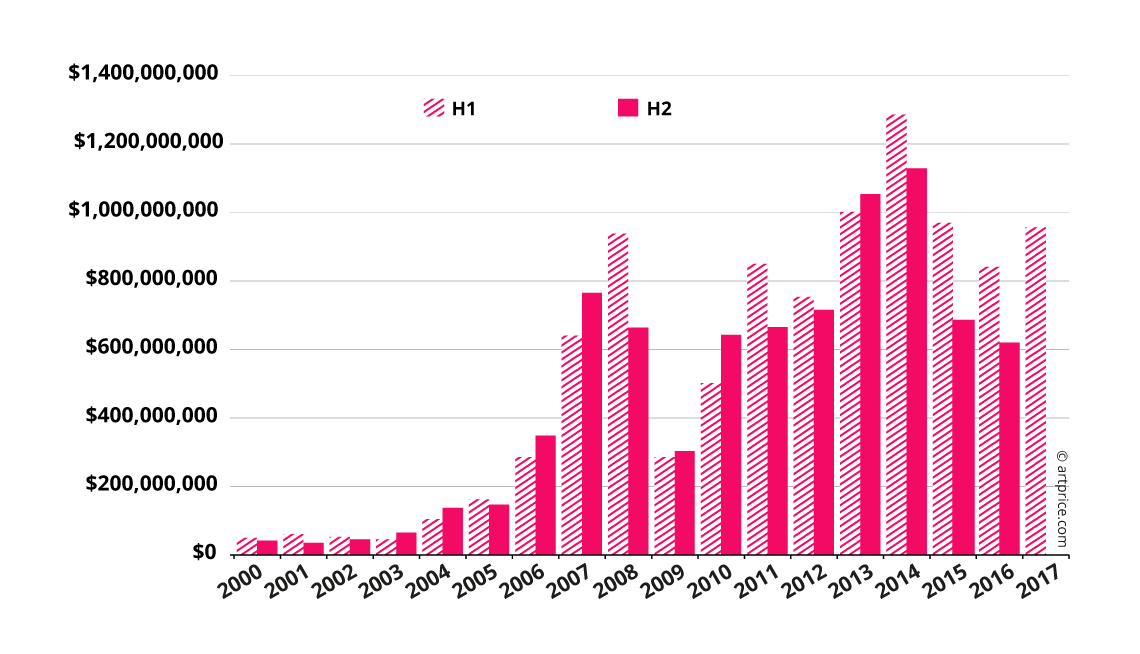 Rising prices
For the period from July 2016 to end-June 2017, Contemporary Art generated a global auction turnover of $1.58 billion, i.e. +3.2% over the same year-earlier period. At the same time, the number of lots sold contracted by -2%: 57,100 artworks sold versus 58,400 the previous year. Lastly, the global unsold rate has remained perfectly stable at 41%.
An increase in turnover on fewer transactions means the prices of the works on offer were generally higher. The average price for a work of Contemporary Art has risen from $26,160 to 27,600. The median price this year is around $1,300.
Contemporary Art market price structure
Auctioned lots percentage
for a price inferior to
100%
$110,487,500
99%
$370,898
98%
$168,927
97%
$101,426
96%
$72,319
95%
$54,142
90%
$23,155
80%
$8,374
70%
$4,062
60%
$2,247
50%
$1,314
40%
$798
30%
$500
20%
$294
10%
$148
©artprice.com
This generalised price increase is confirmed by growth in the Contemporary Art price index. Unlike other periods, Contemporary Art shows a positive overall return for the past nine months. After falling throughout 2015, the price index for Contemporary Art now shows a +22% increase since January 2016, allowing the segment to maintain a very competitive yield compared with traditional long-term financial assets (see chapter The financial appeal of Contemporary Art). Over the last thirty years, the value of Contemporary artworks has risen +129%.
Contemporary Art price index – Base 100 in January 1998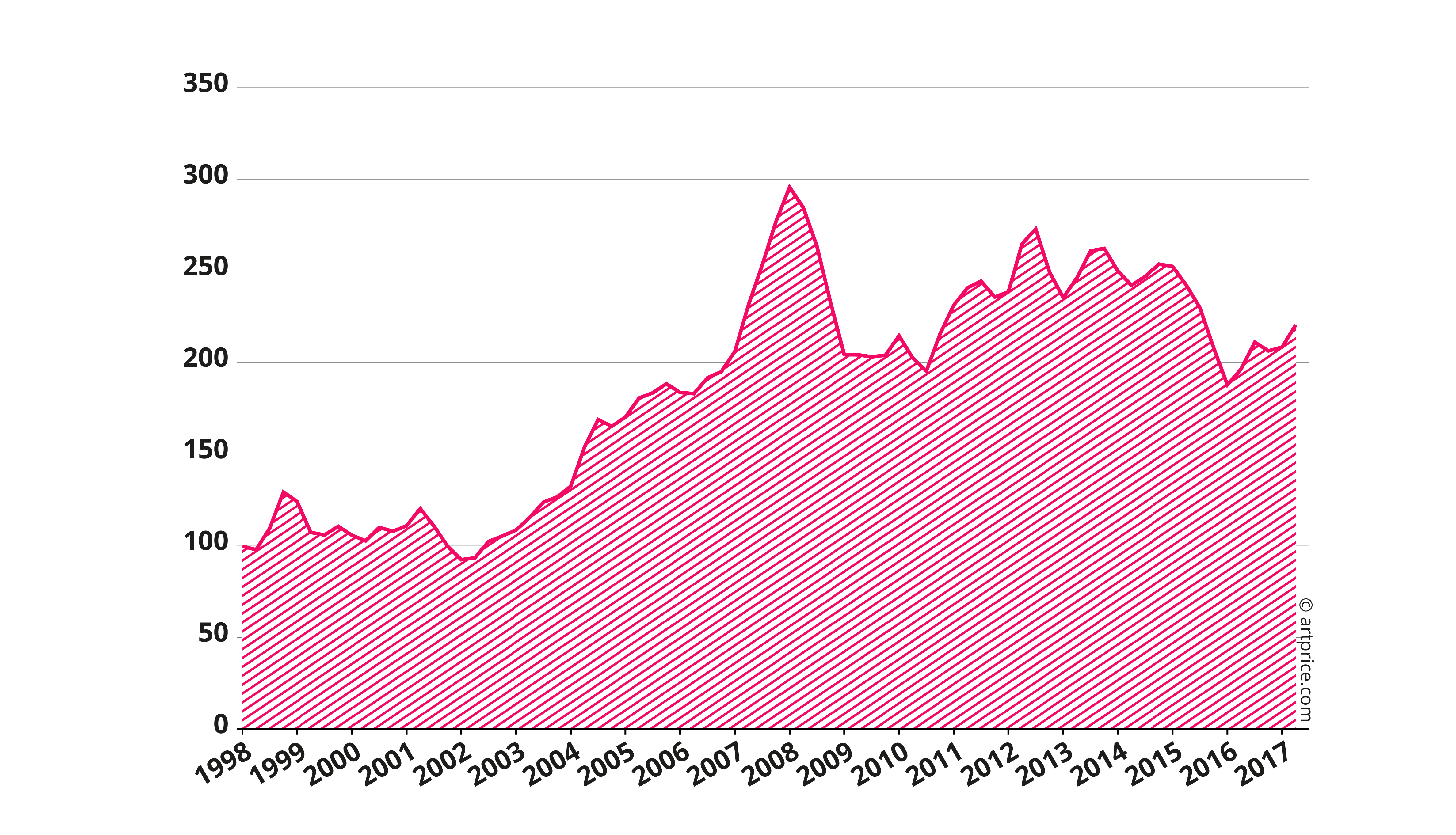 A new context…
The years 2013 and 2014 were particularly favourable for Contemporary Art. The enthusiasm was symbolised by the extraordinary sale of Jeff Koons' Balloon Dog (Orange) sculpture (1994-2000) for $58 million. That result still represents the highest price ever paid on the secondary market for an artwork by a living artist. The price levels of several young artists (under 35) were substantially boosted by the market's general effervescence with some seeing their auction prices multiplied several times in just a few months, as we pointed out in our last Contemporary Art Market Report. However, the sharp escalation in prices unnerved many collectors who decided to return to safer territory with recognised, blue-chip signatures.
During the course of 2015, Contemporary Art was actually overtaken by Modern Art with the  pace set by a string of new records in that segment. With hindsight, the sums spent to acquire three masterpieces by Picasso ($179 million), Giacometti ($170 million) and Modigliani ($141 million) look like the swan-song of an almost exhausted market, driven by an urgent need to acquire its last masterpieces… destined, sooner or later, to join the collections of major museums. During this period, collectors' hesitations vis-à-vis Contemporary Art impacted the segment's performances: its turnover in 2015/2016 contracted -27%.
The Art Market's recovery in H1 2017 is therefore all the more remarkable for being led by the Contemporary Art segment.
Market share by artistic period in global auction revenue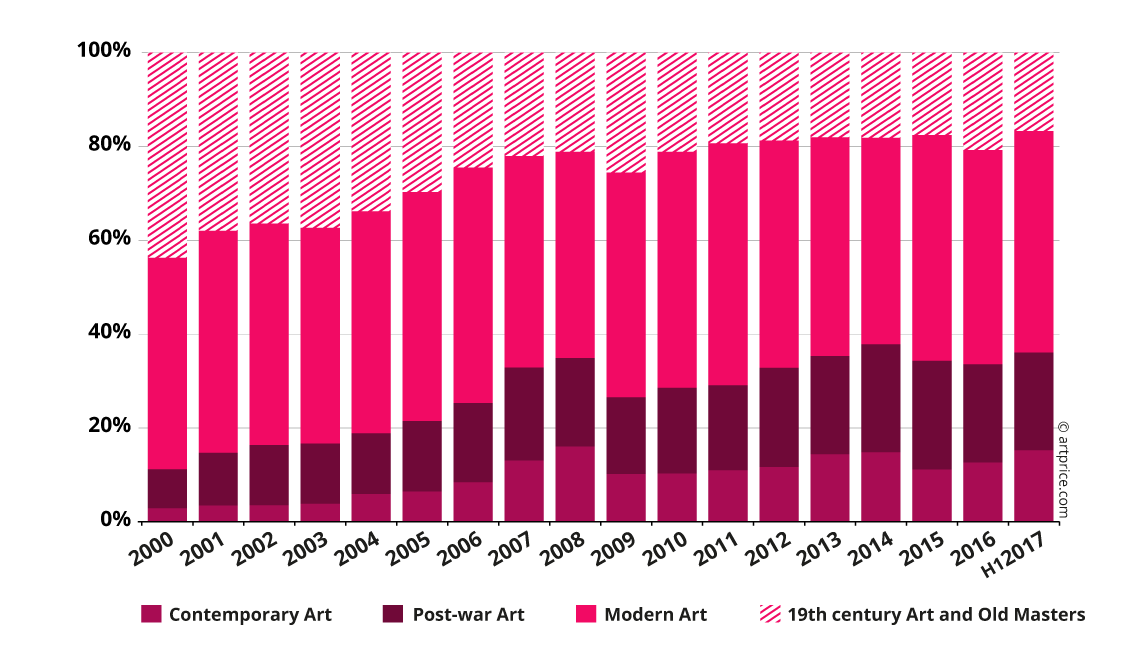 In proportional terms, Modern Art is still the Art Market's largest segment; but the 21st century is definitely seeing the emergence of Contemporary Art. Indeed, Contemporary Art is growing at a much stronger pace than Post-War Art. In 2000, Contemporary Art accounted for 3% of global Fine Art auction turnover; 17 years later it now generates 15%.
The fundamental driver of this evolution is clear: collectors are increasingly appreciating the value of Contemporary creativity. Henceforward, Contemporary Art can no longer be considered a marginal and fragile segment of the overall Art Market suffering from doubtful and risky practices. Alongside Post-War art, Contemporary Art is today the Art Market's primary locomotive.
Concentration effect
The rise of Contemporary Art is essentially focused on four major cities. New York, London, Hong Kong and Beijing alone account for 83% of global Contemporary Art auction turnover although only 20% of Contemporary Art lots are actually sold in cities. In other words, all of the world's other Art marketplaces (Artprice counts 540 cities having organised Fine Art auctions in 2016/2017) share just 17% of the turnover from 80% of the Contemporary Art lots sold.
Generally speaking, the Art Market's concentration on the world's major financial capitals is intensifying with Contemporary Art. Primarily focused on the Market's high end, this concentration has the advantage of forcing collectors to compete with each other. More than any other marketplaces, New York, London and Hong Kong represent three international exchange hubs capable of attracting the best supply of artworks and the best demand from buyers.
Geographic distribution of auction revenue
Contemporary Art Vs. Prior periods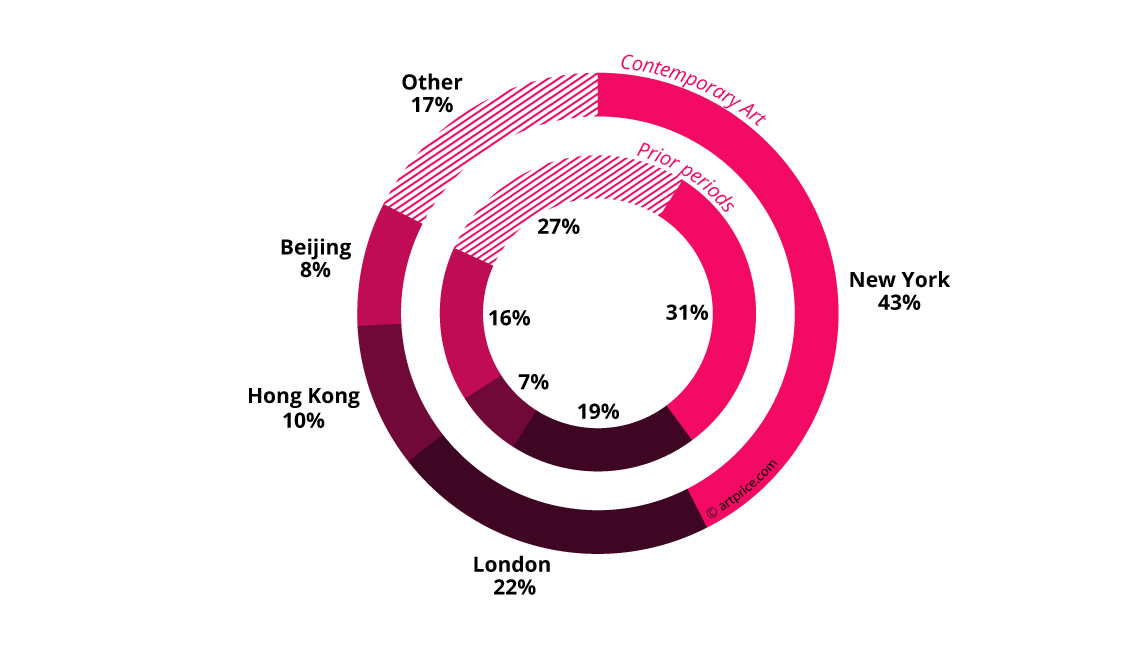 The Chinese capital is the only one among the four that is not experiencing a Contemporary Art hyper-concentration. Beijing is in fact losing market share on this segment. It remains the world's primary marketplace for Traditional Art and Chinese Painting, but Hong Kong is the veritable Asian capital for Contemporary Art, a fact that delights the Chinese authorities who have definitively annexed Hong Kong much faster than the 1997 agreement allowed for. The Chinese city has numerous advantages for international trade (see the interview with Alex Chang, CEO of Poly Auction Hong Kong).
Major auction houses pursue their strategy
The nomination of businessman Tad Smith at the head of Sotheby's in March 2015 initiated a lengthy process of Art Market reorganisation. Previously locked into a never-ending race towards auction records and perpetual expansion, the major auction houses are today seeking greater stability and efficacy. Refocusing onto the middle market and better risk management has allowed consolidation of fragile balance sheets.
This past year, the American auction house Sotheby's (listed on the NYSE: BID) dominated the international Contemporary Art Market.
In 2015 the general optimism prompted Sotheby's to guarantee the sale of the Alfred Taubman collection (its former CEO) to the tune of $500 million, a figure that it was unable to reach. This year, the $60 million guaranteed for Jean-Michel Basquiat's Untitled (1982) looked fainthearted compared with the final result.
Top 20 auction houses – 2016/2017
Auction house
Auction revenue
Lots sold
Best result
1
Sotheby's
$541,653,155
1,978
$110,487,500
2
Christie's
$421,349,302
2,271
$34,967,500
3
Phillips
$191,400,871
1,753
$28,810,000
4
Poly International Auction
$82,730,293
702
$13,516,074
5
China Guardian Auctions
$34,271,334
450
$7,249,370
6
Beijing Council International Auctions
$23,103,722
189
$5,556,717
7
RomBon Auction
$18,269,028
567
$927,245
8
Bonhams
$12,796,399
499
$2,027,301
9
Beijing Hanhai Art Auction
$11,903,542
377
$2,675,728
10
Artcurial
$9,237,051
638
$417,437
11
Holly International
$8,098,758
264
$1,258,388
12
Ravenel International Art Group
$6,449,303
140
$1,241,323
13
Shanghai Mission Auction
$6,382,490
115
$1,183,350
14
Seoul Auction
$6,252,392
229
$1,007,978
15
Cornette de Saint-Cyr
$5,431,021
900
$265,562
16
K-Auction
$4,932,776
99
$434,320
17
Zhong Cheng Auctions
$4,872,836
139
$1,002,960
18
Heritage Auctions
$4,662,282
661
$394,000
19
Guangzhou Huangma Auction
$4,379,689
166
$467,866
20
Mainichi Auction
$4,168,870
999
$270,143
©artprice.com
In turn, Christie's has taken several major decisions aimed at restructuring its activities and cleaning up its balance sheet. The closure of its South Kensington and Amsterdam auction rooms, which in 2016 generated $38 million and $27 million respectively (all artistic periods combined) signals a profound change in strategy.
Another strategic choice made by François Pinault's auction house: the postponement of its day and evening sessions of Contemporary & Post-War Art normally held in June in London.  Christie's has now decided to hold these two sales in October, preferring to modify its schedule for a better chance of success.
Meanwhile, Phillips –  the number three auction operator for Contemporary Art –  is pursuing its expansion. In November 2016, it held its first Fine Art sale in Hong Kong. It confirmed its arrival in Asia by organising two new sales on 28 May 2017 of which one was entirely dedicated to "Warhol in China", (a symbol in Hong Kong… the city sees itself as a bridge between East and West). In the same vein, Phillips' Contemporary & Post-War Art sale contained an East-West mix with Yoshitomo Nara and Christine Ay Tjoe alongside Sean Scully, Peter Doig and Kaws.
Soft Power
Christie's decision to reschedule its major London sales was the unique reason for the $47 million contraction in its London H1 2017 turnover. In effect, the UK's turnover on Contemporary Art, which amounted to $395 million in H1 2016, contracted -12% in H1 2017. The shortfall should be offset in H2.
The temporary dip in UK revenue has given China second place in the global Contemporary Art Market with $370 million. Like Hong Kong, the island of Taiwan is also trying to impose itself on the Chinese art market. Taipei posted a +14% increase this past year thanks to solid performances by several auction houses, including Ravenel, Zhong Cheng, JSL Art and Kingsley's.
Although neck-and-neck, the People's Republic of China and the United Kingdom are both increasingly being left behind by the United States. Manhattan, which generates 95% of US Fine Art auction turnover, posted a +19% increase over the past year. This performance puts the USA, with $690 million, far ahead of any other country on the Contemporary Art Market. The world's leading marketplace now accounts for 43.8% of global turnover on this segment.
This competition between the three major powers is also visible in the performances of their artists. The key signatures of the Anglo-Saxon market largely dominate the Top 10 (by auction turnover) with Jean-Michel Basquiat in pole position, followed by Peter Doig and Christopher Wool. In total, Chinese Contemporary artists nevertheless occupied 162 places in the Top 500 last year, versus 139 Europeans and 97 Americans.
The only Chinese artist in the Top 10 was ZENG Fanzhi who generated a superb result when his Mask Series 1996 No. 6 (面具系列1996No.6) fetched $13.5 million on 3 April 2017 at Poly Auction in Hong Kong. The painting had sold for $9.6 million on 24 May 2008 at Christie's in the same city. It therefore gained 40% in value over 9 years.
Top 20 countries by Contemporary Art revenue
 Countries
Auction revenue
Market share
1
USA
$690,523,291
43.8%
2
China
$369,623,280
23.5%
3
UK
$348,412,101
22.1%
4
France
$37,917,684
2.4%
5
Germany
$15,368,396
1.0%
6
Janpan
$9,988,667
0.6%
7
Italy
$9,675,522
0.6%
8
Australia
$9,084,099
0.6%
9
South Korea
$6,894,246
0.4%
10
Belgium
$6,086,226
0.4%
11
Austria
$5,647,453
0.4%
12
New Zealand
$5,527,060
0.4%
13
South Africa
$5,259,152
0.3%
14
Netherlands
$4,572,769
0.3%
15
Turkey
$4,512,432
0.3%
16
Sweden
$4,124,042
0.3%
17
Philippines
$3,888,520
0.2%
18
United Arab Emirates
$3,853,195
0.2%
19
Poland
$3,402,559
0.2%
20
Switzerland
$2,826,838
0.2%
©artprice.com
Lastly, Paris ($35 million) allows France to retain its fourth place in the global ranking of national marketplaces. Europe also has a number of other active marketplaces including  Munich with $6.1 million, Vienna: $5.5 million, Cologne: $4.9 million, Amsterdam: $4.3 million, Stockholm: $3.8 million and Brussels: $3.6 million.