The financial appeal of Contemporary Art
The spectacular financial operation involving Jean-Michel Basquiat's Untitled (1982) on 18 May 2017 illustrates the enormous financial potential of Contemporary Art. Acquired on 8 May 1984 for $20,900, the painting fetched $110.5 million (including ) 33 years later. In financial terms the initial investment yielded an average annual growth rate (AAGR) of  +29.6% for a third of a century, whereas the S&P 500 posted an AAGR of +6.5% over the same period.
Of course, the progression was not perfectly linear. Over the last 17 years, Jean-Michel Basquiat's price index (based on all of his auction results, i.e. more than 1,100 lots sold), shows an irregular progression. In fact, although it is very impressive, the value accretion of  Jean-Michel Basquiat's works is actually less spectacular than that observed on works by a number of other Contemporary artists, including Christopher Wool and Albert Oehlen. However, the extraordinary price increases for the latter two artists implies less stability over the long term.
Investing in Contemporary art requires analysis not only of the return on investment, but also of the price volatility and the market liquidity of works.
Price index (selected Contemporary artists)
2000 – H1 2017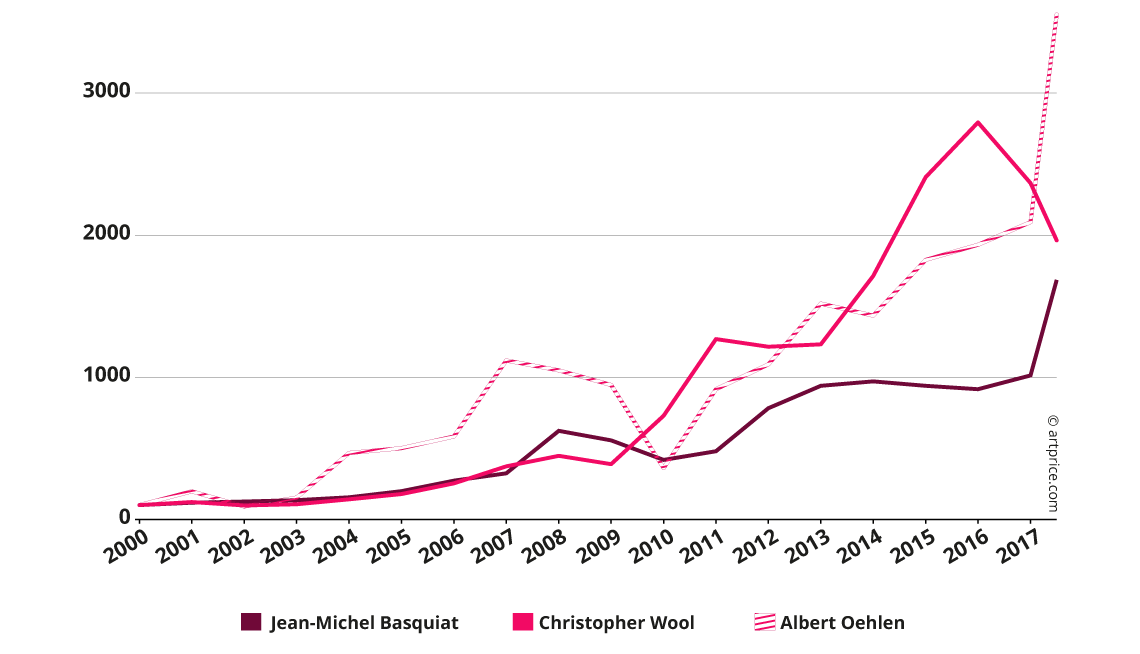 The financial performances of Contemporary art
Contemporary Art prices follow a much more jagged evolution than prices for works in other artistic periods.  Sales of Contemporary Art regularly enjoy periods of intense collector enthusiasm followed by periods of hesitation. Over recent months however, the segment has proved that it is now the primary driver of the entire Art Market (see chapter Renewed growth): whereas all the other segments (artistic periods) show stable price evolutions, Contemporary Art has recovered its dynamism and vitality.
Price index by artistic periods – Base 100 January 1998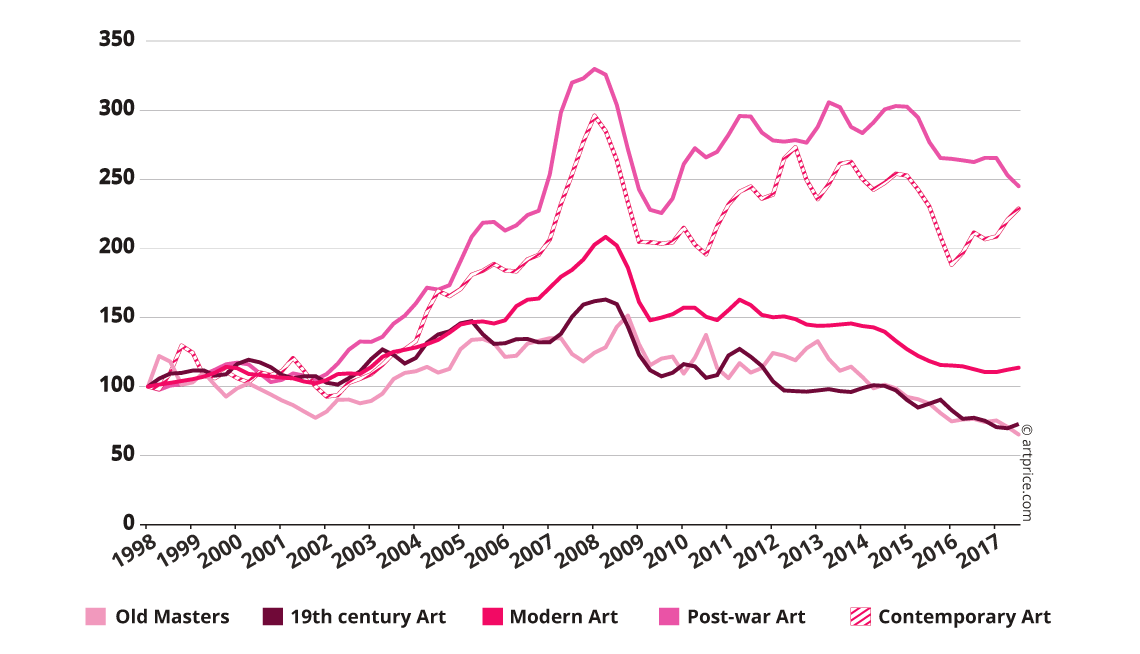 The works bought and sold via public sales (which allows us to trace their exact price evolutions) provide precious information on the profitability of Art. In effect, works created by Contemporary artists and sold during 2016/2017 yielded an average annual return of +7.6% over an 8-year holding period.
For works acquired above the $50,000 threshold, the average annual return is +8.7% on a 7-year holding period. This performance proves the existence of a certain 'masterpiece effect', since the return on more expensive works beats the return on the rest of the market (lots sold above the $50,000 line represent 6% of the total volume of transactions). Note also that the average holding period on more expensive works is considerably shorter than for cheaper works, suggesting that more expensive artworks circulate more easily.
The 'masterpiece effect' is particularly clear with major artists. Between January 2000 and July 2017, works on canvas by Jean-Michel Basquiat generated an overall yield of  +1.000%, whereas his works on paper (generally cheaper) posted price growth of +560%, and his prints of only +4%. It is therefore clear that the best works generate the best yields.
On the whole, the estimates provided by auctioneers take into account the general increase in Contemporary Art prices. However, less than one in five lots offered actually sells above the high estimate. Indeed, generally speaking, estimates are very optimistic since roughly two thirds of all lots sell below the estimated price-range… or fail to sell at all (bought-in).
Distribution of Contemporary Art auction revenue compared to estimates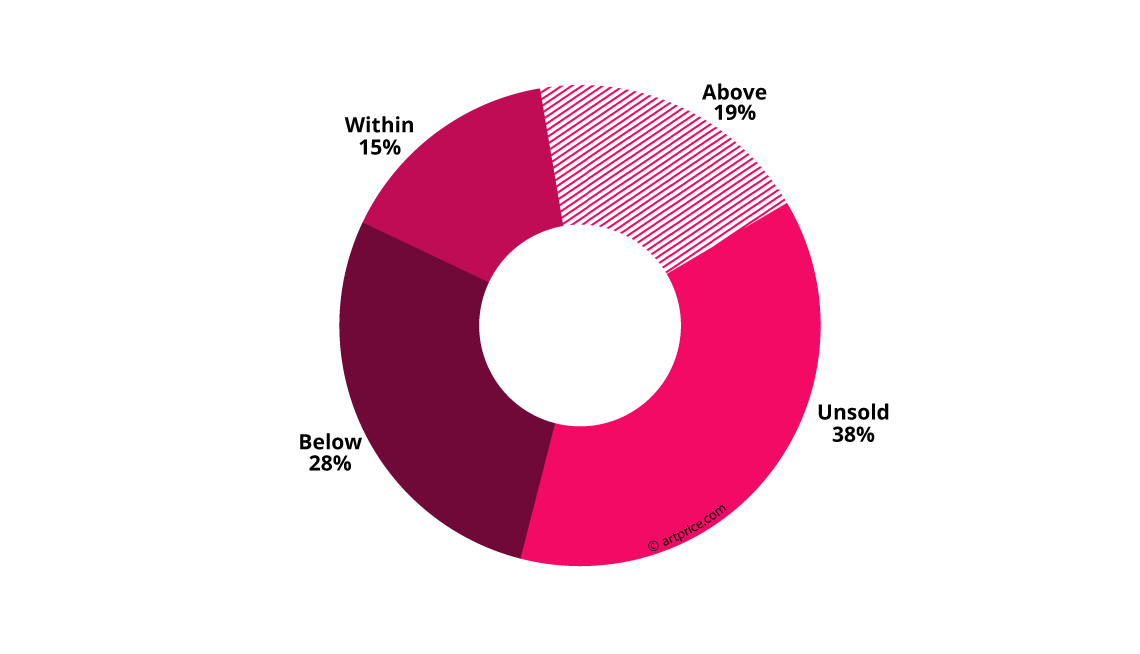 Price volatility
Among the most extraordinary value accretions over the past 12 months, a number of very different scenarios have been observed. Several of the works were acquired on one side of the Atlantic or the Pacific and re-sold on the other side. Exceptional value increases have been recorded for works acquired above $200,000 and for works bought for less than a thousand dollars. Likewise for works held 20 years and for works sold within the same year. In short, there is no infallible strategy… but rather a wide range of operations that can take advantage of an artist's price evolution.
Top 10 price accretions – 2016/2017
Artist
Artwork
1st sale
2nd sale
Result
Sale
Result
Sale
Jean-Michel BASQUIAT (1960-1988)
Hannibal (漢尼拔) (1982)
$84,700
5 May 1993 Christie's New York
$13,411,211
7 Oct 2016 Sotheby's London
Keith HARING (1958-1990)
Untitled (1985)
$5,051
29 Sep 1993 Sotheby's New York
$316,680
9 Mar 2017 Sotheby's London
Franz WEST (1947-2012)
Die Mauer (1972)
$500
30 Nov 1993 Dorotheum Vienna
$9,435
23 Mar 2017 Dorotheum Vienna
Robert GOBER (1954)
Untitled (1985)
$6,050
6 May 1992 Christie's New York
$112,500
18 May 2017 Christie's New York
George CONDO (1957)
Ballet blanc (1998)
$14,340
15 May 2003 Christie's New York
$200,000
29 Sep 2016 Sotheby's New York
Jim LAMBIE (1964)
Psychedelicsoulstick No. 9 (1999)
$750
17 Apr 2016 Sotheby's New York
$8,750
20 Sep 2016 Phillips New York
Yoshitomo NARA (1959)
There Is No Place Like Home (1995)
$130,117
11 Feb 2005 Sotheby's London
$1,402,431
2 Oct 2016 Sotheby's Hong Kong
Glenn BROWN (1966)
The Creeping Flesh (1991)
$32,944
7 Feb 2001 Sotheby's London
$342,598
6 Oct 2016 Christie's London
Albert OEHLEN (1954)
Eine Prähistorische Hand II (A Prehistoric Hand II) (1996)
$213,650
8 Mar 2010 Sotheby's Amsterdam
$2,167,500
17 May 2017 Christie's New York
Mike KELLEY (1954-2012)
Cave Painting (洞穴壁畫) (1984)
$64,625
16 May 2000 Christie's New York
$516,500
17 Nov 2016 Sotheby's New York
©artprice.com
The painting The Creeping Flesh (1991) by the British artist Glenn Brown offers a perfect illustration of the construction of Contemporary Art prices. Created when the artist was still at Goldsmiths College, the painting was initially acquired by Charles Saatchi who included it in his Young British Artists V exhibition in 1995. In February 2001, the painting was acquired for $33,000 by the Cranford Collection in London which held onto it for the following 16 years and exhibited it in Installation 01. As Glenn Brown's artistic reputation grew, so did the value of the painting on the Western Art Market. In 2004, he joined the prestigious Gagosian, Serpentine and Patrick Painter galleries. In 2009, a first major solo exhibition was mounted at the Tate Liverpool, and then transferred to la Fondazione Sandretto Re Rebaudengo in Turin and the Ludwig Museum in Budapest. In October 2016, just after the end of a Glenn Brown exhibition at the Fondation Vincent Van Gogh in Arles, the Cranford Collection decided to sell some if its works via Christie's in a sale titled Absobloodylutely!: The Creeping Flesh (1991) was one of them, and it fetched 10 times its original price.
However, the market can also be 'unfriendly'… and the value of a work can fall quite suddenly. In 2014, a dozen paintings by the young painter Christian Rosa (born 1982) were offered on the secondary market, fetching a total of approximately $1 million. However, despite an exhibition at London's White Cube, his auction prices began contracting the following year. For 2015, his annual total fell -50%. In October 2016, his painting Ruf Neck (2013) fetched $23,880 despite having been acquired for seven times that price less than two years earlier.
Top 5 price depreciations – 2016/2017
Artist
Artwork
1st sale
2nd sale
Sale
Result
Sale
Result
Christian ROSA (1982)
Ruf Neck (2013)
$168,987
2014-07-03 Phillips Londres
$23,880
2016-10-06 Phillips Londres
Dash SNOW (1981-2009)
Untitled (2007)
$15,981
2013-10-17 Phillips Londres
$2,125
2016-09-29 Sotheby's New York
ZENG Chuanxing (1974)
Song for the Departed (逝·歌) (2007)
$339,938
2008-04-09 Sotheby's Hong Kong
$40,481
2017-06-30 Phillips Londres
Bose KRISHNAMACHARI (1962)
Untitled (2005)
$27,500
2008-09-18 Sotheby's New York
$3,101
2016-12-01 Saffronart Bombay
ZENG Hao (1963)
5:00 Am 3 April 1999 (1999年4月3日上午5时) (2001)
$100,958
2008-05-25 Christie's Hong Kong
$9,653
2017-04-03 Sotheby's Hong Kong
©artprice.com
Liquidity of Contemporary artworks
Another possible scenario is that owners can have difficulties re-selling works by certain artists. This situation is generally caused by an asymmetry: supply and demand are unable to find an equilibrium.
This phenomenon does not only concern young artists who enjoy sudden but fleeting  popularity. Lots of eminent artists, like Yue Minjun, Rosemarie Trockel, Vik Muniz or even Joe Bradley have an unsold rate (excluding prints) above 40%. For these major signatures, it's the 'smaller' works that be difficult to resell. Another example is Urs Fischer – a star of the Gagosian and Sadie Coles galleries – whose auction stats show an unsold rate of 60% for works estimated under $100,000, whereas all his works estimated above the million-dollar threshold have found buyers over the last 12 months.
Between January 2016 and January 2017, Keith Haring's price index dropped -30.9%. However, the organisation of the Art Market does not permit collectors to make prompt decisions in reaction to such movements. Every year, more than 500 works by Keith Haring go through auctions onto a very selective market. The average price for his paintings is around $750,000 and, for his drawings, around $72,000. However in 2016, 48% of Keith Haring's lots (excluding prints) failed to sell, i.e. nearly half. Among these, a work on paper sans titre (1983) that was acquired for $68,400 at Cannes Enchères on 28 February 2016 and re-presented for sale seven months later on 29 September 2016 at Sotheby's New York. Carrying an estimate of $60,000 – $80,000, the drawing was bought in.
Conclusion
The Art Market has become structurally efficient over the last 17 years. But in order to ensure you obtain an interesting return on a resale, you still have to take into account – using the price indices and decision making tools proposed by Artprice – the liquidity of each artist, his or her annual volume of sales, and of course the geographical distribution of the artist's market.
In sum, Contemporary Art represents a competitive alternative investment to financial markets, which since 2007, have never really recovered. Indeed, despite negative Central Bank interest rates and quantitative easing programmes, many economies are struggling to avoid deflation. As with equity markets, to achieve a capital gain on Contemporary Art you have to follow all the news concerning the creators of the works in your collection. In fact, just like equity markets, the prices that a Contemporary artist commands depend above all on information… because information is essentially the primary factor in "value creation", in all senses of the term.
Table of contents
The financial appeal of Contemporary Art