Most sought-after periods and styles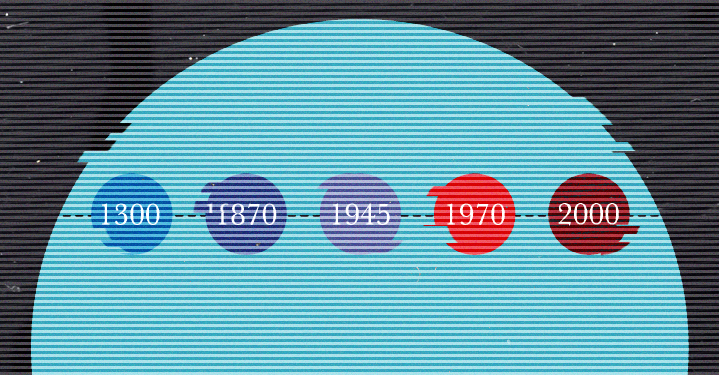 The category "most sought-after and highly-valued artworks" is no longer limited to the great historical and Modern artists and the major signatures of the 20th century. Thanks to the opening of the art market to bidders of all ages, with very diverse cultural backgrounds and interests, this category is in permanent evolution, as is the entire market.
A record year for Contemporary Art
The markets for Old Master Art (+19% compared to 2019), Modern Art (+4%), and Post-War Art (+15%) all returned to levels of intensity that prevailed before the health crisis. But the most dynamic segment was artists born after 1945 (i.e. "Contemporary").
In 2021, Contemporary Art generated $2.9 billion (+49% compared to 2019), from 111,240 lots sold. This is a historic performance both in terms of turnover and volume! Contemporary Art now accounts for 17% of global Fine Art auction turnover, whereas this period of creation accounted for only 3% of the art market twenty years ago.
The immense popularity of Contemporary Art and the constant diversification of the offer have allowed the market to post extraordinary growth: the number of Contemporary works sold has multiplied by 10 in twenty years.
Artprice: Do Chinese buyers of contemporary art and those of traditional calligraphy and painting belong to the same group of collectors? Or are the markets totally separate?
AMMA: Some buyers of contemporary art also buy traditional calligraphy and painting, but they are not necessarily the same group. In recent years, as more young collectors are coming into their own, their aesthetic tastes are influencing market trends and in turn some of the senior collectors. This has contributed to the rapid growth of the Chinese contemporary art market.
Currently, among Chinese contemporary art collectors, there is a significant increase in new collectors – specifically, a younger generation of collectors is emerging. The contemporary art boom is not only reflected in auctions, but also at art fairs, which are attracting more contemporary collectors. This major trend is not just driven by a single event, therefore the future is promising with huge potential for growth.
It is worth mentioning that Chinese collectors of contemporary art do not restrict themselves to the Chinese artists, but look elsewhere to find works by international artists, such as Richter and Basquiat, whose artworks have attracted a lot of attention from Chinese collectors and have done exceptionally well on the Chinese auction market. Gerhard Richter's Columns, 7 parts, was sold at the China Guardian 2021 Spring Auction to an online buyer for $10,976,048, or $12,623,491 including the buyer's premium. This is a record for a Western artwork on the Chinese mainland market.
Breakdown of global Fine Art turnover by creative period
→ The art market is essentially based on the most recent periods of creation. Together, Modern, Post-War and Contemporary Art account for $11.8 billion, or 69% of global auction turnover. Modern Art is the main driver of prestige sales (38%) and includes European artists like Pablo Picasso, Alberto Giacometti and René Magritte, Americans like Mark Rothko, Willem de Kooning and Alexander Calder, and Chinese artists like Zhang Daqian and Qi Baishi. These eight artists accounted for a total $1.6 billion (almost 10%) of 2021's total global Fine Art auction turnover.
The best-selling artists
With approximately 3,400 lots sold in 2021, Picasso is the best-selling artist on the planet in all price ranges, from $1000 for his least rare prints to over $100 million for his best result of the year. The world's leading artist generated $671 million, compared with $245 million in 2020 for a similar number of transactions, but with 20 additional works selling for over a million dollars in 2021.
Frequently ranked among the global Top 10 best-selling artists, Kaws, Shepard Fairey, Banksy and Murakami are seeing their popularity grow a little more every year. Murakami never sold so many works as during 2021 (1,468 lots), mainly prints (87% of his lots) exchanged at a wide range of price points to satisfy the greatest number of buyers. Banksy's sales are also accelerating, reaching beyond a thousand auction transactions in 2021. Driven both by new price records and a higher volume of auction transactions, Banksy has established himself as the eighth most successful artist in the world, ahead of Cy Twombly (with 87 lots sold), thanks to a total annual turnover of $205.8 million.
The extravagant Salvador Dali, the earthy Joan Miro, and the 'mathematical' Victor Vasarely all enjoyed record transaction volumes, proof that the print, Modern or Contemporary, still has a bright future ahead of it.
Top 10 Artists by lots sold (2021)
Artist
Total Turnover
Lots sold
Record
1
Pablo PICASSO (1881-1973)
$671,536,198
3462
$103,410,000
2
Salvador DALI (1904-1989)
$23,977,621
2387
$10,719,900
3
Andy WARHOL (1928-1987)
$348,348,146
1591
$47,373,000
4
Joan MIRO (1893-1983)
$69,474,003
1489
$14,082,984
5
KAWS (b. 1974)
$31,355,615
1469
$1,542,500
6
Takashi MURAKAMI (b. 1962)
$19,901,668
1468
$6,080,000
7
Marc CHAGALL (1887-1985)
$79,204,550
1467
$6,238,800
8
BANKSY (b. 1974)
$205,850,311
1186
$25,426,401
9
Shepard FAIREY (b. 1970)
$1,182,019
1141
$94,500
10
Victor VASARELY (1906-1997)
$10,463,223
990
$520,976
© Artprice
→ The top-selling artists are the most expensive and the most prolific. In parallel with their unique creations, they all have intense print productions to their credit. Their markets therefore cover a very wide range of prices and reach all kinds of collectors.
Table of contents
Most sought-after periods and styles