The development of NFTs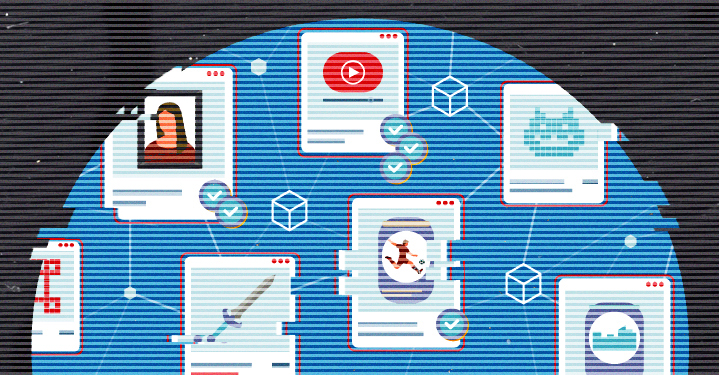 Could it be that the world of public auctions, a sales technique used since Antiquity, just entered the digital era via NFTs, unique 'objects' listed in a blockchain? It would appear that the possibilities offered by this technology constitute the next major evolution of the art market since the arrival of the Internet and the first online sales.
By extending the evolution of 'online' auctions, the NFT 'revolution' is systemic in nature because it offers new ways of creating artworks, remunerating artists, collecting and exchanging on platforms… with supply and demand meeting in a totally dematerialized manner.
A new godsend
The first sale of an NFT on the regulated art auction market had a tremendous impact. In March 2021, a work entitled Everydays: The first 5000 Days (2021) was purchased at the stratospheric price of $69.3 million against a starting price of just $100. Its creator, Beeple (alias Mike Winkelmann) had no previous art market presence: no galleries, no exhibitions, and no auctions. He did have several million followers on Instagram as well as the support of Christie's, one of the oldest and most venerable auction houses on the planet. According to Christie's, 6 of the 33 bidders for Beeple's work were from Asia. The winning bid was placed by the founder of the crypto fund Metapurse, Vignesh Sundaresan, based in Singapore, and the under-bidder was the Chinese crypto-investor Justin Sun.
BEEPLE's totally unexpected arrival as one of the three most successful living artists (after Jeff Koons and David Hockney) triggered a market movement that can only be described as exponential. In just a few months, NFTs succeeded in revolutionizing the art market, flooding it with new creations, attracting young collectors familiar with new technologies and cryptocurrencies, and then, subsequently, traditional collectors. Today, everyone wants to try the NFT experience and it is indeed perfectly logical that a new virgin space should witness a form of 'gold rush', with its ingenuity and its excesses.
In 2021, Artprice listed just under 300 NFT lots sold at regulated auctions for a total value of $232 million, a tiny sum compared with the $40 billion of crypto-art traded on the Ethereum blockchain in 2021 (source: Chainalysis). That means that NFTs accounted for 1.6% of the global secondary regulated art market in 2021. It's still not much, but it's already a larger share than photography (1.0%), a segment rooted in the secondary market for several decades.
Weekly NFT auction turnover in 2021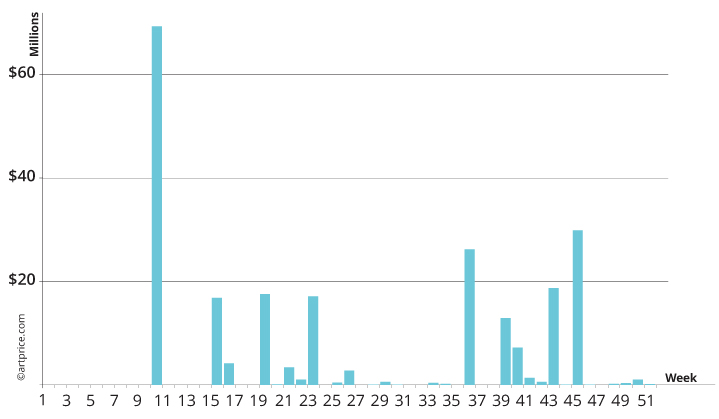 → The NFT market began with a startling irruption: Beeple's record at Christie's in March. Then Sotheby's and Phillips quickly followed suit. Throughout the year – except for the summer break – NFTs were included in prestige sales alongside traditional works. They were also the subject of dedicated sales; the new market took shape very quickly, with new records after the summer, notably for a batch of 101 Bored Ape Yacht Club NFTs that fetched $24.4 million at Sotheby's.
Artprice: Are Chinese collectors interested in the arrival of digital works and NFTs?
AMMA: In 2021, NFTs attracted a lot of attention on the Chinese market. This trend prompted the creation of new NFT artworks, as well as the addition by artists of blockchain to artworks. On the auction market, the number of successfully auctioned NFT artworks increased, but the trade volume remained limited. For example, at the first China Guardian auction of NFT artworks in May 2021, the NFT work The peony pavilion: information technology penetrates "I" by young artist Song Ting sold for $104,600. At the "Multiple Dimensions: NFT Digital-only Art Auction", jointly organized by Holly's International Shanghai Inaugural Auctions and The One.Art in November, Crypto Punk#6388 by Larva Labs was sold for $1.172 million.
Xu Bing's first NFT artwork sold for $314,000, the highest transaction price for a single NFT by a Chinese artist in China. Cai Guoqiang's first NFT project, Transient Eternity – 101 ignitions of Gunpowder Paintings, sold for $2.5 million in the charity auction on the TR Lab online platform, a record price for an NFT work by a non-crypto-native artist.
Chinese collectors are paying attention to the emergence of NFTs, however, the technique is limited to the contemporary art market only. In the traditional and physical art markets, and especially the high-end art market for cultural relics, NFT performance is still slow. Moreover, the lack of NFT-related laws and policies, and the fact that NFTs are still a fledgling phenomenon, have affected the development of new NFT artworks. Collectors of traditional art remain ambivalent when it comes to the NFT category. For them more time is needed to confirm whether NFTs will generate changes across the entire art market or not.
NFT results in 7 or 8 digits
In 2021, several names were propelled into the global Top 500 of most successful artists at auction thanks to the arrival of NFTs at auction. Beeple ($98.5 million) took 19th place ahead of René Magritte, thanks to two breathtaking results: $69.3 million for his 5,000 days and $28.9 million for Human One (2021), a 'phygital' and evolving work. He was followed by Larva Labs (51st), Yuga Labs (66th), Pak (113th ahead of Henri Matisse), Mad Dog Jones (381st) and Rare Pepe (436th). These are all artists and creators who were hitherto unknown to traditional collectors, but who have been celebrated for several years in the crypto sphere.
25 NFT lots that fetched over a million dollars in 2021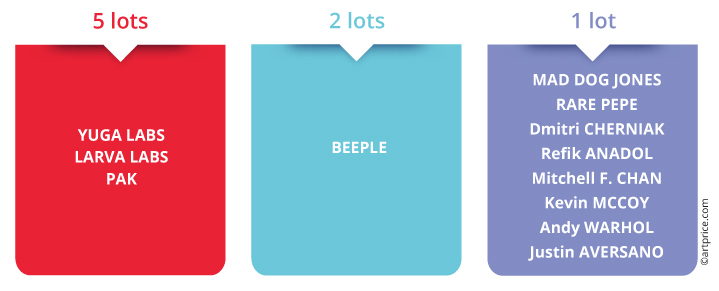 → 25 million-plus results for NFTs, versus only 9 for photographs in 2021.
A number of major Contemporary artists have, in turn, decided to invest the NFT ecosystem and adopt its codes. Shepard Fairey, Kaws, Murakami, and Jenny Holzer have taken the leap or are preparing to do so. Damien HIRST's first NFT project, The Currency, consists of a series of 10,000 Spot Paintings associated with their virtual "twins". Through The Currency, Hirst forced buyers to question the price placed for the physical work vs. its virtual counterpart, with collectors having to make a choice between keeping the work on paper or the associated NFT. The exercise was a way of affirming how much art now goes beyond the physical world and is pursuing its existence in the digital world.
Warhol NFTized
On 27 May 2021, Christie's offered five digital images produced by Andy WARHOL in 1985 on ProPaint software but transformed into NFTs with the agreement of the Andy Warhol Foundation. The five images in Tiff format of 4,500 x 6,000 pixels fetched a total of $3.37 million, against a high estimate of $100,000. The results were therefore way beyond the official expectations for the first "NFTized" Warhols, for which payment could be made in Ether, the cryptocurrency Beeple's work was purchased with in March. However, in reality, the high prices paid came as no surprise. Warhol is not only the third hottest artist on the market behind Pablo Picasso and Jean-Michel Basquiat, he is above all the author of massive and mechanical production. Passionate about new techniques and technology, wishing to get as close as possible to mechanical production, Warhol created an almost 'generative' art. For Noah Davis, a specialist at Christie's Post-War and Contemporary Art department, the artist would not have been against the extension of his digital works in the form of NFTs… which is happening 34 years after his death.
Art or collectibles?
The assessment criteria used in the appreciation of the quality (and value) of NFTs are quite clearly not the same as those used for traditional art. As a result, some of the prices paid for NFTs may well seem exorbitant. Indeed, the most popular NFTs are not always 'artistic' creations per se, but rather digital 'collectibles', or even just 'signs of belonging to a community'. Considered the origins of the NFT revolution, CryptoPunks from LARVA LABS and Bored Apes from YUGA LABS have overturned the traditional codes of the art market, and, in 2021, they generated more than $75 million, i.e. a third of the total turnover from NFTs at regulated auctions.
CryptoPunks
In 2021, the revenue generated from the sale of CryptoPunks – 24 x 24 pixel images believed to be the first unique collectible tokens – overshadowed the revenue generated by giants like Francis Bacon. The value of these "cult" images in the crypto universe is essentially based on their rarity.
At its prestige Contemporary Art sale in New York, Christie's estimated a lot of nine CryptoPunks at $7 to 9 million. The lot reached a final price of $16.9 million. The $10 million threshold was exceeded again in June, not for nine CryptoPunks, but for a single unit, considered "extremely rare". CryptoPunk 7523 is from a series of nine alien Punks, but is the only one wearing a mask, hence the extraordinary increase in price to $11.7 million when it was offered at Sotheby's.
Larva Labs, the company that created CryptoPunks, has posted an annual turnover of $41.47 million through regulated auctions. However, Larva Labs claims that on unregulated marketplaces, CryptoPunks have traded for more than one billion dollars since their launch in 2017.
Bored Ape
The 'images' in Bored Ape Yacht Club (BAYC) form a collection of 10,000 ape avatars launched in April 2021 by Yuga Labs. Like Larva Labs' Cryptopunks, the Bored Apes all have unique characteristics. They are therefore valued according to their rarity. Acclaimed by celebrities from the world of entertainment and sport, including Eminem and Justin Bieber, their popularity and prices are exploding on online platforms, as well as on the regulated auction market: on 9 September 2021, a batch of 101 Bored Ape Yacht Club sold for $24.4 million at Sotheby's. This result put the Yuga Labs startup into 66th place in our global ranking of artists by annual auction turnover, just behind Frida Kahlo.
New sales protocols
In April 2021, the first major NFT sale organized by Sotheby's in collaboration with PAK brought together 3,000 active buyers and generated $16.8 million. Entitled "The Fungible Collection", the sale implemented an unprecedented protocol for Sotheby's: for three days, buyers could acquire digital "cubes" (23,598 in total) in 15-minute slots only and sold not at auction, but rather at evolving fixed prices.
Pak: The Fungible Collection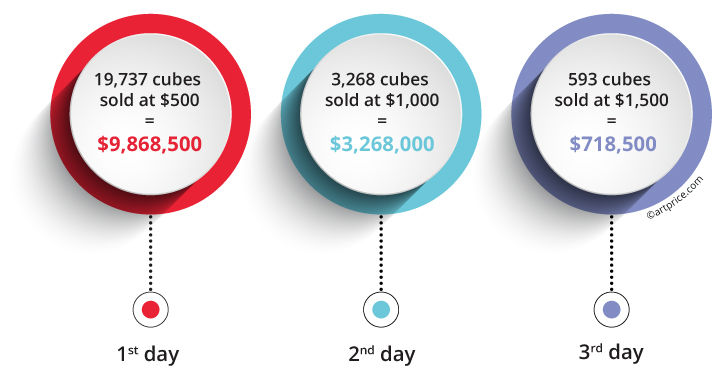 The advantage of buying several NFTs rather than just one was based on the combinatorial properties of these cubes, a buyer owning several "cubes" being able to combine them in his digital wallet, ie, to merge several NFTs of solitary cubes into a single more complex work.
In December, Pak created another surprise by selling, on Nifty Gateway, 266,445 "mass units" in the form of NFTs, the combination of which makes up a work titled The Merge.
The Merge did not yet exist at the time of the sale. No one knew what it was going to look like. By buying a part of this unknown, each collector contributed to its total realization. By creating interactivity with his collectors, Pak not only gives them the key to his universe/metaverse, he also gives his community an active role in building the creative and economic value of the work.
These mass units were purchased by 29,000 different buyers using a price strategy in fixed increments during the 48 hours of the sale. Eye-watering, the total amount generated by The Merge ($91.8 million) was more than the price paid for Jeff Koons' sculpture Rabbit (1986) in 2019 ($91.1 million), the most expensive artwork by a living artist ever sold on the regulated auction market.